Modern VPN providers offer more than the basic needs of a typical VPN user— connect two geographically distant computers (VPN client and server) across unsecured public networks (the Internet). Plus, their technologies and prices vary so much that it becomes pretty overwhelming when deciding which VPN to get. 
In this review, we'll go over the five best VPNs in 2022. We'll use four factors to rate these VPN service providers: their security, privacy, speed, and price. Our top choices for the best VPNs are ExpressVPN, NordVPN, PureVPN, Private Internet Access, and TorGuard.
Table of Contents. 
Best VPNs of 2022.
Our considerations for picking the best VPNs for 2022 are security, privacy, speed, ease of use, price, and extra features (more in the last sections). Turn downs can be unnecessary (overkill) features that make the software more complex, expensive, and difficult to use.
Without further ado… let's dig into the top five VPNs for 2022.
ExpressVPN
Five Simultaneous Connections
NordVPN
Six Simultaneous Connections
PureVPN
Always-On Audit no-logs Policy

10 Simultaneous Connections
PIA
No logs policy. But it is based in the US.

10 Simultaneous Connections
TorGuard
Eight Simultaneous Connections
*Speeds are relative to your Internet bandwidth. Although these VPN servers range from 1-10-Gbps port speeds (in their own network), your ultimate rate will be determined by your Internet bandwidth. Having 10-Gbps ports is generally enough for most of today's bandwidth-hungry tasks like 4K streaming, torrenting, conferencing, gaming, or VR/AR (but it all falls to your local bandwidth). ExpressVPN does not disclose its network speed but does provide a way to test your overall speed.
Best VPNs of 2022. 
The following list of the best 5 VPNs of 2022 includes a VPN's brief description, essential features, and price. 
1. PureVPN.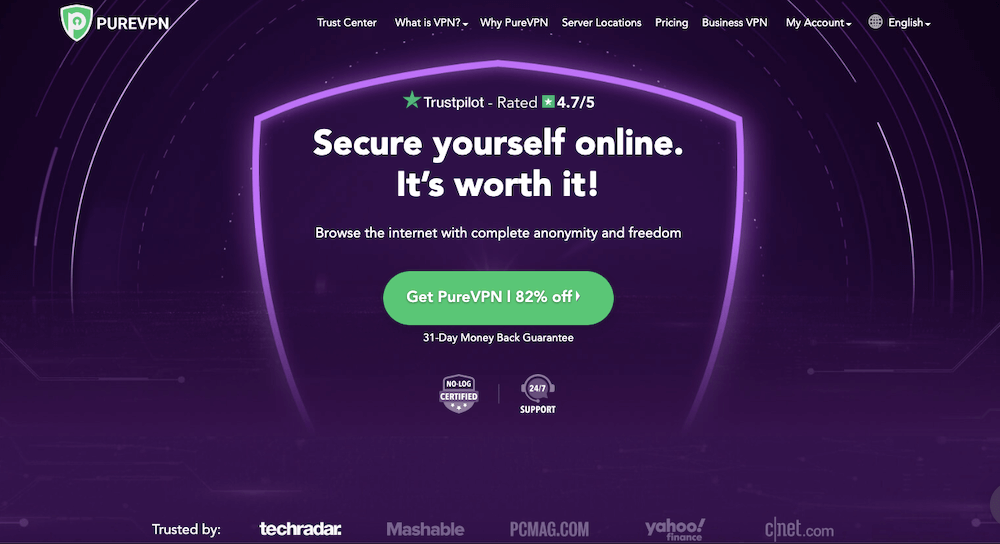 PureVPN is considered one of the best VPNs in 2022 and quickly gaining popularity. It is a high-quality premium multi-platform VPN service with a superb balance between security, ease of use, and functionality. Their service also has a good reputation for being one of the most premium-level cost-efficient services, for having top average speeds, and for its improved privacy stance. It has recently introduced an always-on no-logs audit by KPMG. 
PureVPN has more than 6,500 VPN servers across 78 countries and over 96 locations worldwide. Their service supports a multi-login for up to ten devices per account, and you can pay through popular cryptocurrencies such as Bitcoin. 
PureVPN is supported by various platforms, including Windows, Linux, macOS, Android, iOS, Chrome, Firefox, routers, Kodi, Android TV, Firestick TV, and more. They are also one of the only providers to offer VoIP servers. 
Key Features?
AES 256-bit Encryption. 
Full support for P2P. 
DNS and IPv6 leak protection.
Internet Kill Switch. 
Split Tunneling.
No-logs VPN with audit
Dedicated streaming servers.
Price. 
One-month plan for $10.95/month, 12-months plan for $3.24/month, and 24-months (+3 months free) plan $1.99/month. Try PureVPN risk-free with their 31-Day Money Back Guarantee.
2. ExpressVPN.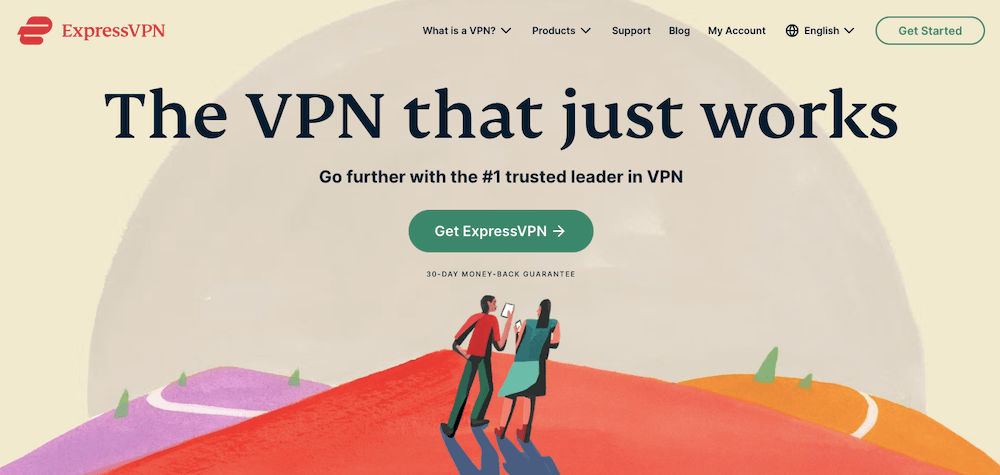 ExpressVPN is considered one of the best VPN services, known for providing solid privacy, security, speed, reliability, and ease of use. Express VPN is a premium VPN service, and so it is generally slightly more expensive than its alternatives, but for many good reasons. The service offers unlimited bandwidth with ultra-fast VPN servers at decent pricing. They have over 3,000 servers available in over 94 countries and 160 server locations. Their servers are the most probably to successfully unblock geo-restricted streaming content from Netflix, Prime, or Disney+.
ExpressVPN is cross-platform. It runs on different OSs, mobiles, browser extensions, and even routers. They support a maximum of five connecting devices per plan. 
Highlights. 
Best in class encryption (AES-256)
Kill Switch.
Split Tunneling. 
Trusted-Server technology.
Supports Torrenting. 
Private DNS (zero-knowledge)
Zero logs collection. 
Live 24/7 support.
Price and how to start? 
One month for $12.95, six months for $9.99/month (billed every six months), and 12 months for $8.32/month (billed every twelve months). Try ExpressVPN risk-free; they offer a 30-day money-back guarantee.
3. NordVPN.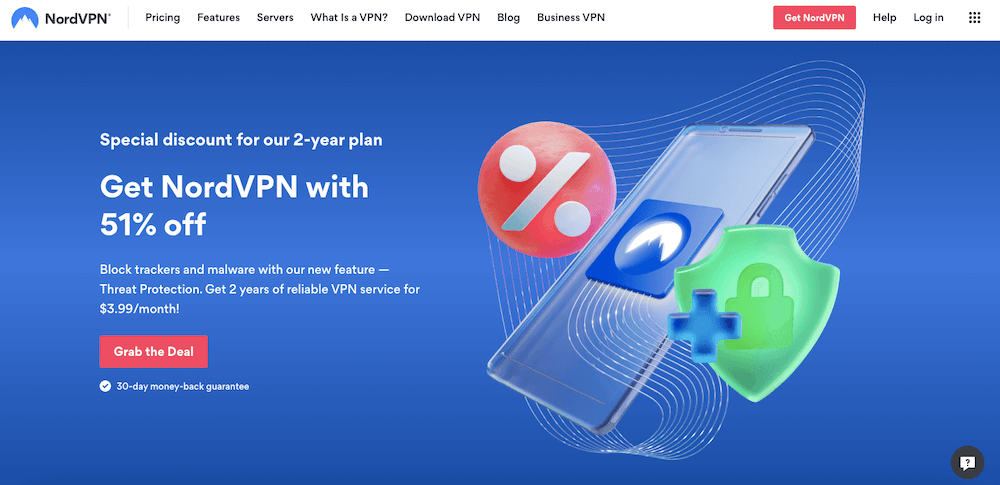 NordVPN is well-known and considered one of the best VPNs in 2022. Their services have grown in popularity lately for many reasons. NordVPN's apps are designed with an excellent balance between speed, performance, usability, solid security, and an audited no-logs policy. This Panama-based VPN provider counts with one of the most extensive networks with over 5535 servers across over 60 different countries. 
NordVPN is also well known for being one of the best for streaming. It unlocks the regional restrictions of services such as Netflix, Hulu, Amazon Prime, BBC iPlayer, and many more without any additional configuration.
Their service is supported by different platforms, from Windows, Linux, macOS, Android, iOS, browser extensions, proxies, routers, and NAS. It allows a maximum of six devices to be connected with one NordVPN account. 
Highlights. 
Military-grade 256-bit encryption.
Automatic Kill Switch.
DNS leak protection.
Streaming and SmartPlay.
P2P welcome.
Browser extension.
Great customer support.
Price and how to start. 
NordVPN's pricing options vary according to where you are accessing them. NordVPN has two plans at different pricing. Monthly plan > Standard ($11.99), and Complete ($13.97). One-year plan > Standard ($6.97/month) and Complete ($4.99/month). You can try NordVPN risk-free with a 30-days money-back guarantee. 
4. Private Internet Access.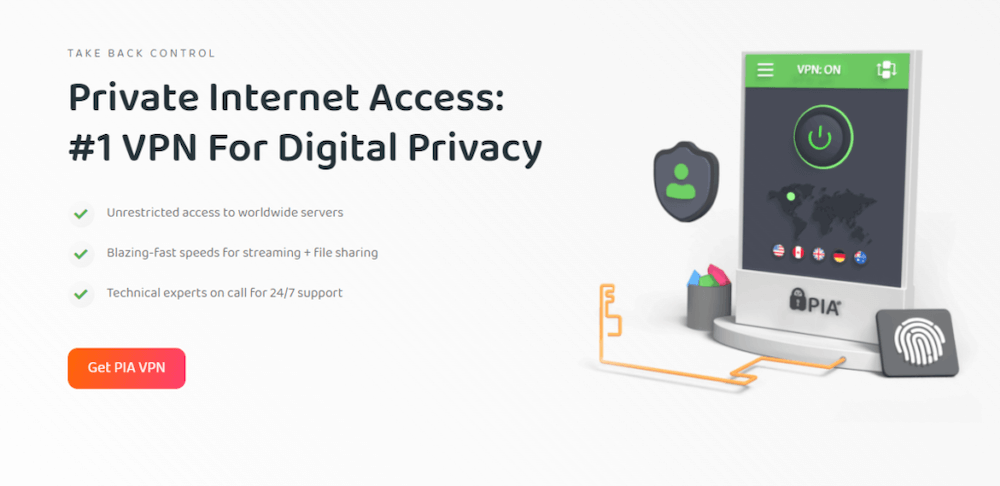 Private Internet Access (PIA) is on this list of best VPNs in 2022 for various reasons. First, it is open-source, so anyone can verify and guarantee their apps have no built-in backdoors or malicious code. Second, it is one of the oldest and leading premium VPN providers with over ten years of experience. And third, it has been (and still is) one of the cheapest VPN service offerings that strike a good balance between speed, reliability, and security. PIA is also one of the only VPN providers that allow up to ten devices with simultaneous connections at unlimited bandwidth.
PIA has VPN servers distributed across 84 countries. The service offers excellent coverage in Europe, North America, and South America, but it mainly provides superb coverage in its home base, the US. For many, being headquartered in the US can be a disadvantage due to unfriendly data regulations. But for, for the majority, it is a benefit because of its strong presence in the US. 
Highlights
Encrypted WiFi.
P2P Support.
Secure Kill Switch. 
Block ads, trackers, and malware.
Split Tunneling.
SOCKS5 Proxy Included. 
No traffic logs.
Price and How to Start?
One month for $11.95/month, one year for $3.33/month, and three years (+ 3 months) for $2.03/month. You can try their product risk-free using their 30-day money-back guarantee.
5. TorGuard.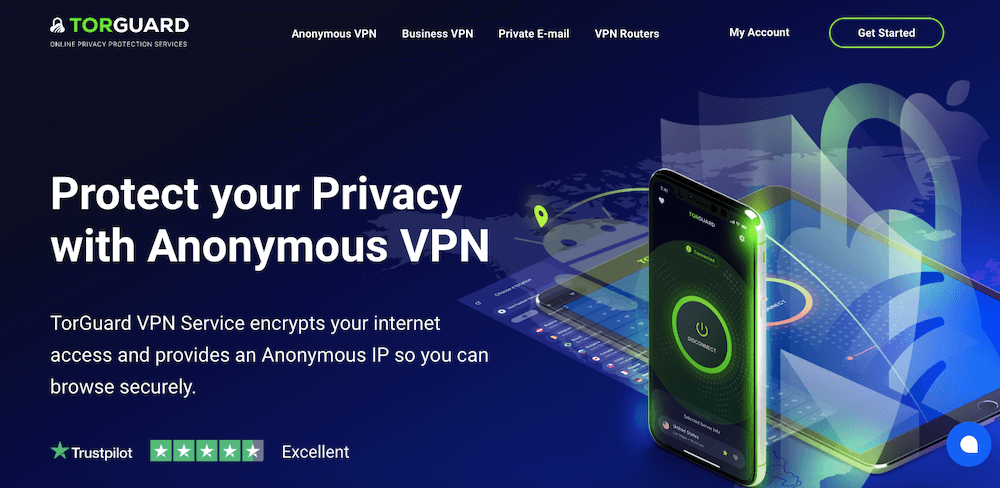 TorGuard was initially designed to provide safe and anonymous torrenting, but it has grown beyond that. Although highly underrated, TorGuard offers an excellent VPN product with great security options, speed, unlimited bandwidth, top-class features, and reliable VPN servers with zero log-keeping. Its VPN server network extends across 55 different countries with 3000+ servers, and it is even capable of working in highly restrictive countries like China. 
The TorGuard service provides the basic VPN capabilities, including support for various encryption protocols like OpenVPN, WireGuard, PPTP, L2TP, IPsec, SSTP, and iKEV2 protocols. It allows a maximum of eight simultaneous connections per account. 
The few cons of TorGuard are that it does not support split tunneling (an essential feature for many users), and it also might struggle to work with Netflix or similar online streaming services. 
Highlights. 
Enterprise-grade AES-256 encryption.
Torrents and P2P are allowed. 
Internet Kill Switch 
DNS leak protection.
Perfect Forward Secrecy (TLS)
Secure NAT Firewall. 
Price and how to start?
TorGuard offers two editions for their VPNs, Anonymous VPN (Standard at $9.99.month) and Business VPN (Pro at $12.99/month). You can also get their product more cost-efficiently with different billing cycles. Their three-month plan (for $19.99), six-month plan (for $29.99,) the one-year plan (for $59.99,) and two-year plan (for $99.99.) TorGuard offers a 7-days free trial period, where you can cancel in that time, but after 7-days, they'll start charging the full amount. 
Key Considerations for the Best VPN in 2022.
In a nutshell, a VPN is an encrypted tunnel created from your computer (VPN Client) to another computer (VPN Server). A VPN creates a secured virtual private channel (tunnel) between these computers regardless of geography and connects them via a public network (Internet). Get a more comprehensive answer in: What is a VPN?
Benefits of a VPN? When connected through a VPN, your gateway to the unprotected Internet is the VPN Server. So, in this sense, VPNs can be used to fake or mask an IP address that shows on a target web service or site (for instance, Netflix, a torrent swarm, or a banned website). In addition, when connected through a VPN, the VPN client on your computer encrypts traffic, so any middleman (ISPs, network admins, your neighbor with your wifi password, or governments) cannot intercept and read your traffic. 
A VPN gives you identity protection, online privacy, anonymity, avoids ISP throttling, secures your IP, etc. A VPN hides (or encrypts) your public IP address so that your actions are 100% untraceable.
Qualities that make a VPN the best VPN for 2022.
When choosing the best VPN for 2022, we have considered the following factors: security, privacy speed, ease of use, and additional features. Price is also a big factor, but it does not vary significantly among these choices. There are tons of different VPN solutions, from enterprise to personal, that differ greatly in performance, capabilities, and price. These VPNs presented in this Best VPN for 2022 list have more or less similar pricing, features, and performance. 
1. Security.
When it comes to a VPN, security is firmly dependent on its encryption. VPNs can use different VPN protocols, including OpenVPN, WireGuard, PPTP, L2TP, IPsec, SSTP, or iKEV2. These protocols may provide different levels of encryption. Today, one of the most reliable encryption algorithms is the virtually unbreakable 256-bit AES encryption, which is used in industry, enterprise, and the military. Although the 128-AES can also be robust and much faster, it is significantly less secure. Make sure that the encryption protocol used by your VPN encrypts with 256-bit AES. 
2. Privacy 
If there is a weak link in the VPN chain, this should be the VPN service provider. They are the only ones capable of inspecting and correlating your traffic logs, and they also hold the key to unencrypt your traffic. Always ensure that the VPN service provider you choose does not keep, store, or archive your browsing logs. This is most of the time strongly related to the country where the VPN service is headquartered. Your traffic should be private as long as the VPN is far away from the Five Eyes. Ensure that your VPN provider offers a zero-logs policy and is based in a data law-friendly country. 
3. Speed. 
It doesn't matter which VPN you use; your Internet speed will always be affected. Your VPN speed and performance are impacted by various factors, first by the VPN encryption overhead, second by the extra network latency (which should be minimal), and third by the VPN server (how is it optimized to share resources). The OpenVPN protocol has an excellent reputation for being secure and fast regarding its encryption overhead. VPN Speed can also be affected by VPN server-client geographical proximity. A VPN service with more coverage worldwide will likely get you better speeds. 
4. Ease of Use.
The triangle of a balanced information system design suggests that there should be the right balance between security, functionality, and usability. Rigid security makes an application difficult to use and with no functionality; on the other hand, too much usability makes an application more vulnerable to attack. So, a VPN should be easy to use without compromising security measures and features. Choose a VPN provider that makes it easy for you; for instance, the one-click connection button, split tunneling, simultaneous connections, or cross-platform. Avoid VPNs bloated with features and with extreme security measures. 
Extra VPN Features and Overkills. 
If you read the above key consideration for reviewing a VPN, you'll know that functionality is critical. Consider VPN service providers that offer what you are looking for in your specific use case. Consider the following extra features. 
Kill Switch. If your VPN connection goes down, a kill switch shuts down your internet connection, ensuring that your IP address and traffic are not accidentally exposed. 
Split Tunneling. This feature creates two tunnels, one that takes your traffic through the VPN and the other through the regular path.
DNS Leak protection. DNS leaks have been quite popular among some VPNs. They are VPN flaws that send un-encrypted DNS queries. Some VPNs provide complete protection to your DNS information.
Simultaneous Connections. Some VPN service providers allow you to use a single VPN account on various devices. This feature is vital for houses or small businesses (3-10 computers). 
Large geographical networks. An extensive network of distributed VPN servers will guarantee the speed and more options to browse from different countries or unblock geo-restrictions. 
Supportability. Most people would only like to use a VPN from their computers, but there are other cases where users might want to install their VPNs on their mobiles, TVs, game consoles, Raspberry Pi, and even routers. 
P2P support. P2P, like BitTorrent, is commonly blocked and throttled by many ISPs. Today many VPN services do support P2P and torrenting over their servers. 
Streaming. Streaming services such as Netflix or Amazon Prime tailor the content according to each region. A VPN is capable of bypassing these restrictions. 
Other capabilities like double VPN, Invisible On-LAN, VPN over TOR, obfuscated servers, dark web monitor, etc., might be unnecessary for the majority. Unless you are focused on extreme security and are willing to pay the price to compromise the ease of use, these features might be overkill.
Final Words.
So what is the best VPN in 2022? Our top choice from this list is ExpressVPN. Although their price is slightly higher than the rest, we had an optimal experience using it, and their customer support was fantastic. The extra few bucks are worth it. Our second two choices are NordVPN and PureVPN; both are pretty similar in their services, both are no-logs audited, and have comparable speeds and security. 
If you want to have more simultaneous connections, go for PureVPN, PIA, or TorGuard. PIA is recommended if you work in the US and need speed, but not if you are paranoid about privacy and anonymity. TorGuard is one of the best for torrenting and is also the most cost-efficient.