The single purpose of an efficient Virtual Private Network (VPN) should be to keep you safe and protected while connecting to public networks such as the Internet. But the VPN market is so huge,
There are tons of different flavors and colors. They come as enterprise-scale, personal, or free, and with different speeds, encryption protocols, features, prices, etc. It is so easy to get overwhelmed.
To begin with a VPN, it is a good idea to start right from your personal computer. In this review, we'll go over eleven of the most popular and best VPNs for 2021, especially for personal use. If you are interested in protecting privacy or want to break geographical boundaries, keep reading.

Table of Contents:
1. Key Considerations for a VPN in 2021.
1.3 Advanced VPN Security Features.
1.5 Additional Functionalities.
Key Considerations for a VPN in 2021.
What is a VPN? In a nutshell, a VPN is a tunnel created from your computer to another computer that creates a secure private network between these computers. (Refer below to the explanation of Wikipedia)
A virtual private network (VPN) extends a private network across a public network and enables users to send and receive data across shared or public networks as if their computing devices were directly connected to the private network. Applications running on a computing device, e.g., a laptop, desktop, smartphone, across a VPN may, therefore, benefit from the functionality, security, and management of the private network. Encryption is a common, though not an inherent, part of a VPN connection.

Wikipedia
When choosing a VPN service, always consider the following factors: security, speed, ease-of-use, advanced VPN security, and additional features. And of course, price is also a big factor. There are tons of different VPN solutions, from enterprise to personal, that vary significantly in price. In this review, we are considering only VPNs for personal use, which more or less have similar pricing.

1. Security.
Security is probably what brought you here. A VPN gives you identity protection, online privacy, anonymity, avoids ISP throttling, secures your IP, etc. A VPN hides ( or encrypts) your public IP address so that your actions are 100% untraceable.
VPNs can use different protocols such as OpenVPN, PPTP, L2TP, IPsec, SSTP, and iKEV2. These protocols provide different levels of encryption. One of the most reliable encryptions today is the 256-bit AES encryption.
Some VPN service providers have had a bad reputation for keeping browsing logs. Today almost all providers guarantee the zero-logs policy, which is a policy that forces them not to keep any of your browsing logs.

2. Speed.
Browsing, streaming, or downloading without a VPN will always be faster (than with a VPN), with some exceptions where the Internet is highly regulated. So, it doesn't matter which VPN you use; it will always impact your bandwidth speed, somehow.
VPN speed is tightly related to the level of encryption, as it takes extra processing power to encrypt and decrypt Internet messages, which adds to the overhead of a VPN connection. For example, the OpenVPN protocol has an excellent reputation for being secure and fast, but PPTP can be faster but less secure.
VPN Speed is also slightly affected by VPN server geographical proximity. A VPN service that has more coverage around the world will likely get you better speeds.

3. Advanced VPN Security Features.
VPN technology is always evolving. Below is a list of some new and advanced security features that double your security.
Internet or App Kill Switch. If your VPN connection goes down, this feature ensures that your IP address and sensitive data is not accidentally exposed.
Invisible On-LAN. We know that the public Internet is not safe, but Local Area Networks are supposed to be safe, well, not in large environments. This feature hides your LAN IP address.
Split Tunneling. This feature creates two tunnels, one that takes your traffic through the VPN and the other through the regular route, which is usually through an ISP.
DNS Leak protection. DNS leaks have been quite popular among some VPNs. They are VPN flaws that send un-encrypted DNS names. Some VPNs provide full protection to your DNS information.
Double VPN. As the name implies, Double-VPN means two VPNs, a VPN built on top of another VPN. With VPN server cascading, your IP gets encrypted twice, which is IMPOSSIBLE to decrypt.
4. Ease of Use.
You want a VPN for what it is, a safer Internet experience. Some VPN software is often flooded with tons of extra features and buttons that make the overall VPN experience complex. Ease of use should always be a top consideration when choosing a VPN.
Some VPN services offer a one-click connection button with simple software, which a larger percentage of day-to-day users prefer.
5. Additional Functionalities:
Aside from providing security, VPNs are often used for avoiding ISP blockage and throttling for sensitive traffic such as P2P, or for streaming media, or games from different geographical locations.
P2P Functionality. Peer-2-Peer (P2P) is commonly blocked and throttled by many ISPs due to torrenting. Today many VPN services do support P2P and torrenting over their servers.
Streaming. VPNs are often used for unblocking restricted geographic content. Streaming services such as Netflix or Amazon Prime tailor the content specific to each region, VPN breaks this restriction, by creating a tunnel to another geographical location.
Best VPNs of 2021.
The list of the best 11 VPNs of 2021 has been arranged bottom-up. We have included a brief description, important features, and price.

1. PureVPN.
PureVPN is a Hong Kong-based VPN provider by GZ Systems. Their service has a good reputation for being fully featured and for having top average speeds. They have VPN servers across 180 different locations over 140 countries, and with more than 2000 servers.
PureVPN has been providing services since 2007, so it has a full list of features and wide support for many security protocols such as PPTP, OpenVPN, L2TP/IPSec, IKEv2, and more. The service supports a multi-login for up to five devices per account and you can pay through popular cryptocurrencies such as Bitcoin.
There are apps for Windows, Linux, macOS, Android, iOS, Chrome, Firefox, routers, Kodi, Android TV, Firestick TV, and more. PureVPN is also one of the only providers to offer VoIP servers.
Price? One month plan for $10.95, one year plan $5.81/month, and five years plan $5.81/month.
Key Features?
Full support for P2P.
DNS and IPv6 leak protection.
Smart kill switch.
Split tunneling.
Dedicated streaming servers.
AES-256 encryption.
2. Private Internet Access.
Private Internet Access (PIA) is one of the cheapest VPN services that manage to provide solid, secure, and fast servers. PIA has over 3,335 servers across 30 different countries. The service offers excellent coverage for areas such as Europe or North America, with servers distributed all over. Still, it has inadequate coverage in other world areas, such as Middle East, Africa, Asia, Oceania, and South America.
PIA supports multiple VPN protocols such as PPTP, L2TP/IPsec, SOCKS5, and OpenVPN. It also supports P2P for torrenting in all server locations, with advanced features such as port forwarding. PIA allows a maximum of ten devices with simultaneous connections at unlimited bandwidth.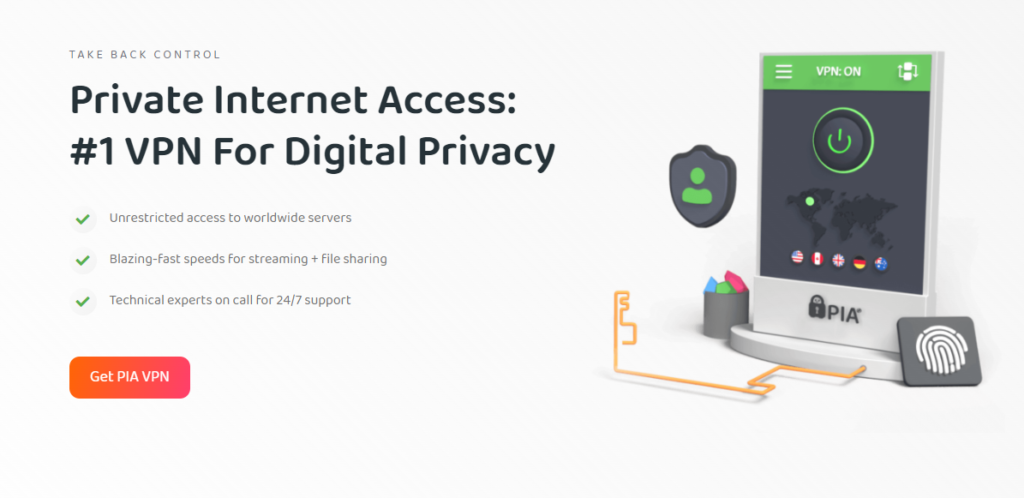 Price?
$11.99 / mo for 1 month
$2.19 / mo for 2 years + 2 months free (BEST DEAL – SAVE 82%)
$7.50 / mo for 6 months
Key Features?
Encrypted WiFi.
P2P Support
PPTP, OpenVPN, and L2TP/IPSec
Block ads, trackers, and malware
Multiple VPN Gateways
SOCKS5 Proxy Included
No traffic logs
3. TorGuard.
TorGuard was initially designed to provide safe and anonymous torrenting, but it has grown beyond that.
Now, TorGuard provides the availability to 3000+ servers across 55 different countries. The service offers fast, secure and reliable VPN servers with zero log-keeping. All VPNs are unlimited in speed and bandwidth.
The TorGuard provides the basic VPN capabilities, such as Anonymous IP, switch between OpenVPN / PPTP / L2TP / IPsec / SSTP / iKEV2 protocols, and maximum support for eight simultaneous connections.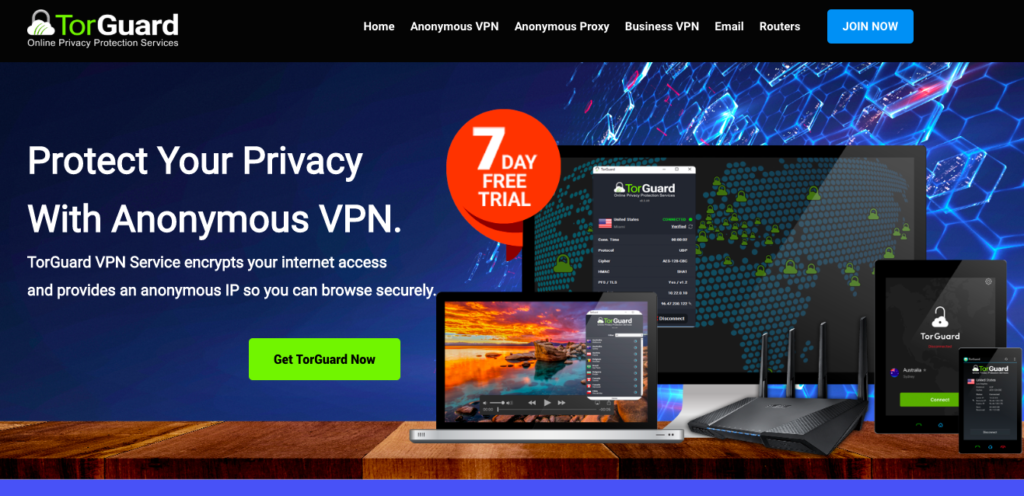 Price? One month $9.99, three months for $19.99, six months for $29.99, one year for $59.99, and two years for $99.99. They offer a 7-days free trial period.

Key Features?
Enterprise, Military-grade AES-256 encryption
Torrents and P2P allowed.
Kill switch
DNS leak protection.
Multiple GCM and CBC ciphers
Perfect Forward Secrecy (TLS)
Secure NAT Firewall
4. TunnelBear.
TunnelBear is primarily known for its funny and playful design. But don't get fooled over the bear jokes, TunnelBear has an impressive easy-to-use but powerful VPN with basic functionality. It has 1000 servers over 23 different countries.
The service is offered through the basic platforms, from Windows, macOS, Android, iOS, and a browser extension. TunnelBear allows a maximum of five devices with a single account. TunnelBear is another provider that offers 100% free VPN, but with a limited 500MB of secure browsing.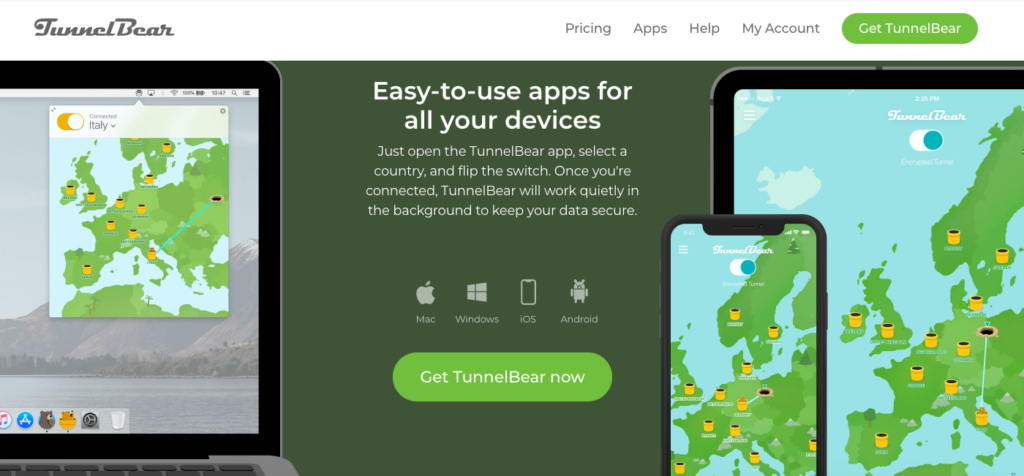 Price? They offer a free (with a limited 500MB of browsing), one month for $9.99, and 12 months for $4.99/month.

Key Features?
AES 256-bit encryption.
Vigilant Mode.
No logging policy.
Safe WiFi protection.
P2P friendly.
Optimized for browsing and streaming.
5. Windscribe.
Windscribe is a Canadian VPN provider that offers a desktop application and a browser extension to block ads and trackers. They promise to restore all access to blocked geographical-based content. Aside from offering a low priced and flexible licensed service, they also offer a 100% free version.
Windscribe has an intelligent algorithm called, R.O.B.E.R.T that blocks IPs and spoof domains. They also offer a wide range of privacy features.
The commercial Windsrcibe VPN gives you access to an unlimited number of connecting devices and unlimited data. You can connect to over 400 servers in 60 different worldwide locations.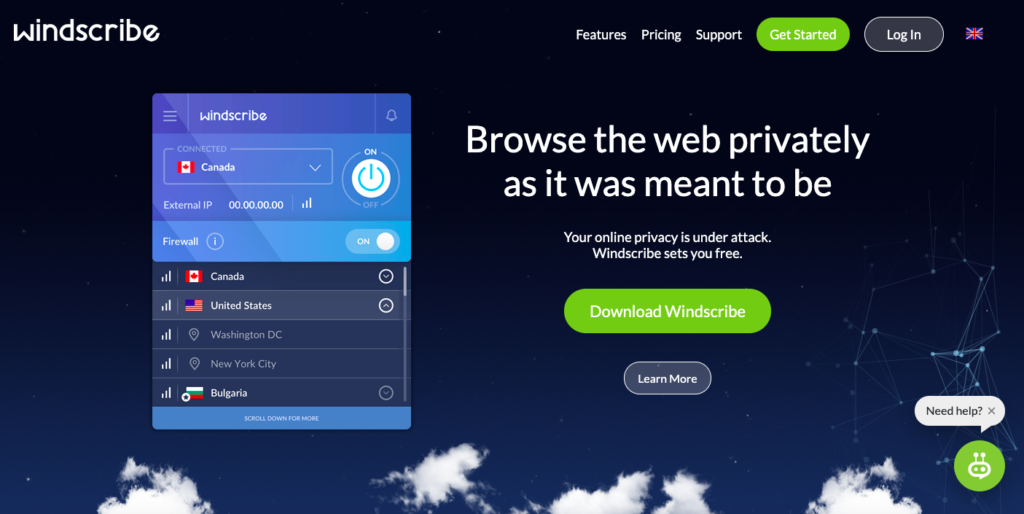 Price? One month for $9.00 or 12 months for $4.08. You can also build your own plan, starting for $0.00/month plus $1.00 on each location per month.

Key Features?
Block IPs and domains with AI-based algorithm R.O.B.E.R.T.
Support P2P communications.
Streaming Netflix without regional boundaries.
AES-256 Encryption.
Port Forwarding.
Split Tunneling.
Adblocking.
Secure Hotspot and Firewall.
6. IPVanish.
IPVanish is another highly competitive VPN service in the market. They are known for providing solid 24×7 customer support. If you are running into trouble with your service, you can even contact them through the iOS or Android app. They are one of the cheapest among the top VPNs.
The IPVanish provides end-to-end 256-bit AES encryption while allowing its users to connect to more to over 75 different server locations. They have over 1300 servers with an impressive 40,000 shared IPs. They support a maximum of 10 devices per VPN connection. Their service is supported by Windows, Linux, macOS, iOS, Android, ChromeOS, FireTV, and Routers.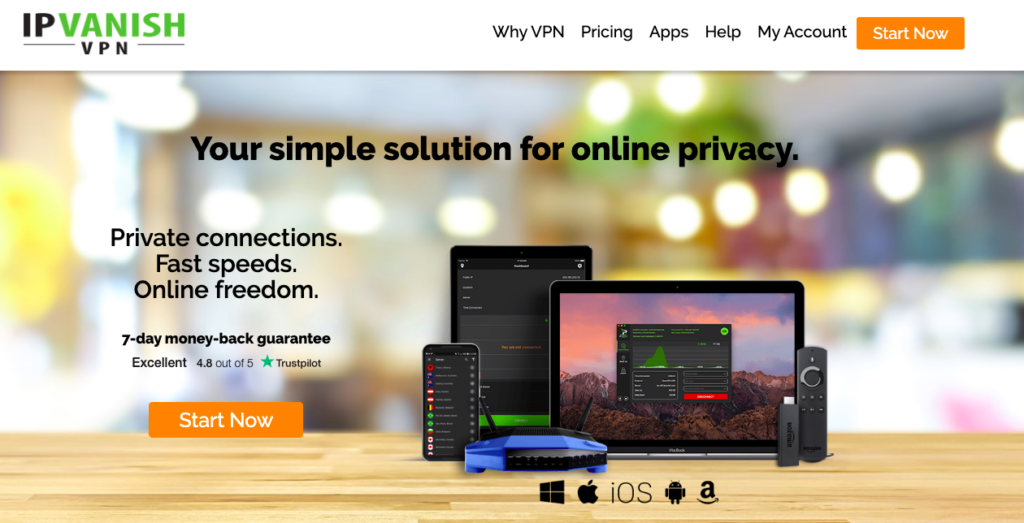 Price? One month for $ 7.50, 3 months for $6.75/month, and 12 months for $4.87/month. They offer a 7-day money-back guarantee.
Key Features?
Zero-logs policy.
Unlimited bandwidth.
256-bit AES encryption.
SOCKS5 web proxy.
Unlimited server switching.
7. Hotspot Shield.
Hotspot Shield has become popular mainly because it was one of the first VPN providers to offer both a 100% free and a commercial version of their software. The free version works ok but has a lot to offer (of course, it is free), and it is supported by ads. But on the other hand, the commercial Hotspot Shield has unlimited bandwidth and access to more than 2500 servers across 70 countries.
The commercial Hotspot Shield is popular for its unique VPN protocol, Catapult Hydra, which accelerates VPN sessions while keeping strong encryption.
Hotspot Shield supports a maximum of five simultaneous connected devices. It is easy to install and use, and it is supported by most known platforms, such as Windows, macOS, iOS, Android, and Chrome.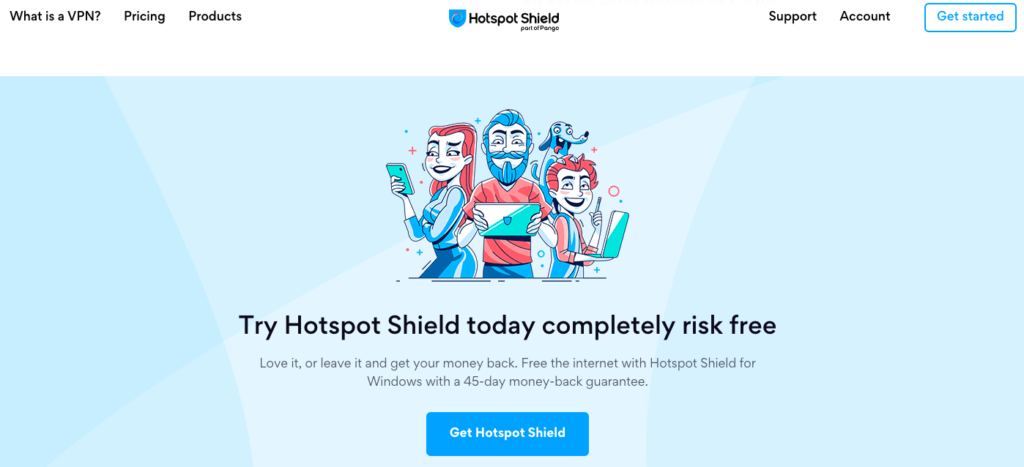 Price? They offer both free and commercial services. One month for $12.99, 12 months for $7.99/month, and 36 months for $2.99/month.

Key Features?
One-click connection.
Live tech support.
Military-grade encryption.
Catapult Hydra: Unique VPN technology.
Unlimited bandwidth and server changes.
Support for P2P communications
Streaming optimization.
8. CyberGhost.
CyberGhost is one of the top VPN service providers known for online privacy and with a strong focus on streaming and web browsing. They have a simple and easy-to-use client packed with rich features. CyberGhost has a slightly higher price compared to other competitive VPN providers.
Cyberghost has over 5500 servers distributed across 112 locations in 90 countries. Their VPN is supported across different platforms, from Windows, macOS, Linux, iOS, and Android. It can also be installed with browser extensions, TVs, and routers.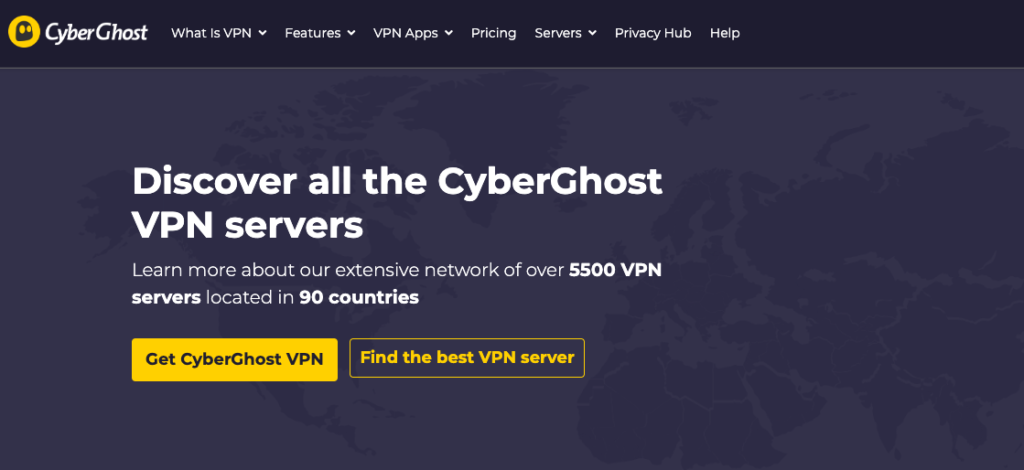 Price? One month for $12.99, six months for $4.99/month, and 12 months for $2.75/month. They offer a 45-day money-back guarantee.
Key Features?
256-bit military-grade encryption.
WiFi Protection.
Enjoy safe P2P torrenting.
Unblock streaming services.
DNS and IP Leak Protection.
Strict No Logs Policy
9. SurfShark.
SurfShark is one of the few VPN newcomers that managed to rise quickly to the top. They offer fast, reliable, and secure servers with high availability. Their service is available with over 1040 servers in 61 different countries.
They also support common VPN use cases such as anonymity, streaming, and torrenting. SurfShark supports an unlimited number of devices within the same account. The service is very competitive in terms of support, functionality, availability, and speed.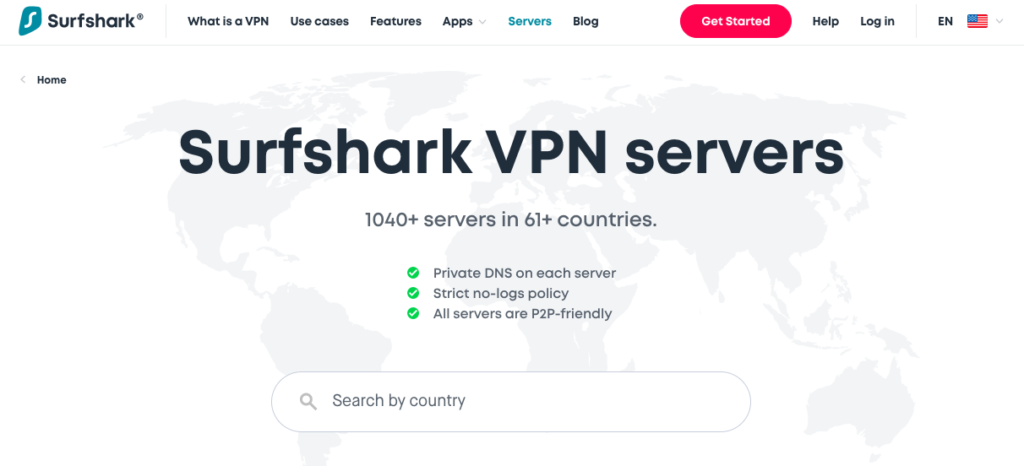 Price? One month for $11.95, 12 months for $5.99/month, and 24 months for $1.99/month. They offer a 30-day money-back guarantee.
Key Features?
Browse without ads, trackers, malware, and phishing attempts with CleanWeb.
Allow specific apps or websites to bypass the VPN with whitelists.
Kill Switch.
Private DNS and leak protection.
Strict no-logs policy.
All servers are P2P-friendly.
Double-hop connections.
AES-256-GCM encryption.
10. NordVPN.
NordVPN is a reputable VPN service that has been the number one VPN service for a long time. This Panama-based VPN provider counts with one of the most extensive networks with over 5370 servers across over 60 locations in different countries. Their service is popular for being fast and secure.
NordVPN is also well known for being one of the best for streaming. It unlocks the censorship and regional restrictions of services such as Netflix, Hulu, Amazon Prime, BBC iPlayer, and many more, without any additional configuration. In fact, it is one of the only services known to bypass the new Netflix complex detection mechanisms.
Their service is supported by different platforms, from Windows, Linux, macOS, Android, iOS, Android TV, and browser extensions.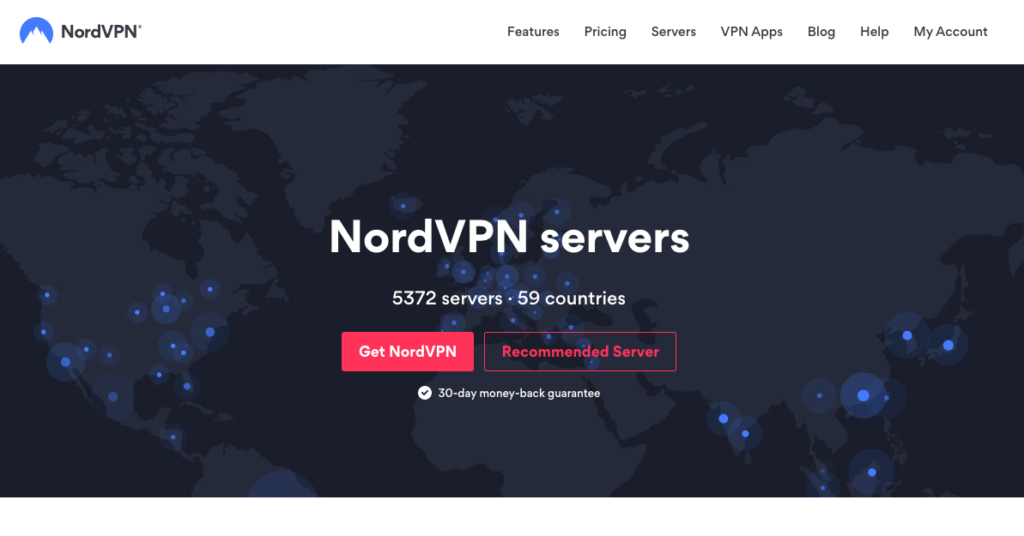 Price? NordVPN is also one of the best value for the money. With, one month for €10.50, 12 months for €6.14/month, and 36 months for €2.62/month. They also offer 80% off with the 3-year deal.

NordVPN offers a 30-days money-back guarantee.

Key Features?
Military-grade 256-bit encryption.
Double VPN.
Automatic Kill Switch.
DNS leak protection.
Onion Over VPN.
Streaming and SmartPlay.
P2P welcome.
Browser extension.
11. ExpressVPN.
ExpressVPN is considered one of the best VPN services for speed and privacy. The service offers unlimited bandwidth with ultra-fast VPN servers at decent pricing. They have over 3,000 servers available in over 94 different countries and 160 server locations.
ExpressVPN is cross-platform. It runs on different OSs, mobiles, browser extensions, and even routers. They support a maximum of five connecting devices.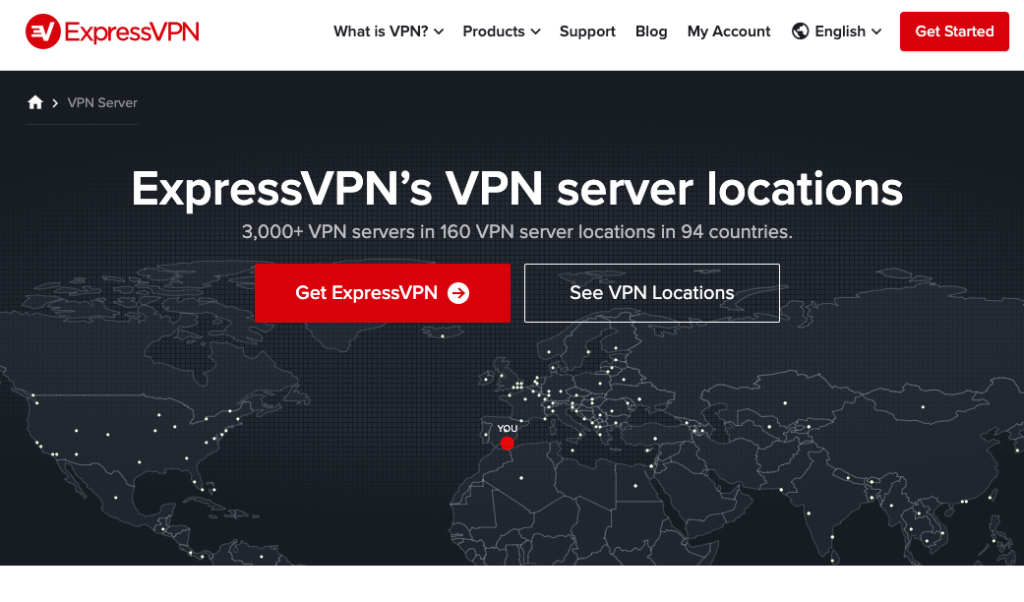 Price? One month for $12.95, six months for $9.99/month, and 12 months for $6.67/month. They offer a 30-day money-back guarantee.

Key Features?
Enterprise-level encryption.
VPN Speed Test.
Kill switch.
Split Tunneling.
Trusted-Server technology.
Zero-knowledge DNS.
Privacy Safeguards.
Final Words.
Now, that you have started searching for a VPN, you'll notice that there are a plethora of different providers. And what makes it more overwhelming is that pretty much all VPNs offer a different kind of service, price, features, and performance.
Going VPN shopping doesn't have to be that difficult if you know what you are after. Decide what features are important for you, and which ones will help you accomplish what you are after.
Now, you don't have to go browsing for lists of hundreds of VPNs, the best 11 VPNs for 2020 shown above are popular choices that are compatible with most devices, have tons of server locations, are feature-rich and have a decent price.