UltraSeedbox "USB" is known for having reliable and affordable seedboxes. They have some of the cheapest options in the market, which are decently stable and fast.
Setting up and starting with a USB seedbox requires some time if you are a beginner. But with their very comprehensive knowledge-base, you'll likely only take a couple of hours to begin to use their seedboxes.
In this Utraseedbox review, we'll evaluate the most important characteristics of a seedbox; price, speed, and security. We'll also include other services and their pros and cons.
Table of Contents.
1. Description
UltraSeedBox, also known as USB, is a popular seedbox provider known for its speed, reliability, and price.
USB offers a wide mix of affordable plans. From seedboxes optimized for streaming with Plex, cheap seedbox plans, and ultra-fast seedboxes with SSD.
They also offer additional features such as automation and streaming for a better torrenting experience. The service provides an easy-to-use dashboard where you can install/uninstall apps, view Seedbox information, support tickets, and more.
How to start with an Ultra Seedbox?
The Client Area or dashboard gives you an overall view of all your hired services. It also shows you quotes, pending invoices, support tickets, recent news, and a quick way to access the UltraSeedBox knowledgebase.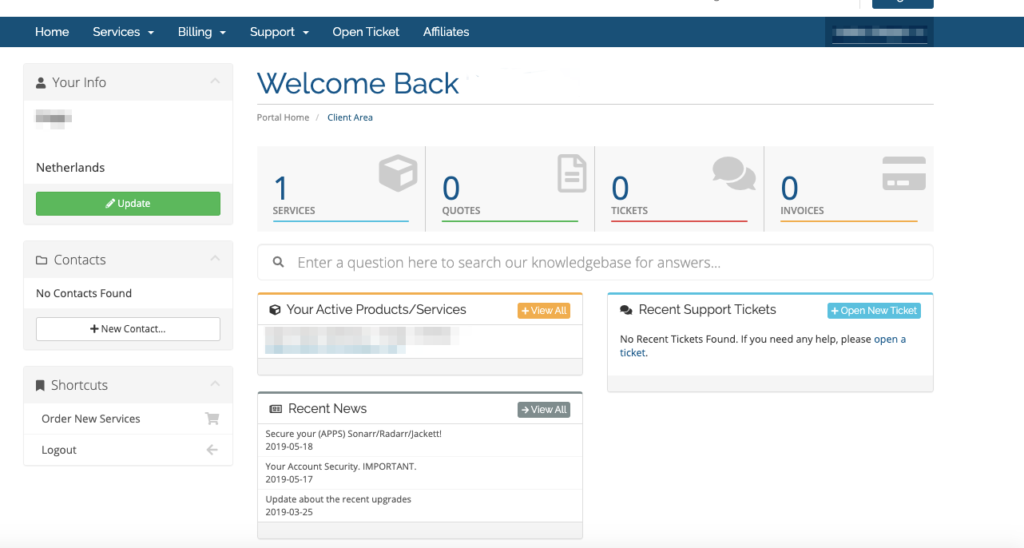 From this console, you can also have access to the Control Panel "CP", which gives you an extra layer of security, and a way to access all your products/services with a single click.
From this CP, you can find detailed information about your slot. You will also find helpful information such as how to access all services such as FTP, SSH, HTTP, HTTP Proxy, OpenVPN, and download the pre-set configuration.

You can use the one-click installers from the control panel, to enhance the experience on your seedbox. The installers can be, BTSync, Jackett, autodl-irssi, Radarr, rTorrent, ruTorrent, Deluge, and a lot more.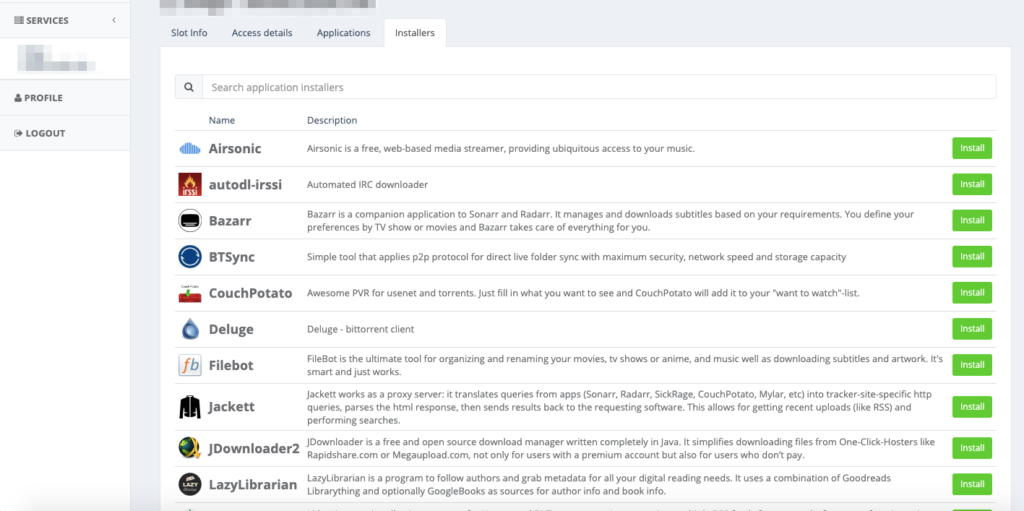 If you installed applications, you'll be able to access them from the "applications" tab.
2. Price and Purchasing.
USB pricing is very flexible. They offer low-budget plans like the S-Wind, M-Wind, Wind, and Thunder. Starting with the S-Wind which is only $4.48/month, is a great way to test the USB waters.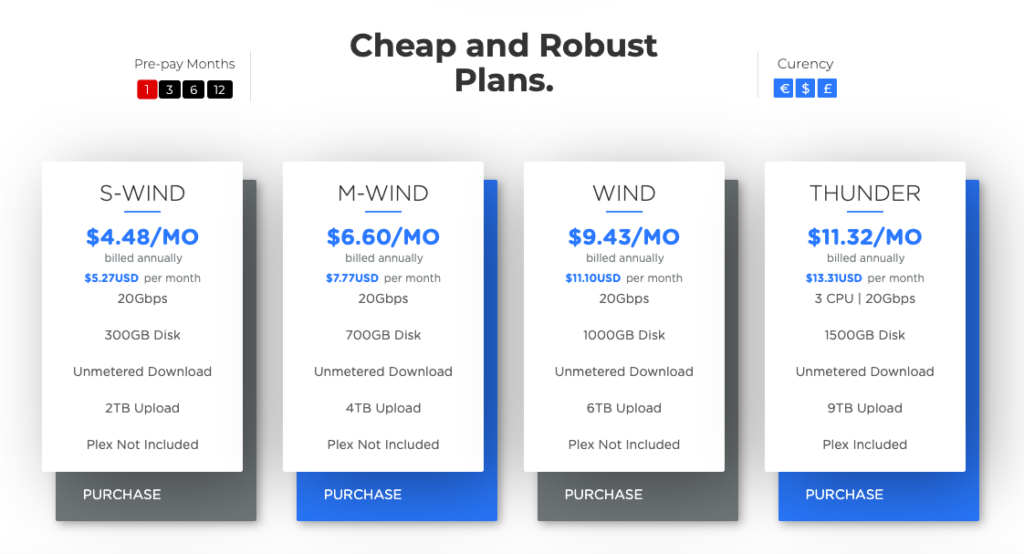 USB also offers seedbox plans optimized for speed and reliability.
All their SSD plans use Solid State Drives (SSD) to improve speed. Their cheapest seedbox with an SSD is the Jaguar-SSD for $16.46/month. Their top of the line Seedbox called the Raptor-SSD, comes with 2TB SSD and six CPUs at 20Gbps for $103.74/month.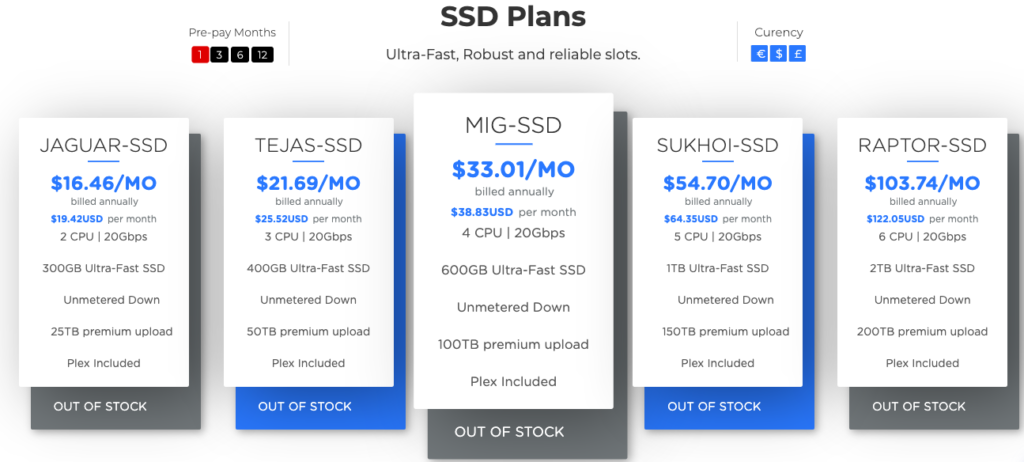 When purchasing a seedbox from USB, you can use any of the following payment options:
PayPal
Bitcoin
Credit card payments
and Perfect money.
You can also configure the seedbox and its options before buying it. For example, you can change the billing cycle, increase the upload traffic, or change the location of the data center.
USB also offers the 7-days Money-Back Guarantee. If you didn't like the product for some reason, USB offers a full refund within the first seven days.
3. How's their Speed?
We tested the M-Wind slot with Unmetered Downloads. The download speed is unlimited, and the upload speed is limited at 20000 Mbps (20Gbps). The slot comes with a 700GB disk and is hosted in the Netherlands.
What's the deal with Unmetered Downloads? It means that'll never be charged extra for high bandwidth usage. With unmetered, plans you'll get unlimited bandwidth, but of course with some restrictions. These plans usually have slower speeds than metered because they attract higher-usage users. USB offers a limit of 100TB on all unmetered plans (or 3TB/day).
In our case, the download speed using the ruTorrent with the M-Wind slot topped at 24.6 MiB/s.
Converted to Mbps... the maximum speed was 206Mbps (0.2Gbps).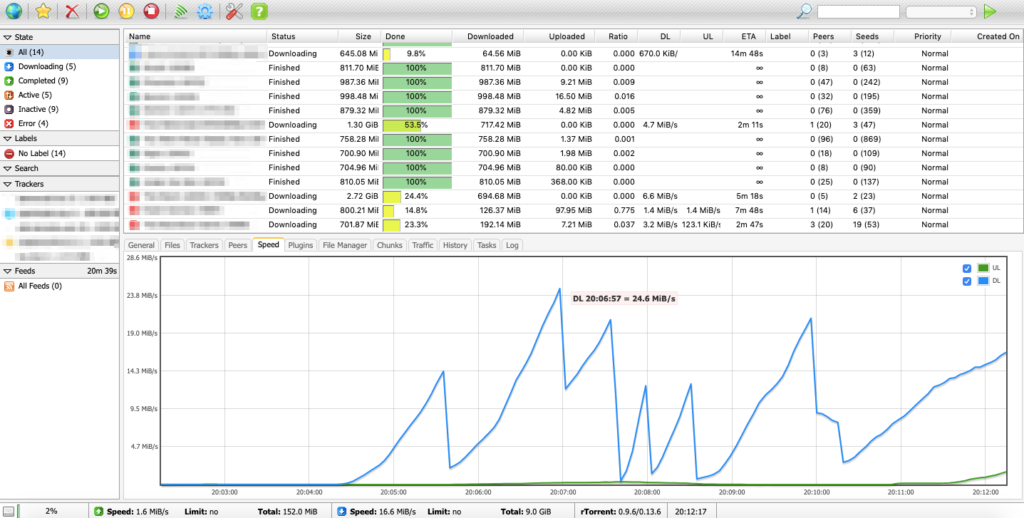 The speed when connecting with the VPN?
VPN enhances your online security but its encryption mechanisms take additional overhead. These additional calculations take a toll on your Internet speed. If you are using your VPN for every day web browsing, chatting, or emailing, you won't notice the difference in speed. But if you are using it for heavy torrenting or streaming videos you might notice a significant delay.
Without connecting to my USB VPN. My download speed was originally about 184 Mbps and upload is 390 Mbps.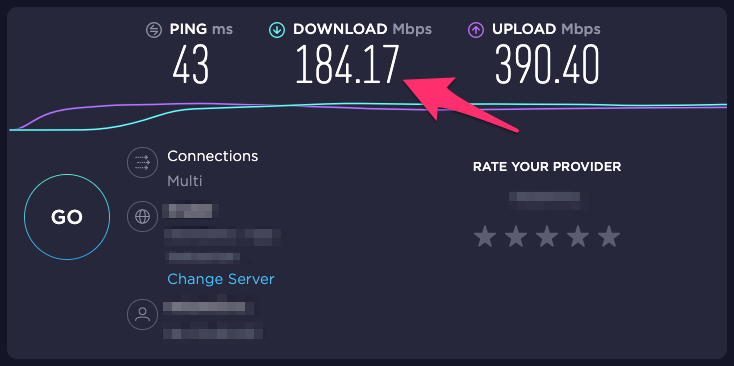 When connecting to my USB VPN. My download speed dramatically drops to around 14-20 Mbps.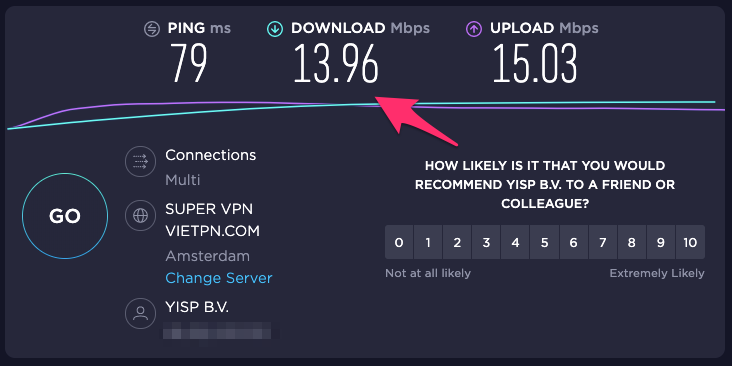 In the graph below you can see the dramatic drop in speed due to the VPN.
More security but less speed!

4. What about their Security?
Security and privacy are very important characteristics of any cloud-based service, especially for seedboxes. They need to provide anonymity and good privacy measures to ensure safe torrent downloads and web browsing.
How does USB implements security in their service? HTTPs to access applications, FTPS (or SFTP) to download files from the remote slot to the local computer, and VPN for accessing region-restricted websites, or protecting your browsing activity.
Security Protocols
HTTP Security. Although you can access your USB services with remote connections such as SSH, or X2GO/VNC, you can also access through a secured web-based interface or HTTPS. USB servers have the support of SSL, so you can access all applications over HTTPS (secured or HTTP over SSL). A trusted SSL certificate is provided and the communication between your applications is 100% encrypted. But with USB, you don't exactly need to use HTTPS every time. All servers have a front-facing Nginx web server with SSL support that acts as a proxy.
SSH. USB also provides the encrypted protocol SSH for starting shell sessions on your remote slot in a secure way. All seedbox plans come with access via SSH, so you can run commands on the server's command prompt.
FTP Security. Although traditional FTP is much faster than FTPS or SFTP, it transfers passwords in plain-text and should be avoided at all costs. With USB, remote to local FTP transfers are 100% encrypted. The services use "explicit FTP over TLS" and the "FTP over TLS" to provide security in your FTP environment.
VPN. The idea of a VPN is to create a kind of tunnel via encrypted connections between your local machine and the remote server (seedbox), bypassing anything in between. Your LAN, ISP, Internet Exchange routers, all of these only see encrypted messages, so they cannot intercept, or inspect your traffic. No DPI (Deep Packet Inspection) can decipher these VPN messages. But still, some VPN services leave DNS, IPV6, and WebRTC information unencrypted. It is important to verify that this VPN provider does not leak this kind of sensitive data.
Verifying VPN.
A quick geolocation search of the public IP can let you know if you are already browsing from a different place. Since this slot is located in the Netherlands, the location of the IP of the server should come from somewhere in NL.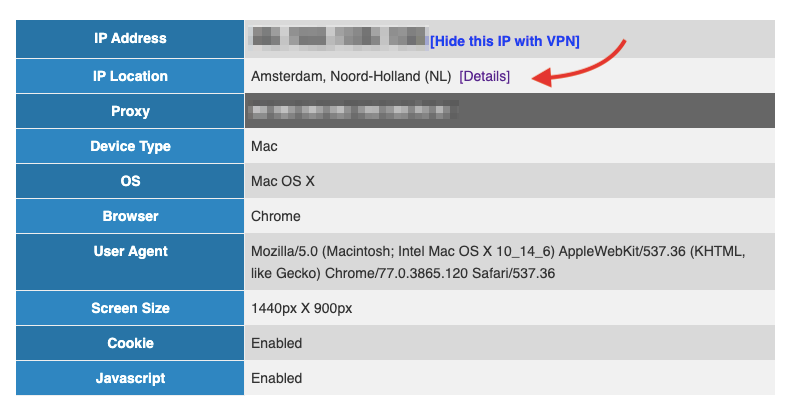 To find data leaks, you can use a packet sniffer such as Wireshark, to inspect the packets and attempt to find any domain names or IPv6 information that is not encrypted.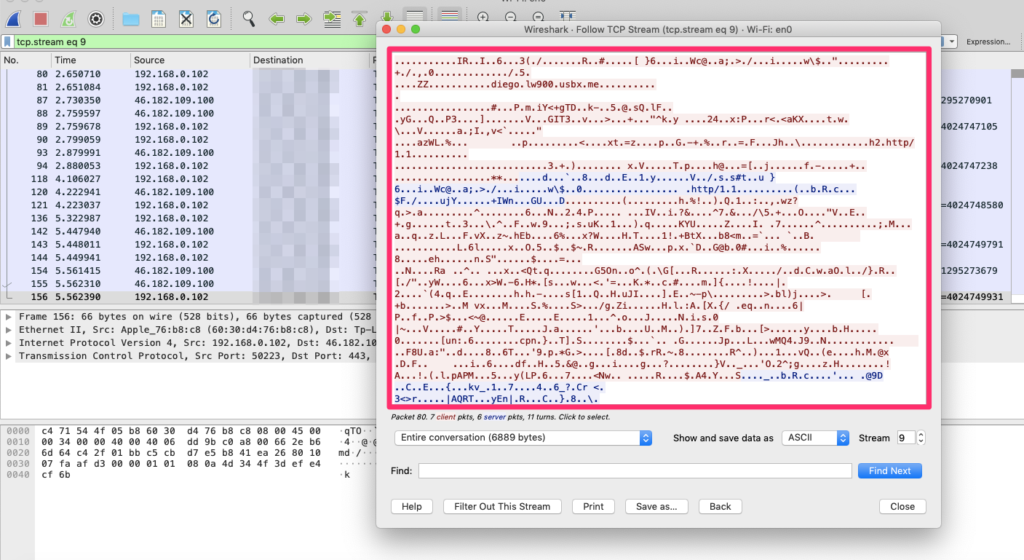 For our USB VPN security test, using Wireshark, and inspecting the packets while browsing, we couldn't find any data leaks. All information is 100% encrypted.
5. Other Services?
UltraSeedBox offers a variety of slots, with different capabilities and applications. Aside from the traditional function of a seedbox, USB offers additional services such as streaming, VPN, FileSync, Automation, and more.
Streaming USB offers streaming services in some of their slots, like Kodi or Plex. In fact, they have lots of slots already optimized to improve the streaming experience and avoid buffering using Plex.
VPN: All seedboxes come with a complimentary VPN service to allow anonymous web surfing. You can download the OpenVPN configuration and run it in your VPN client.
File Synchronization: USB supports RClone and Resilio Sync to synchronize files and directories from your seedbox to your local machine.
Supported Torrent Clients: USB supports three popular torrent clients, Deluge, rTorrent/ruTorrent, and Transmission.
Automation: USB support some torrent automation tools such as Jackett, Radarr, Sonarr, CouchPotato, autodl-irssi, and more.
Customer support. USB uses a customer portal or help desk, so you can open tickets and manage them, contact a support agent, access to their knowledge-base, and get news on upgrades or downtimes.
6. UltraSeedBox Pros and Cons
Below are a few pros and cons that we found after using the UltraSeedBox service for a couple of days and engaging with the Seedbox community.
Pros:
Public trackers are allowed.
Comprehensive and easy to use knowledgebase.
They have fast and powerful servers optimized for Plex.
Their price flexibility is a pro because they have the $5 seedbox/month and an ultra-fast optimized seedbox for higher budgets.
Cons:
It can take some time to log in for the first time. The introductory email does not include information on how to quickly access VPN, FTP, or other services.
Customer support works but it can be slow at times.
Although they have lots of options, some servers are often overbooked.
7. Final Word.
In general, UltraSeedBox is quite popular. First, because of their flexibility in price. They have slots ranging from $5.00/month and drops to $4.00 if you pay annually. For the price, this is a good option to start with seedboxes.
As with any SaaS or cloud-based product, there are downtimes and failures. The seedbox community considers USB as reliable and secured. Although there are some servers that fail sometimes, their service is stable and solid at most times.
Setting up a seedbox in USB takes less than 5 minutes. From selecting an option, paying, and getting an email, it takes only a few minutes. But logging in to your seedbox or web-based torrent application can be a bit more time-consuming.
If you are a beginner, USB is a good place to start, but you are likely to use their knowledge-base and FAQ to get going.
Recommend Resources