Not sure if Seedbox.io is your right seedbox? Looking for an honest opinion of Seedbox.io?
Before signing up for Seedbox.io, take a look at this deep Seedbox.io review. We rented and tested their service for a couple of days, monitored the seedbox for downtimes and failures, and went on to the Seedbox community to look for hardcore users' opinions.
We've got some golden results and shared them all here.
In a nutshell, Seedbox.io servers have quite a good reputation in terms of stability and performance. What calls the attention to many seedbox first-timers is their $5.00 shared slot. Although is not the fastest, it definitely puts beginners on the road to seed-boxing. Aside from being one of the cheapest services, it takes less than five minutes to start.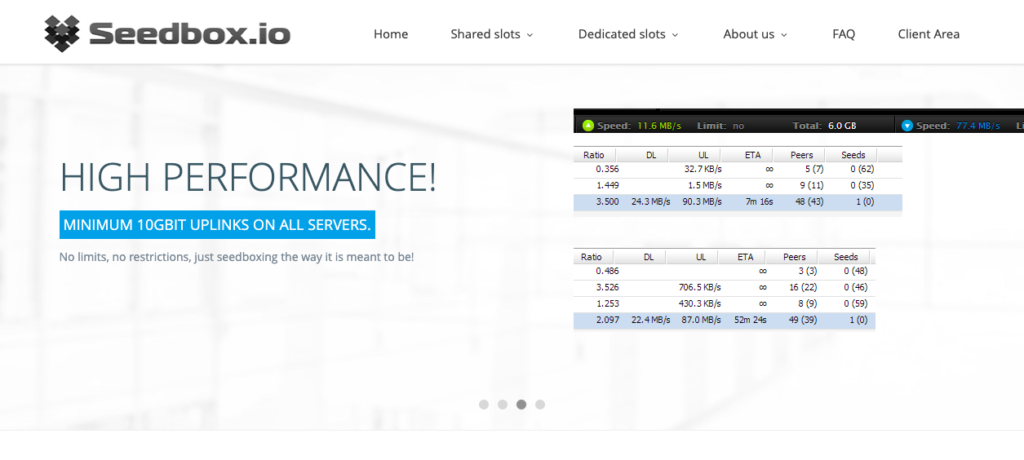 Table of Contents.
Description
What is Seedbox.io?
Seedbox.io, former Hostingor, is an unmetered gigabit seedbox provider. They run their own network peering with various large Internet exchanges located in Europe. Their network consists of Level3, Telia, NTT, GTT, Zayo, Core-Backbone, Seabone, and direct peering via AMS-ix, LINX, DE-cix.
Seedbox.io offers shared and dedicated slots. Starting up with a shared Seedbox.io is typically very easy and takes only about 5-10 minutes. Starting with a dedicated slot can take longer than 4 hours and less than 2 days.
Their data centers are located in:
nForce Netherlands. NL
M247 Romania. RO
Illiad Group France. FR
Their most popular seedboxes are the 300GiB (FR, NL & RO), the 1250GiB (FR, NL & RO), and the E3-1230 (FR, NL & RO).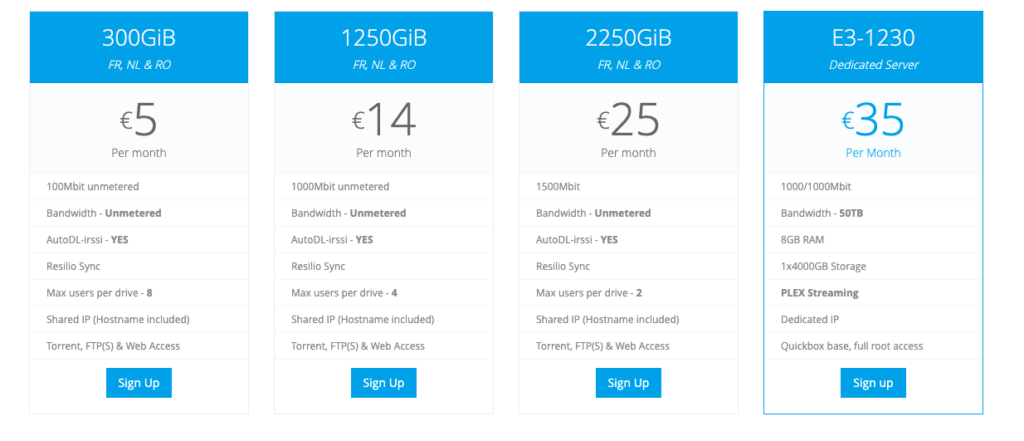 The 300GiB is a really cheap Premium slot, that allows you to start seed-boxing in no time. For $5.50 or euro €5.00 you can have a 300GiB Disk space, and a 100 Megabit of unmetered dedicated bandwidth
The E3-1230 is their popular dedicated server which comes with 8GB RAM, 4000GB storage, 1000Mbit uplink, and 50TB (in+out) bandwidth, for €35.00.
Price and Purchasing:
Seedbox.io offers four preset seedboxes, as of 2019 prices are, 300GiB (Shared for $5.50/month or €5.00/month), 1250GiB (Shared for $15.39/month or €14.00/month), 2250GiB (Shared for $27.49/month or €25.00/month), and E3-1230 (Dedicated Server for $38,48/month or €35.00/month).
Of course, when renting the seedbox you have other options.
You can configure the seedbox to optimize the price and usage. You can vary between bandwidth, storage, location, traffic priority and choose what's best for you.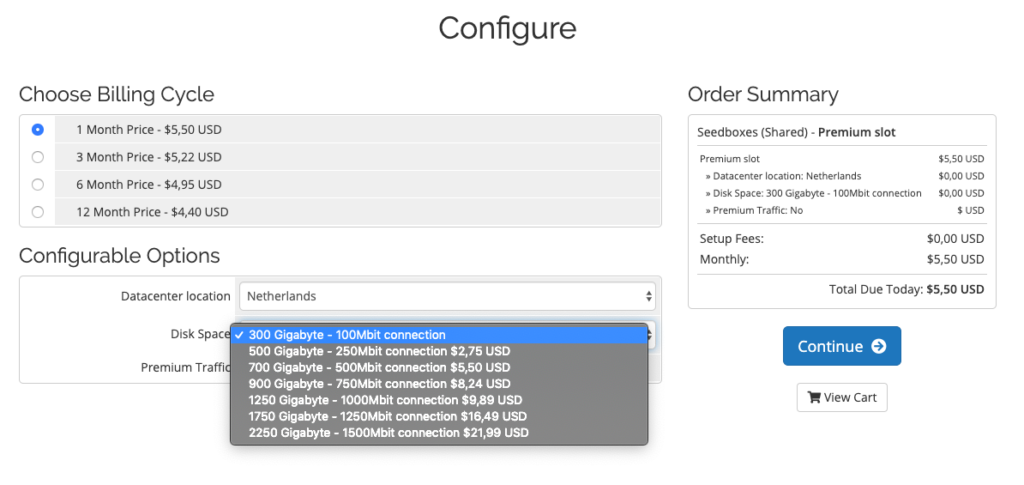 Seedbox.io gives you many options to pay for the product or service. They have over 14 different payment methods. You can choose between credit/debit card, cryptocurrency, Paypal, bank transfers, etc.


A cool service feature to mention is their 14-days money-back-guarantee policy.
If you are not happy with the service or the performance of the server, Seedbox.io offers a 14-day money-back guarantee. This is only valid for the shared hosting plan, not the dedicated servers.

When purchasing your Seedbox.
As many seedbox providers, Seedbox.io offers shared and dedicated servers. Their three options for Shared servers are Premium slots, SSD slots, and VPS Slots (not yet available as of October 2019).
These slots vary in storage capacity, and bandwidth, and features.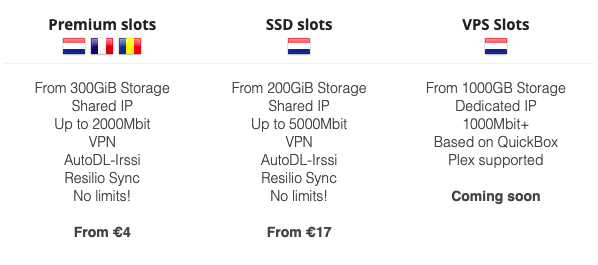 Their dedicated servers are Leaseweb, NFOrce, and M247 (not yet available as of October 2019). Dedicated servers vary in storage, RAM, bandwidth, and features. An advantage of dedicated servers is that they come with full root access and. You can perform any operation that you want, install additional software, etc.

How to Use Seedbox.io?
The client area or dashboard shows you the overall information of your Seedbox.io key elements like Services, Quotes, Tickets, and Invoices. To get more information on your hired services, you can go to the "Services" item or for more details go to "Active Products/Services".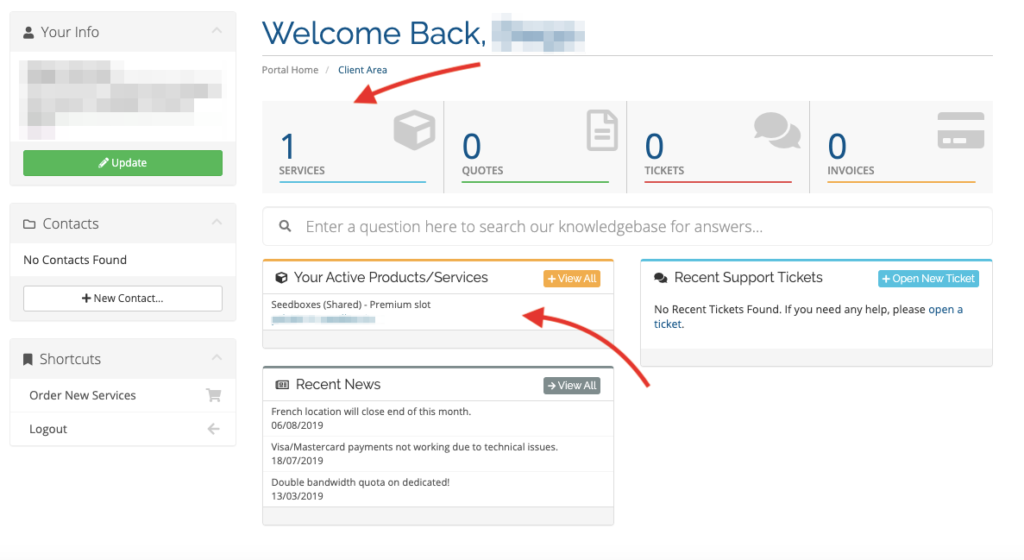 The following screen will show you more details about your hired Seedbox. For now, our shared Seedbox is Active, so we'll give it a try.

You can click on the seedbox that you want to access or know more information about. In this case, we'll go to the only one we have hired for now.
Managing your Seedbox.
The next screen will give you management access to your Seedbox. Here, you can Activate, De-activate, Request Cancellation, Change Password, Restart seedbox, Download FileZilla and OpenVPN configuration, and more. This screen will also give you key information that you will use to access your Seedbox servers, such as Domain, username, IP address, and server name.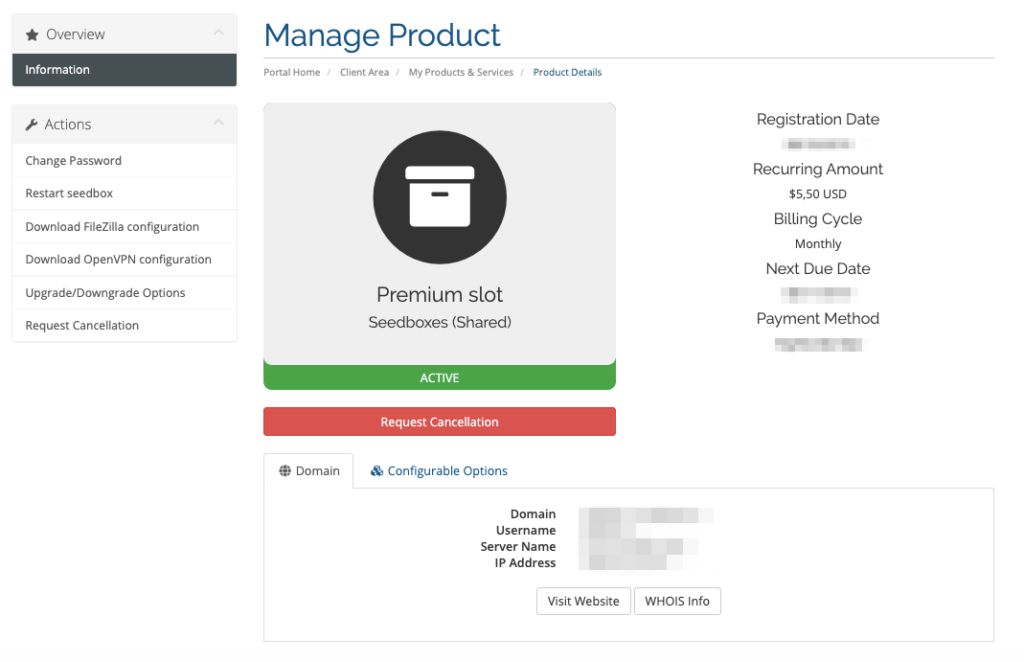 If you think that your resources are not enough, or exceed capacity, you can downgrade or upgrade your seedbox. Go to the Upgrade/Downgrade options on the left side menu and choose your new options.
You can, for example, change the datacenter location without any additional cost, or change the disk space for additional or less price. You can also configure your seedbox to get traffic priority. After all, your Seedbox will be sharing bandwidth with other seedboxes, so this option guarantees that you get some priority.

How to Access your Seedbox for the First Time?
Once you purchase a seedbox with Seedbox.io for the first time, they will send you an email with complete information such as:
How to access your seedbox through any of the following methods, WebUI Access (Secure), Kodi/XBMC URL, WebDAV, Resilio Sync, or shared IP.
Credentials. Username, Password, and Shared IP.
Other key services: Links and how to access FTP, VPN, and Proxy.
Billing and Renewal: The email also includes information on your billing cycle and the next due date.
You can also find this information without the email. From the Client Area browse your active product/services. The name of your seedbox will likely be a domain name, like psb12345.seedbox.io. The easiest way to access your seedbox is to copy that name and paste it in your browser.
You can also find a domain name and IP information in the "Manage Product" window, which is shown as follows,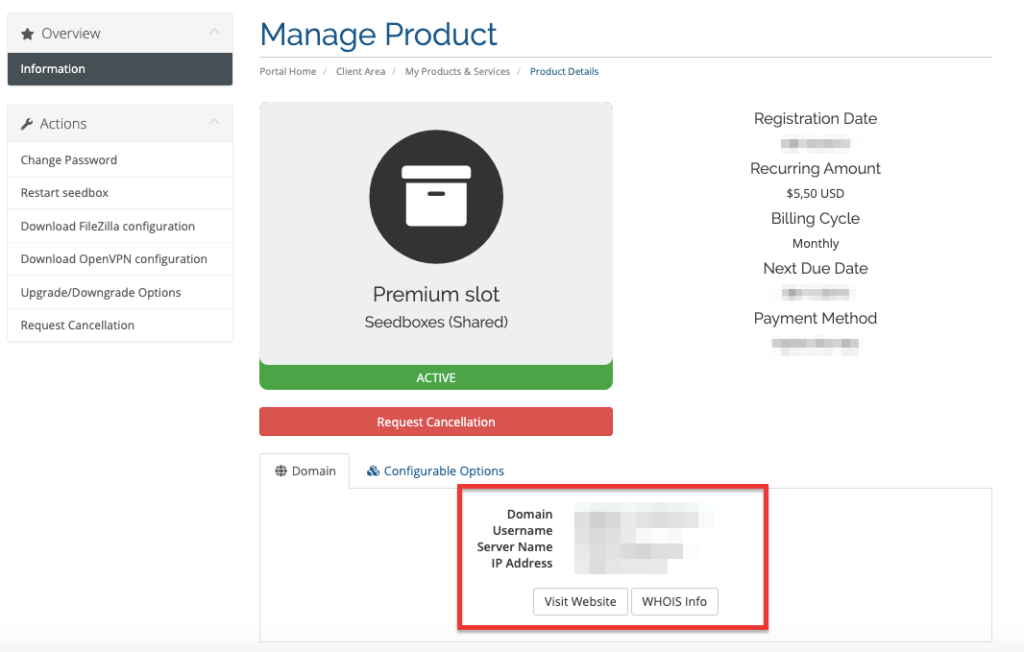 You can also click on the Seedbox name shown in the "My Products & Services". This link will take you right into your WebUI Access (Secure).

When you enter your Seedbox, use the Seedbox.io credentials that you received in your email. You will instantly have access to your ruTorrent client and to browse/download/delete files via the WebUI.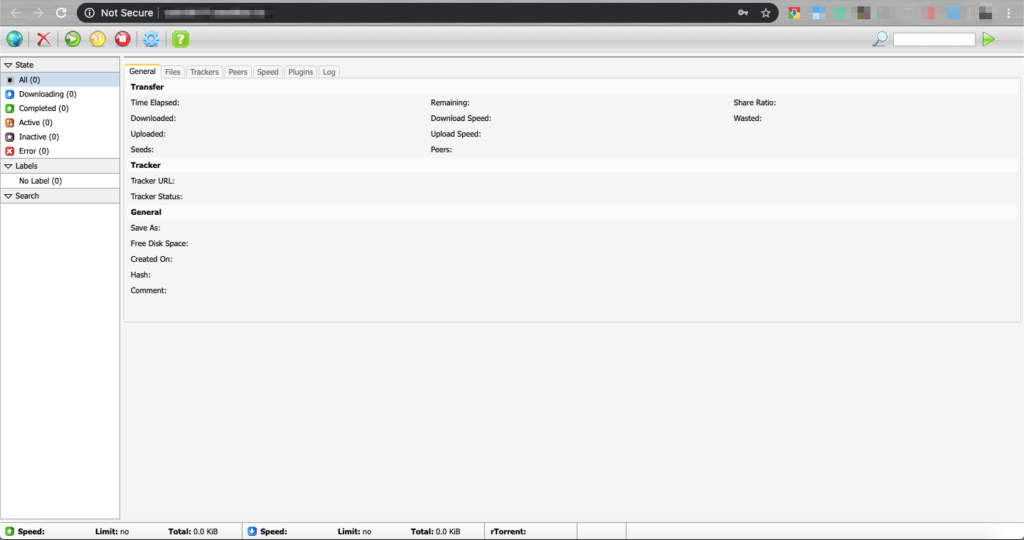 Using the ruTorrent WebUI?
Seedbox.io servers use ruTorrent as the web interface. The ruTorrent is the frontend web interface of the command line client known as rtorrent. It was designed to imitate the look of the popular µTorrent WebUI. ruTorrent is the combination of µTorrent (looks) and rTorrent (functionality).
To start downloading torrents, go to the globe icon on the far left of the top bar. You can either add a torrent file by browsing it on your local computer, but you also have the option to add the torrent file via URL. You can get the Torrent URL from the torrent trackers that use Magnet links.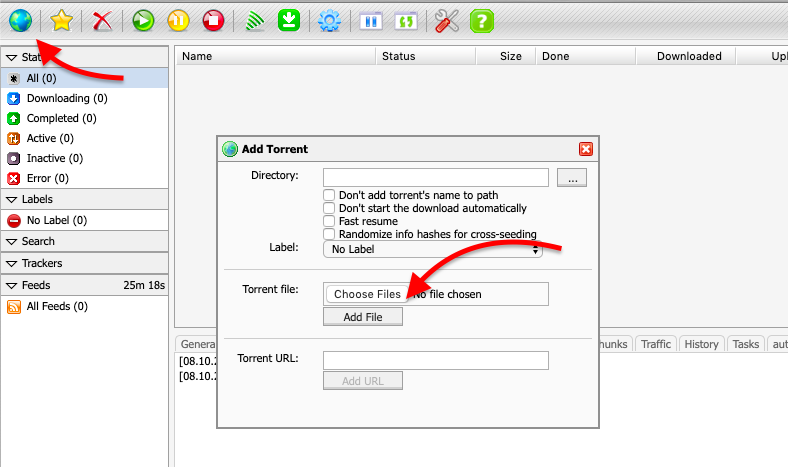 TIP: If you don't know how to get the Torrent URL, you can right-click on the magnet link and "Copy the Link Address".
Once you added the torrent via file or URL, it will start downloading to your Seedbox.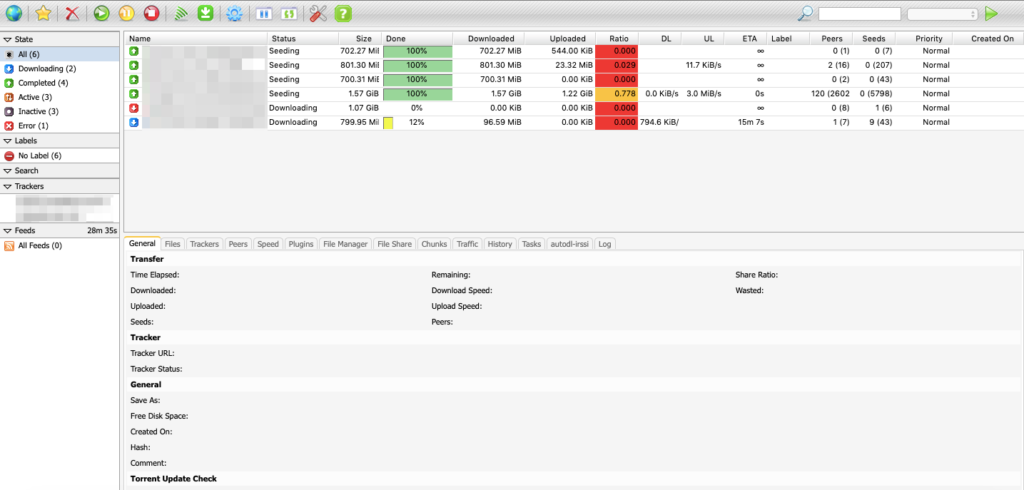 There are other ways to add torrents to your ruTorrent client. You can use a browser extension or add-on.
Firefox's Torrent Control by Aiken can be configured to automatically add torrent and magnet links to any of the BitTorrent client's web interface. The addon supports popular clients like Deluge, Flood, ruTorrent, Tixati, Transmission, µTorrent, and qBittorrent, and more.
How to use Add-ons to download torrents easier?
1. Install the Add-on (like Torrent Control by Aiken) in Mozilla Firefox.
2. Configure it with the Seedbox Address (domain or IP) and credentials. And hit Save!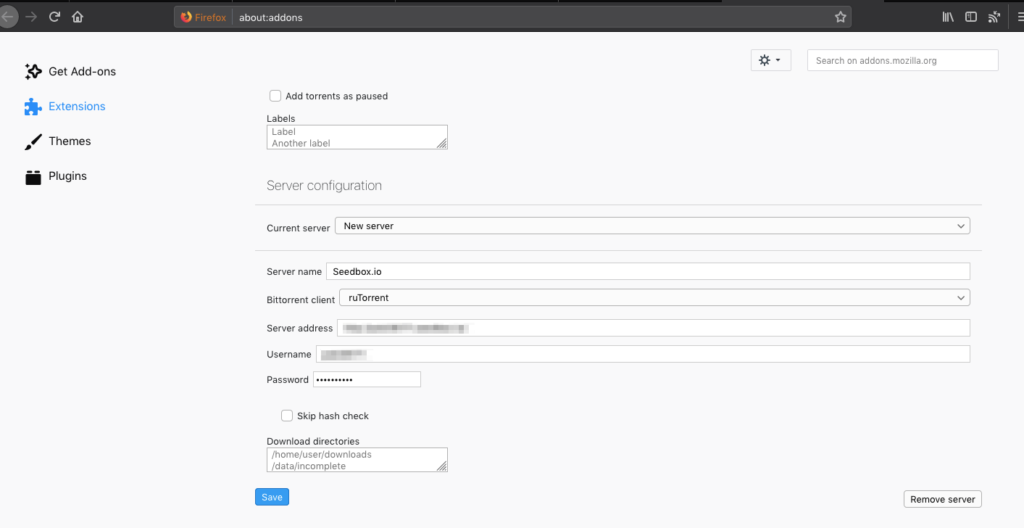 3. Once you click a torrent magnet link, it will immediately open your seedbox ruTorrent WebClient and start downloading it.
Transfer files from your Seedbox.io to your local machine?
Some users prefer to use streaming services such as Plex or Kodi/XBMC to view the content right from the Seedbox, without downloading it to their local computer.
But still, most users still prefer to build their media library on-premises. Seedbox.io supports FTP, FTPS, FXP which are fast and secure transferring methods. These protocols are usually not throttled or controlled by ISPs, as BitTorrent is.
Once you download the media content via your ruTorrent WebClient, you'll need a way to access the files and transfer them to your local computer, and that is through a common FTP Server/Client application known as FileZilla.
Using FileZilla to download your content.
First, make sure that you download FileZilla and install it correctly.
Go back to your Seedbox.io Client Area > My Products & Services > Product Details. In the left side menu, you should see "Download FileZilla Configuration". This will download an XML configuration file which you will import into FileZilla to load your Seedbox configuration.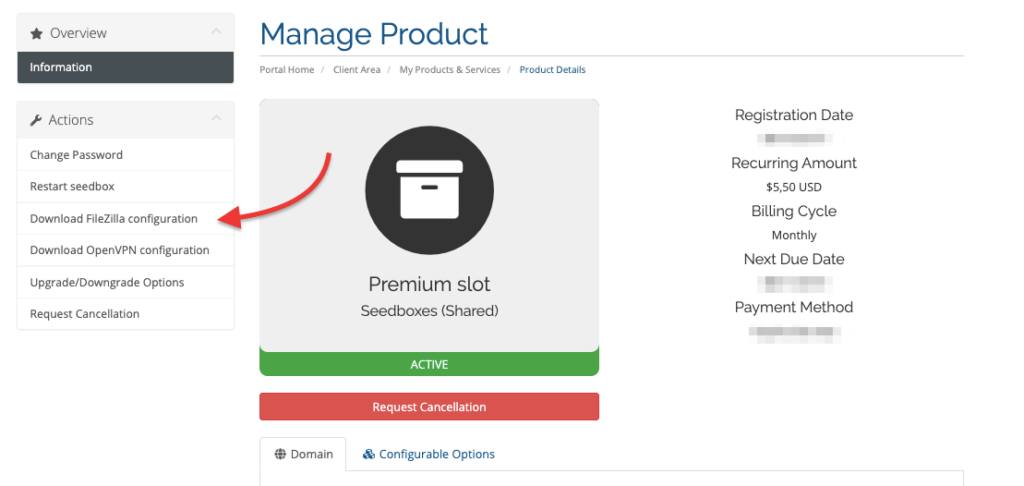 Go to Filezilla.
1. Go to the main menu, click File > Import.
2. Select the XML configuration file, and open it.
3. You can also obtain the FTP login information on the email that you initially received. Look for something like FTP: ftp://psb12345.seedbox.io/, port information, and credentials. Add all this information manually to the FileZilla Server.
4. Now go to the Site Manager, which is the icon on the top left corner. If you downloaded the XML configuration file and installed it correctly, you should see all the FTP entries created in the Site Manager.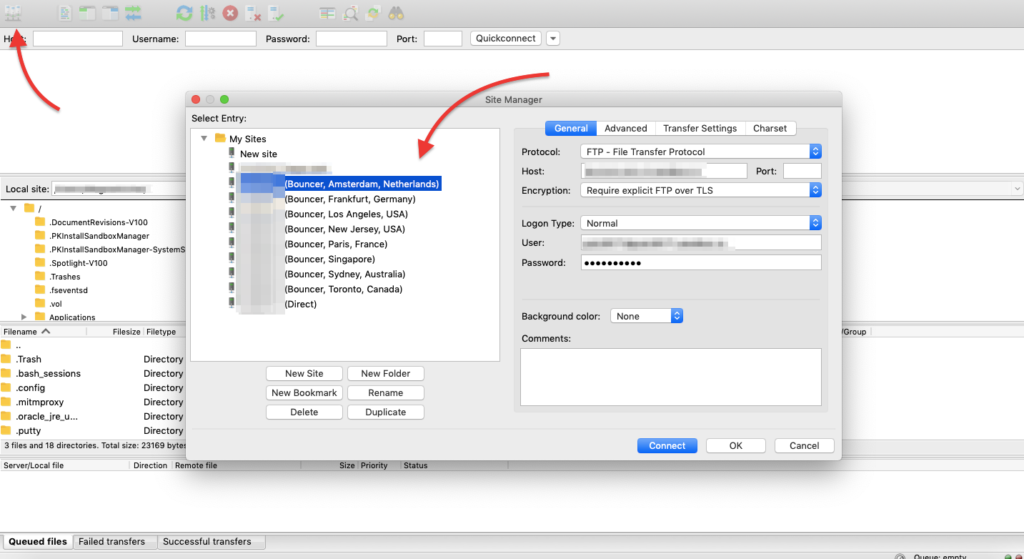 5. Select the profile entry. The configuration already contains your credentials and IP information. To log into your Seedbox, only choose the profile, and hit "Connect".
6. You'll get a folder and file view of your Seedbox. Go to the "files" folder and download your media content to your local machine.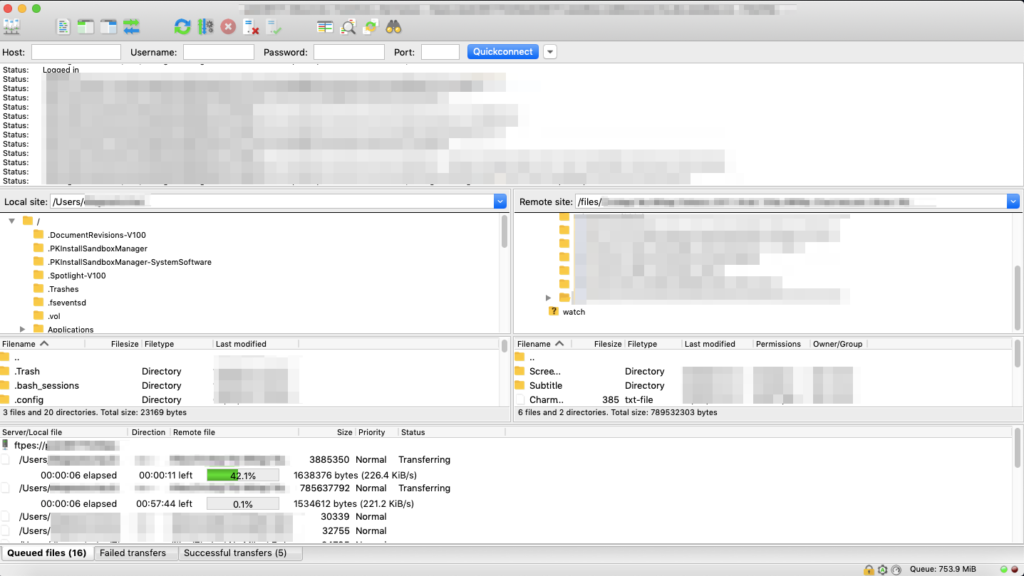 How's their Speed?
Our rented Service is (300 Gigabyte – 100Mbit connection) which is on the low end, so we would know what to expect in terms of volume and speed.
An advantage of Seedbox.io is that it uses unmetered bandwidth (or unlimited bandwidth). Unmetered servers are typically not given a determined amount of Gb/Mb per month — but are given a specific port size. There are no overage costs with this plan because the usage is limited based on the port size. Users can use as much bandwidth as their port can handle.
As a side note, it is good to remember that the speed shown here, is from your Seedbox server physically located in a data center in the Netherlands, Romania, or France. And the destination can be worldwide since the connection is using the peer-to-peer protocol. Remember is that the bandwidth is dedicated (unmetered) per user, no matter if your seedbox is shared or dedicated.
The speed test that we performed came to a max of 11.8 MiB/s which is not bad for a 100Mbit connection (12.5MiB/s) mini slot.
The speed is what's advertised.
Your download speeds are slow?
First, the source (Seedbox.io) limits the maximum download speeds. If you purchased a 100Mbit connection the translated realistic bandwidth speed in MB will be 12.5MiB/s.
For other connections, you should be able to get a max on those MiB/s.
250Mbit = 31.25MiB/s
500Mbit = 62.5MiB/s
750Mbit = 93.75MiB/s
1000Mbit = 125MiB/s
The slow speeds might be also related to the ruTorrent web client configuration or the torrent's health (number of seeds). You can start by checking the configuration of your WebClient and limiting the number of connections for each torrent. The default is 120, which will inevitably hog your bandwidth.
If you are downloading from public trackers, expect to have slower speeds. After all, you are downloading from people in their home networks, and that could be slow. A good trick is to download well-seeded torrents. Before you download a torrent, make sure it has a good number of peers.
If you are seeing slow speeds, try asking Seedbox.io customer support to switch the location of seedbox, for example from FR to NL.
What about their Security?
Seedbox users are particularly "paranoid" when it comes to their security. After all, one of the main reasons for hiring a seedbox is to stay anonymous. Users want end-to-end encryption, no local ISP bandwidth throttling or DPI (Deep Packet Inspection), safe payments, no log-keeping, and safe torrenting.
How does Seedbox.io provides this level of security?
Encryption and Secure FTP.
1. Is OpenVPN seedbox.io really encrypted?
VPN is probably the safest way to remain anonymous. Obviously the main objective of using a VPN is for encrypted connections, in other words, to hide your real IP, and use the public IP assigned to the VPN server (your Seedbox).
You can test the security of your Seedbox.io VPN connection with the help of packet sniffers like Wireshark to find out VPN privacy leaks. If the OpenVPN file that you downloaded is not properly configured in the server, there could be IP or web browsing history leaks. You can check for the type VPN encryption, whether the connection has DNS, IPv6, or WebRTC leaks.
A quick test — without a VPN?
Our DNS query is totally unencrypted. We are browsing amazon.com, which can be found in the DNS query packet.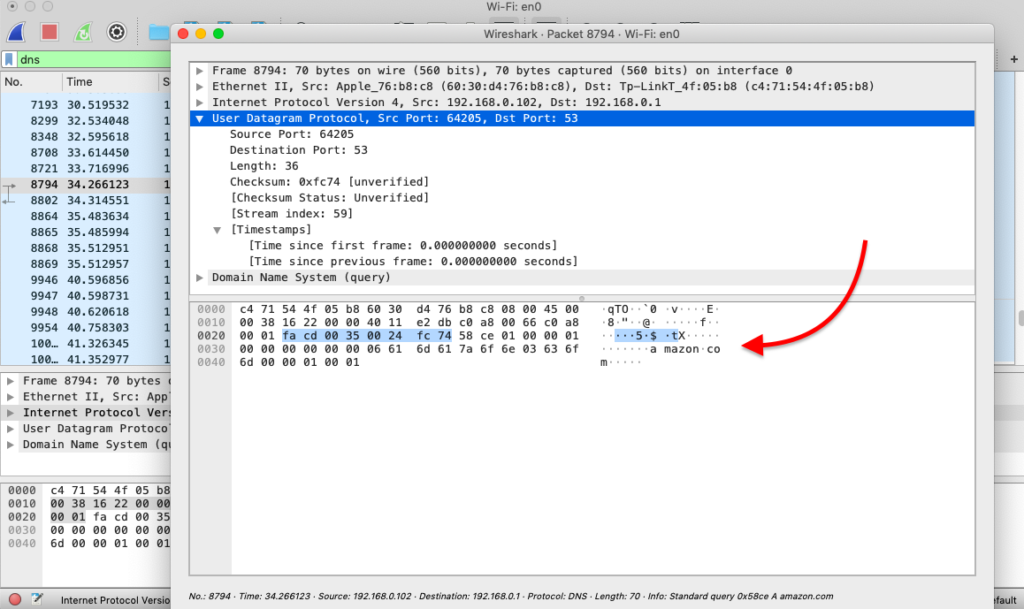 With VPN?
When we connect to the Seedbox.io OpenVPN, all our content is encrypted, totally gibberish. We couldn't find any DNS or IPv6 leaks.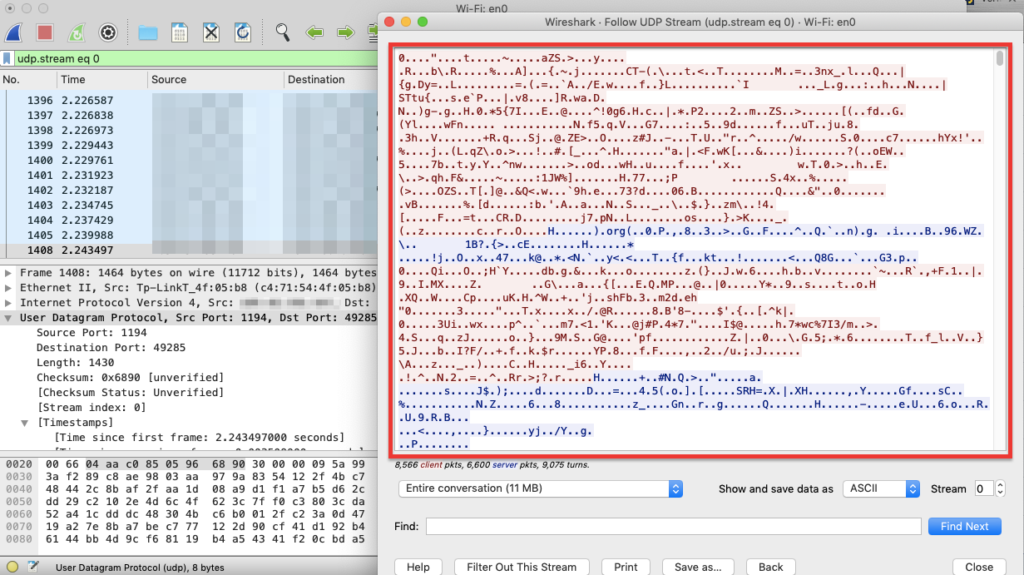 As an additional point and according to a Seedbox.io representative, no logs are kept in OpenVPN setup or sessions.
2. FTP security: FTP (TLS & SSL) and SFTP.
Seedbox.io also supports FTP, FTPS (TLS & SSL) and SFTP. But remember that, FTP is insecure and shouldn't be used to transfer data. When a file is sent with FTP, all information is unencrypted, such as content, username, password— all that information is displayed in plain text.
Seedbox.io offers FTP (TLS & SSL) and SFTP for safe data transfer. Although these two protocols are slower than FTP, they are 100% safe. The FileZilla configuration that you download from the Client Area is all defaulted to "FTP over TLS", so your downloads will be slightly slower but totally secure.
With FTP over TLS (explicit FTPS), your FileZilla client connects to the normal FTP port and explicitly switches into secure (TLS) mode. In other words, the protocol uses FTP but it wraps it in an encryption layer. As shown in an "FTP over TLS" packet session from a Seedbox.io captured by Wireshark, the information is 100% encrypted. No username/password or content is visible.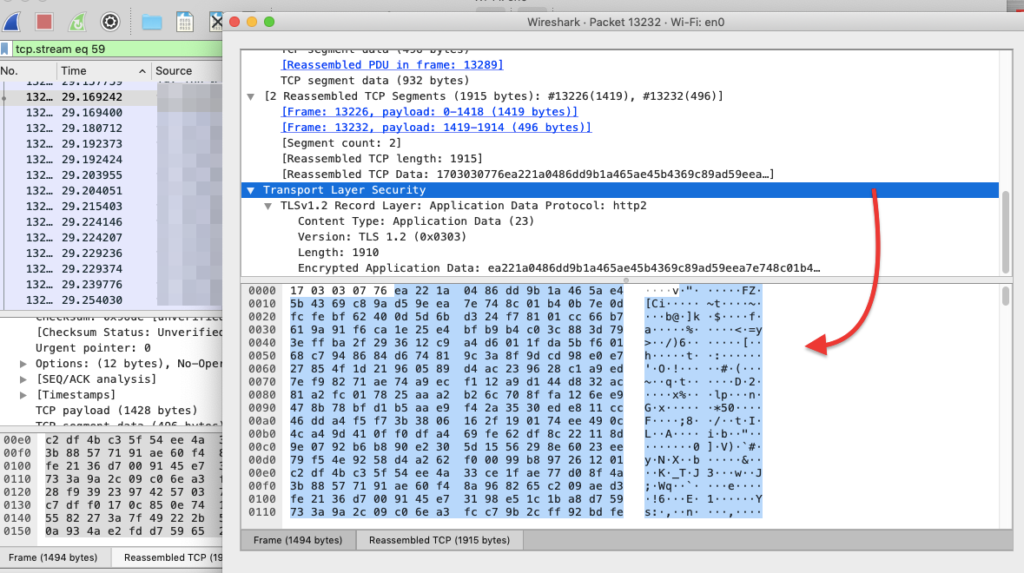 How is their Customer Service?
Customer support works based on the Support Tickets, Announcements, Knowledge Base, Downloads, and Network Status.
Seedbox.io has a very comprehensive Knowledgebase that you will hardly have to contact support. Their quick how-to guides, FAQs, and getting started are straightforward and simple to follow. And if you couldn't find a solution to your problem in the knowledge base, you can open a support ticket.
To open a support ticket:
Go to Support > Tickets > Open Ticket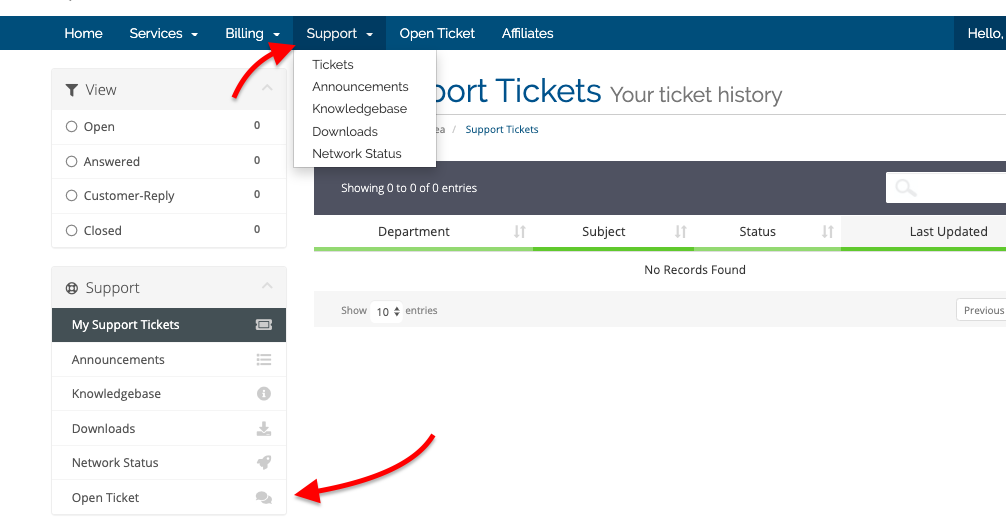 This Window will show you the ticket history, if there is a work-in-progress ticket, it will be shown here. To open a new ticket, go to the bottom of the left menu and choose the department that matches your inquiry.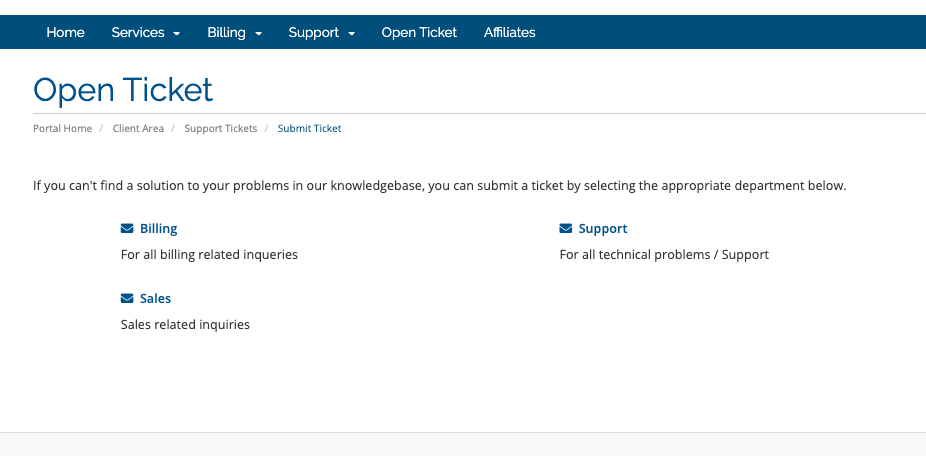 When you open a support ticket, it will be added here, in "My Support Tickets". You can follow your ticket from this window, see its status, and messages.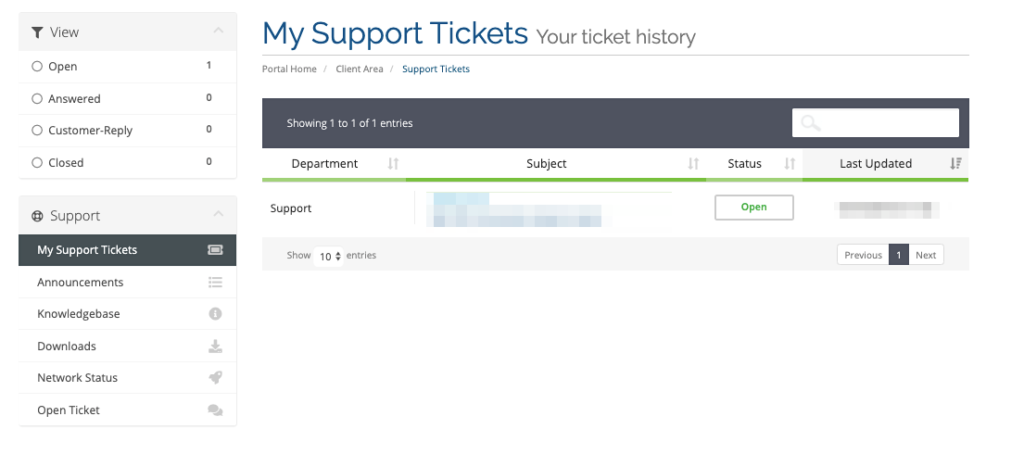 Seedbox.io has a good reputation for solving tickets fast. The support replies quickly and is very helpful. When we opened a ticket here, their response was within 2-3 minutes.
Other Services?
1. Streaming:
Some users like to stream all of their content right from their seedbox, without downloading it to the local computer. Seedbox.io offers two streaming services Plex Media Server and Kodi/XBMC.
To stream your content from the Seedbox using Kodi/XBMC. Download Kodi, make sure that it is configured. Go to Kodi Main Menu > Files > Add Videos > Browse > Add network location (in the bottom).
Then just fill the seedbox information:
Protocol: Webserver directory (HTTPS).
Server Address: Your XXX.seedbox.io (XXX is your username).
Remote path: Choose Files.
Username and Password: As received from the email.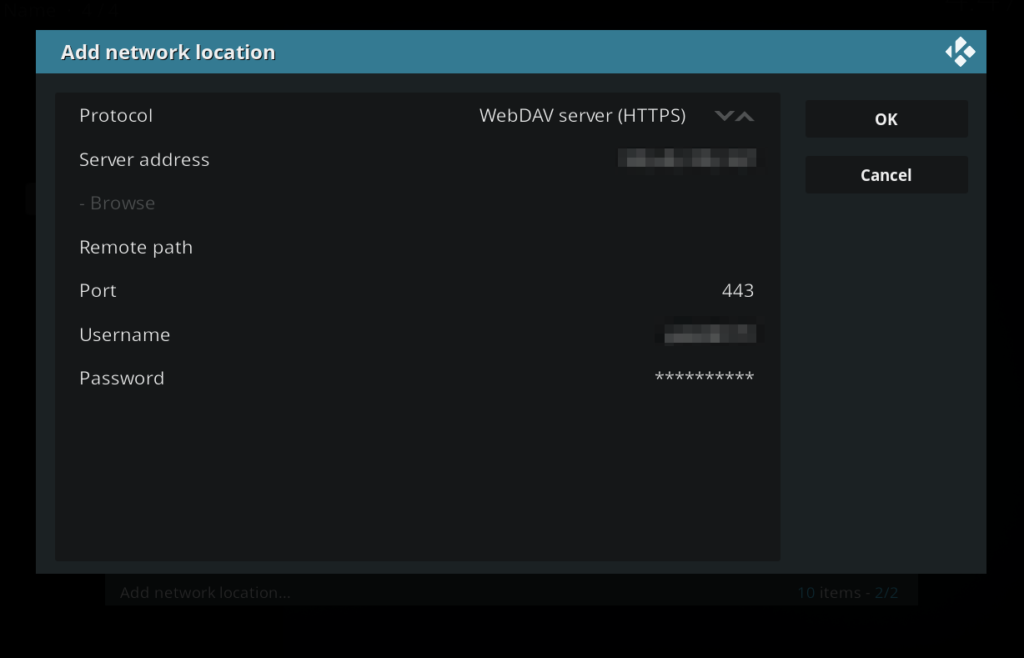 2. VPN:
Seedbox.io also offers OpenVPN for VPN connections. The good thing is that no matter what shared service you pay for (Mini, Premium, or SSD) you'll receive access to OpenVPN.
Seedbox.io has infrastructure running in the Netherlands, France, and Romania. So when you connect your local client to your OpenVPN server, you'll be directed to a server physically located in those countries. You'll receive tailored content from those countries and surf the web under their laws.
Let's test Seedbox.io OpenVPN service.
1. To begin with, make sure to install OpenVPN.
2. Run through the installation process and make sure the software is running.
3. Go back to the Seedbox.io Client Area to "Your Active Products/Services" and click on your seedbox name. Once in the "Manage Product" window, go to "Download OpenVPN Configuration". That link will download an opvn file, which contains the VPN configuration.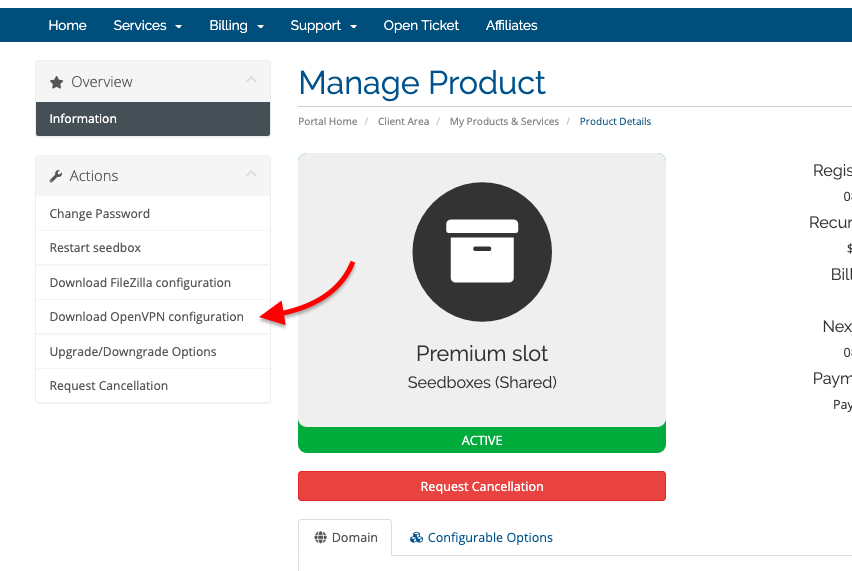 4. Locate the opvn file in your local computer and copy it to the OpenVPN config folder. Or you can import the file by right-clicking the OpenVPN icon and selecting the opvn file.
5. Right-click the OpenVPN icon on the status bar and click "Connect". Choose the Seedbox.io VPN connection. When connecting to your VPN, the service will ask you for credentials, have them ready.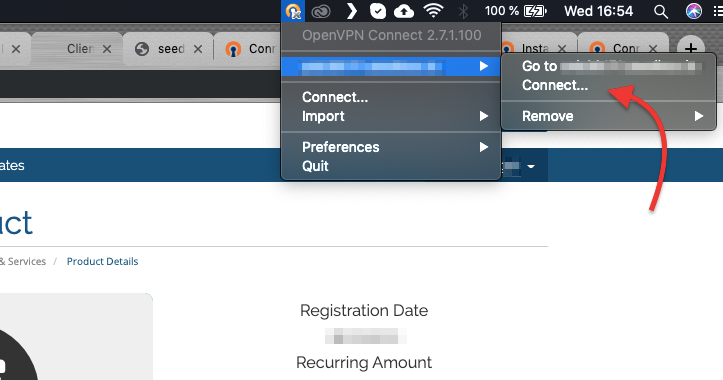 6. Once you input the credentials, allow the VPN connection to your Seedbox using an unverified profile.
7. Verifying the VPN. Thanks to IP geolocation services like IPlocation.net, we can know our specific location— at least of my Seedbox. It is critical to make sure that we are already connected to geographically distant space and that we are using other public IP than ours. In fact, the below picture shows that my location is the Netherlands, which is thousands of kilometers away from where I am right now.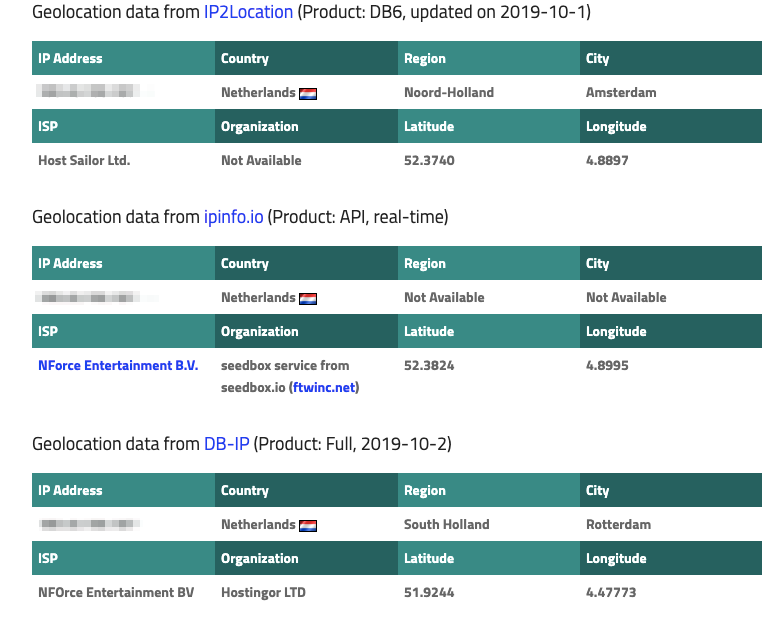 8. Testing VPN speed. Another way to test your VPN is to try its speed. Bear in mind that the speed shown here is affected by my local ISP and by encryption mechanism. The best way to test your VPN speed is to perform a Speedtest with and without connecting to your VPN and then compare all results.
3. File Synchronization.
Seedbox.io supports Resilio Sync, which is a proprietary peer-to-peer file synchronization software. It is available for Windows, Mac, Linux, Android, iOS, Windows Phone, Amazon Kindle Fire, and BSD.
Basically, Resilio Sync will take the files found on your remote server or seedbox and copy them to your local machine. When you edit/add/remove file the actions will be mirrored to your local machine. With Resilio, you can synchronize files between computers, servers, mobiles, NAS, and more.
To configure Resilio Sync for the first time:
Log in to your Client Area service/product.
Find your username and replace it in this link https://<username>.seedbox.io/resilio. Your username can be found in the initial email and it is also the default name of the seedbox.
Put the link in your web browser to login to your Resilio service. Once you enter it, it will ask you for credentials, which again, can be found in the welcome email, and are the same as FTP and WEB access.
For more information on how to set up Resilio Sync on a Seedbox.io, follow their Resilio configuration guide.
Resilio is very easy to use and can be used as an alternative to FTP in Seedbox.io. You just set it up for the first time, and it will automatically mirror your remote folder into your local store. Due to some permissions error between the app and the server, the initial setup can be a bit tricky. But if you follow the Seedbox.io's Resilio configuration guide step by step you'll have no problem synchronizing files.
4. Supported Torrent Clients:
As shown above, Seedbox.io shared seedboxes support rTorrent with ruTorrent. But with dedicated servers, you can choose between ruTorrent and Deluge.
1. ruTorrent:
As mentioned above ruTorrent is the frontend web interface of the command line client known as rtorrent. The GUI was designed to imitate the look of the popular µTorrent WebUI but to keep the functionality of rTorrent. Both shared and dedicated Seedbox.io slots support ruTorrent.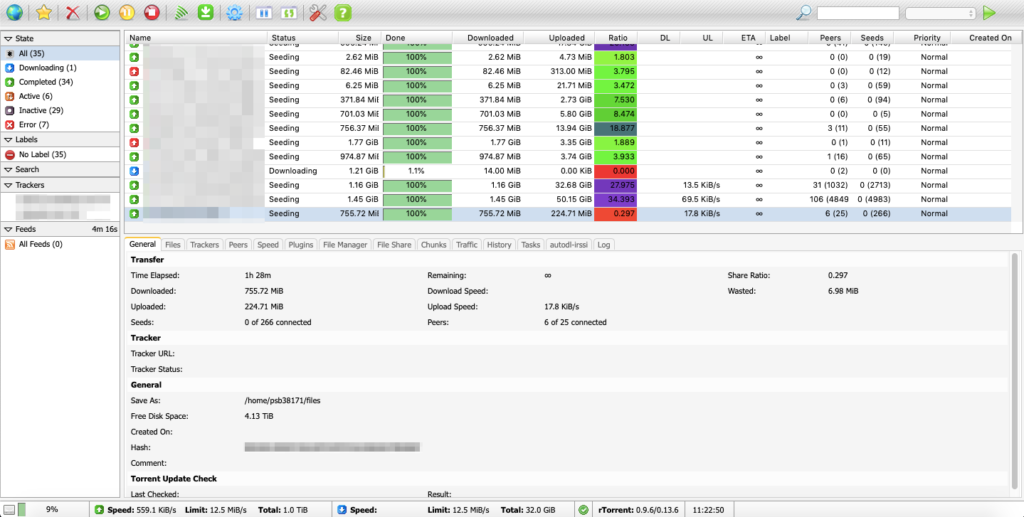 2. Deluge:
This torrent client is really powerful when it comes to customization. It is open-source, really secure and fast. But the highlight of this client is that you can take its functionality to a whole new level when you implement the plugins. Shared slots do not support Deluge, only dedicated servers. You can access through the web GUI or client via the root access.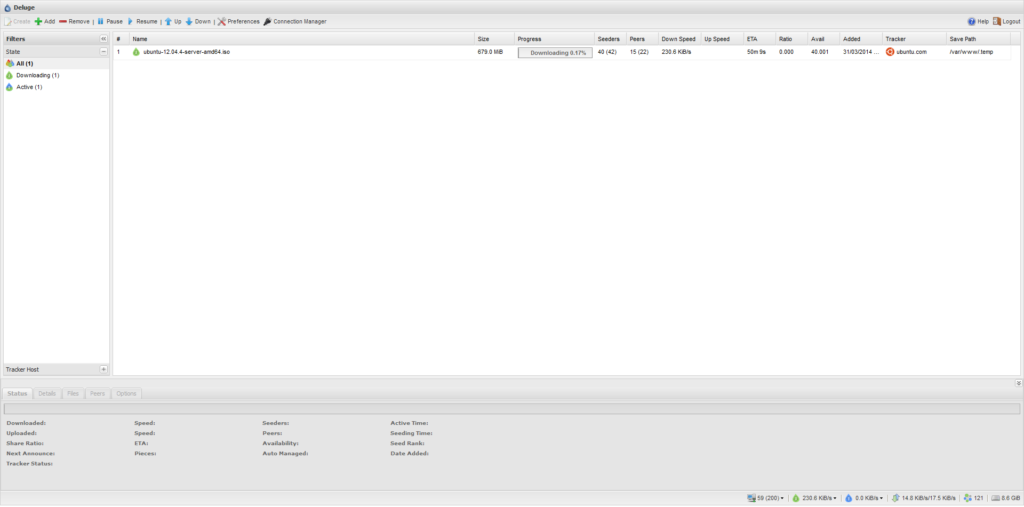 Seedbox.io Pros and Cons.
So what really makes Seedbox.io unique?
Shared seedboxes do no take any initial setup time. Just buy, open the email with access information, and you'll instantly have access to your Seedbox. It is a matter of 5 minutes. Dedicated servers do take between 4 – 48 hours.
Users seem to love Seedbox.io because it is cheap. As for 2019, only $5 a month for a seedbox seems like a great deal. Another advantage to notice is that all their seedboxes allow public trackers.
In a nutshell:
Pros.
Wide and flexible pricing model. This seedbox provider offers one of the cheapest servers.
Fast and friendly support. This seedbox has a good reputation for its ticking and fast support response times.
Allows public and private trackers. No limitations for shared or dedicated.
The Seedbox setup is very easy. Plug-N-Play kind-of access.
VPN and FTP are very easy to configure and use with Seedbox.io
Cons.
Limited FTP connections. Not good when you are doing multi-threaded FTP downloads.
Paying for a cheap shared server has its cons. Users on the same shared resource that are heavy downloaders from public trackers which will ultimately put a big load on the shared HDD that you are downloading to. This causes continuous crashes and hogs on the bandwidth if there is no "control" of the shared resources.
Plex is not supported on shared slots.
Things to be aware of before renting their service?
Their money-back guarantee policy applies only for premium accounts/ dedicated slots. If you have a shared slot or an entry-level account you will not enjoy this plan.
Final Words.
Users seem to like Seedbox.io mainly because of its wide pricing plan. They have one of the cheapest seedboxes in the market. Only $5.00 for a Seedbox is not a bad place to start. The torrent and FTP speeds seem to be consistent, and there are few reported downtimes and data leakage cases.
Another outstanding characteristic of this seedbox provider is their support. They have a good reputation for being responsive, fast, and friendly to their customers. Although there have been a few outages, Seedbox.io seems to be one of the most reliable and preferred seedbox services out there.
There is no free trial or freebies, but for $5 a month is totally worth the try!
Recommend Resources