SeedIt4Me calls themselves "The Superheroes of the Seedbox World."
Although their superpowers are giving them some traction, the Seedbox world is really a red ocean of bloody competition. These "superheroes" are more likely the "newborn warriors" in this seedbox world.
SeedIt4Me started offering seedboxes around July 2019, and so far, they have done an exceptional job positioning themselves well in this fierce competition.
What superpowers do they have and what are they missing?
They offer unmetered bandwidth, their one-Gbps-fits-all plans, decent speed, free VPN, and fantastic customer support. But on the downside, they don't offer dedicated servers, access to public trackers, and flexible plans.
Table of Contents.
SeedIt4.Me in a Nutshell.
Seedit4.me is a fairly new seedbox provider with four different plans to choose from. Their Seedboxes are located in Germany Hetzner's high-end datacenters. They have a reputation for being good seedboxes for beginners as they have simple choices and their seedboxes are easy to connect to and start. They also have amazing customer service and the most wanted— Unmetered Bandwidth!!!.
But most advanced Seedbox users still prefer their old provider, as some complain of their shared speeds (1Gbps), no dedicated seedboxes, and inability to allow public trackers. SeedIt4Me takes privacy, security, and overall network performance very seriously. They have placed a block list to filter access to public trackers and disabled DHT.
How do They Work?
On the frontend, you'll see a cool and very original dark UI mode. The dashboard is highly interactive, really easy to use, and has everything you need to contact support, access your seedbox, forum, news, view network stats, and more.
On the backend, SeedIt4Me runs its Seedboxes on shared VPS (Virtual Private Servers). Each Seedit4Me VPS node uses a single public IP and shares the connection among its running seedboxes (users).
What are Their Options?
All Seedit4Me seedbox plans come with a 1 Gbps connection speed and unmetered bandwidth. All of them also include a free VPN and root access to the seedbox.
What makes each Seedbox package value for the money, is its size. The smallest box starts at 1500 GB of HDD storage and 2GB of RAM— which is good for starters. The high-end Seedbox offers a much larger storage with 5000 GB of HDD and 5GB of RAM, plus more apps and Plex streaming server support.
Sidekick: 1500 GB HDD storage, 2GB RAM, No Plex Server, and up to 10 allowed apps.
Hero: 2000 GB HDD storage, 3GB RAM, Plex Server up to 1080p (video resolution), and up to 15 allowed apps.
SuperHero: 3000 GB HDD storage, 4GB RAM, Plex Server up to 4K (video resolution), and unlimited apps.
Super Seedbox Man: 5000 GB HDD storage, 5GB RAM, Plex Server up to 4K (video resolution), and unlimited apps.

Shared Connection and HDD.
All SeedIt4Me servers have the following specs (as of 15th June 2020).
Intel (R) Xeon (R) CPU E3-1270 v3 @ 3.5GHz (8 Cores)
HDD – SATA 6 Gb/s 7200 rpm.
32 GB (or 64 GB) ECC RAM
All servers share one Gbps bandwidth.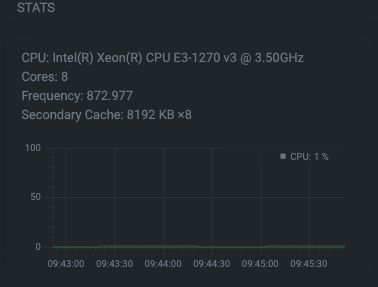 The cheapest Seedbox plans allow more users on a single connection and HDD (12 users max), the more expensive plans only permit a couple of users. Sidekick allows 3-4 users per HDD and higher plans allow 2 users per HDD.
When running intense-computing operations such as Plex's media transcoding, we recommend the highest plans. Super Hero and Super Seedbox Man allow only a few users on their servers, so the performance of the processors when transcoding with Plex or direct playing is much better. Sidekick does not support Plex — sharing resources for intensive processing for many users simultaneously wouldn't work.
Price and Purchasing.
Their pricing and packages are very simple as compared with other Seedbox services. The monthly fee is disclosed at the homepage which you can cancel at any time.
Prices:
SeedIt4Me has various Seedbox plans. Their prices range from €9.99/month for the cheapest plan to €34.99/month. For more information on your local currency, please visit SeedIt4Me.

When purchasing a Seedbox, you can choose different billing cycles, from monthly, every 3 months, 6 months, and up to one year.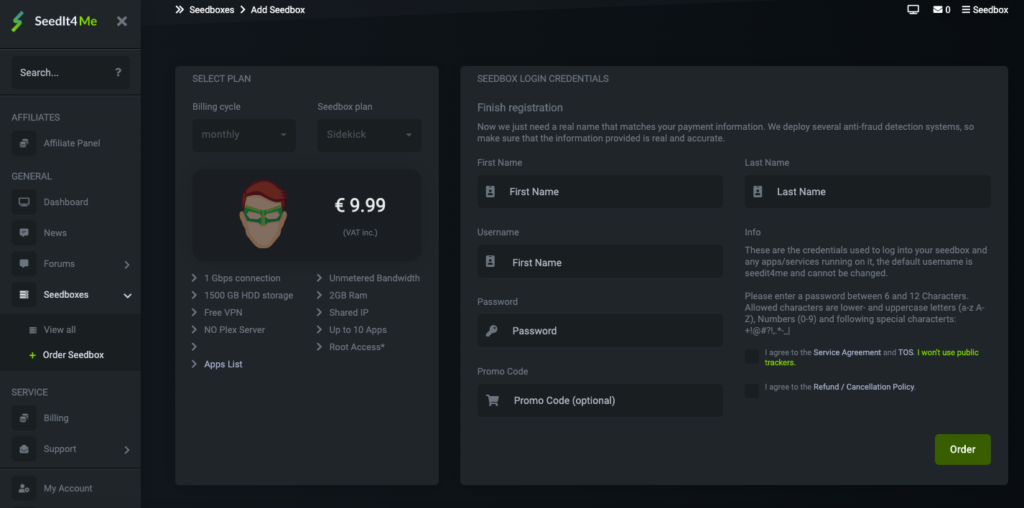 Payment Methods.
Aside from popular payment methods like Paypal, Visa, and MasterCard, Seedit4Me also supports cryptocurrencies as payment methods — you can pay with BitCoin and CoinPayments.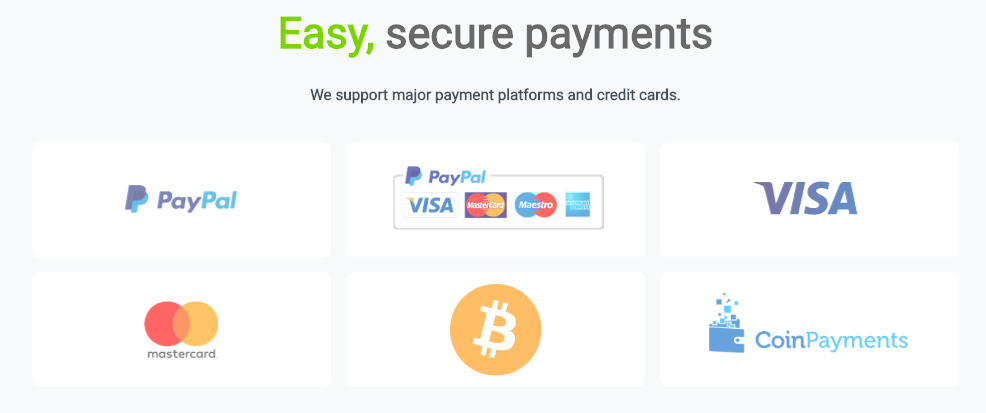 Get Money Back Policy?
SeedIt4Me provides a 7-day money-back guarantee. If you tested and didn't like the service for the first week (7 days), you can request a refund. They'll provide a full refund, minus the first week of service. If you consumed more than 1TB they'll reject the refund, because you likely have been using the service.
Be aware that if you pay for a SeedIt4Me Seedbox with a Cryptocurrency, you'll not get a refund.
Using The SeedIt4Me Box:
Right from the beginning, SeedIt4Me's dashboard is easy to use and straightforward. From the dashboard, you can see, manage, and access your Seedbox (or add more.)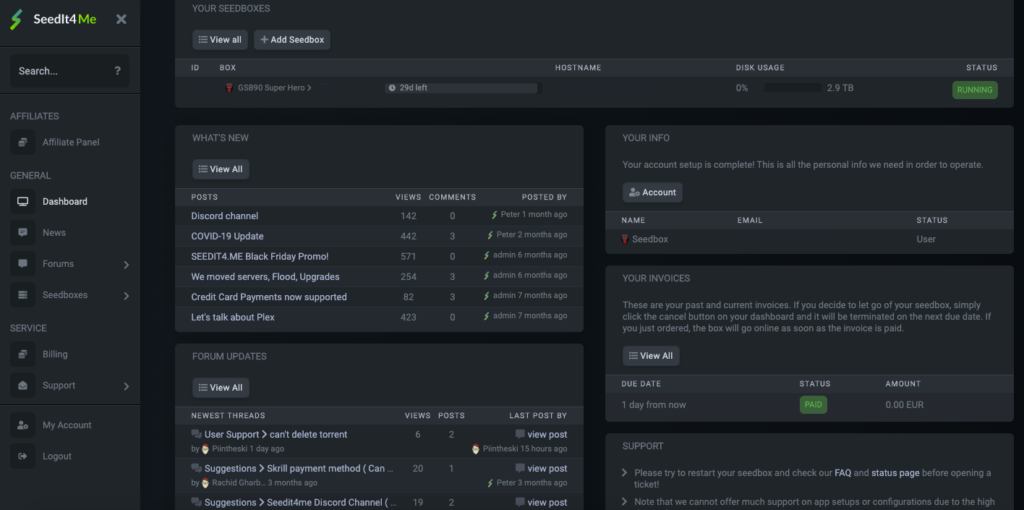 This console is where everything happens. Here, you'll be able to see the Seedbox information (ID, IP, and Hostname), status, credentials, disk usage, installed apps, FTP credentials. If you want to monitor your seedbox and keep track of its traffic and processing, this console gives you detailed information on CPU, bandwidth, and disk utilization.
To know information about the seedbox, go to the left bar and click on "Seedboxes". Here you'll see the same information plus take some actions like "Stop" or "Restart" your Seedbox.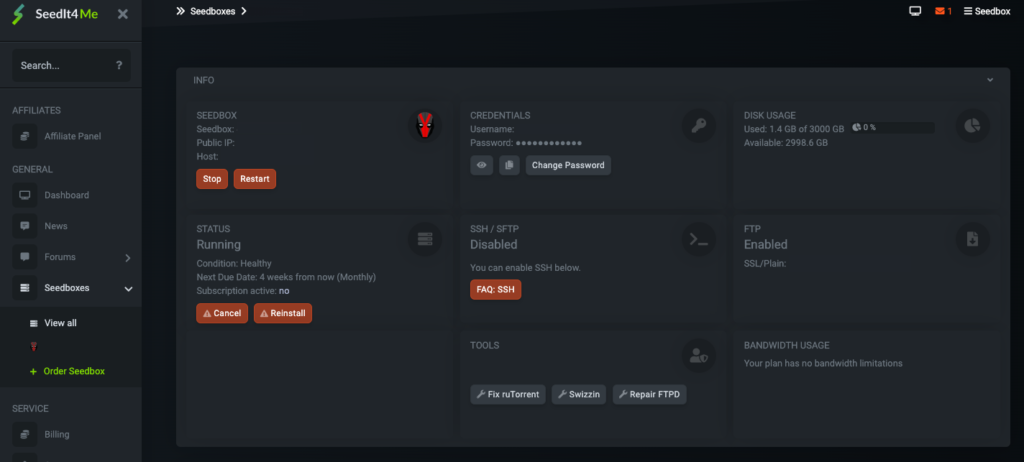 And if you scroll down, you'll see more details such as Stats and Traffic.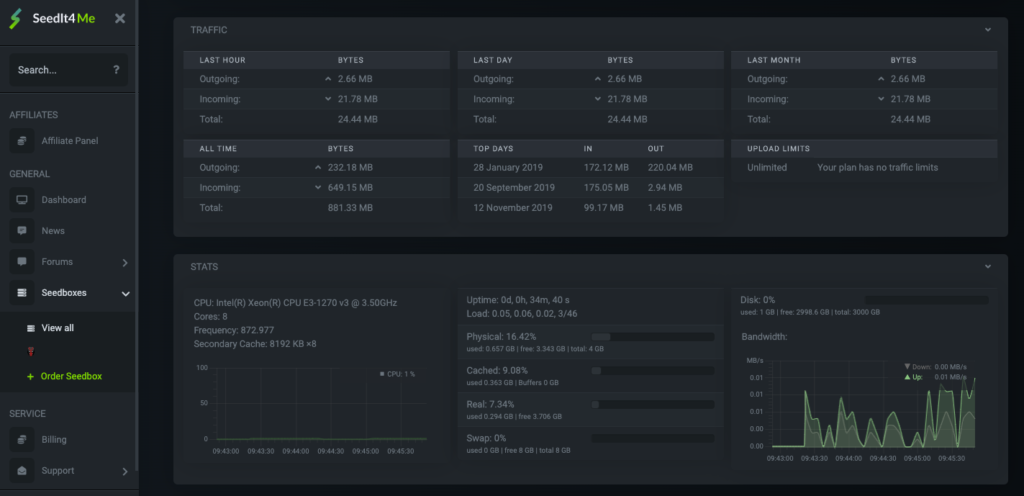 Here, you can also manage different options, such as accessing your "Installed Apps" or to "install more apps."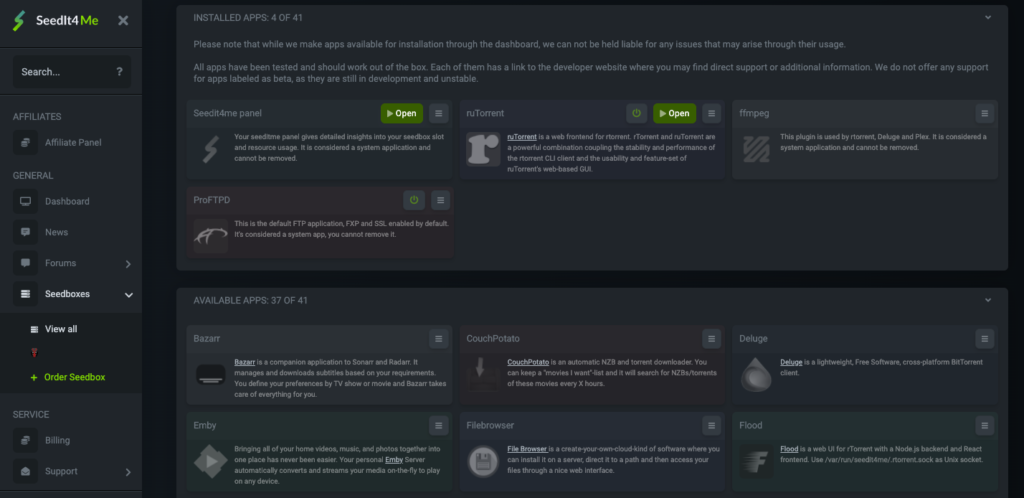 Inside the SeedIt4me Panel
The SeedIt4Me Panel works with Swizzin, which is a light and modular solution designed for media servers, such as Seedboxes.
Your SeedIt4Me panel is where you'll manage your seedbox's resources, such as bandwidth data, load, disk space, torrents, system's RAM and CPU stats, and services.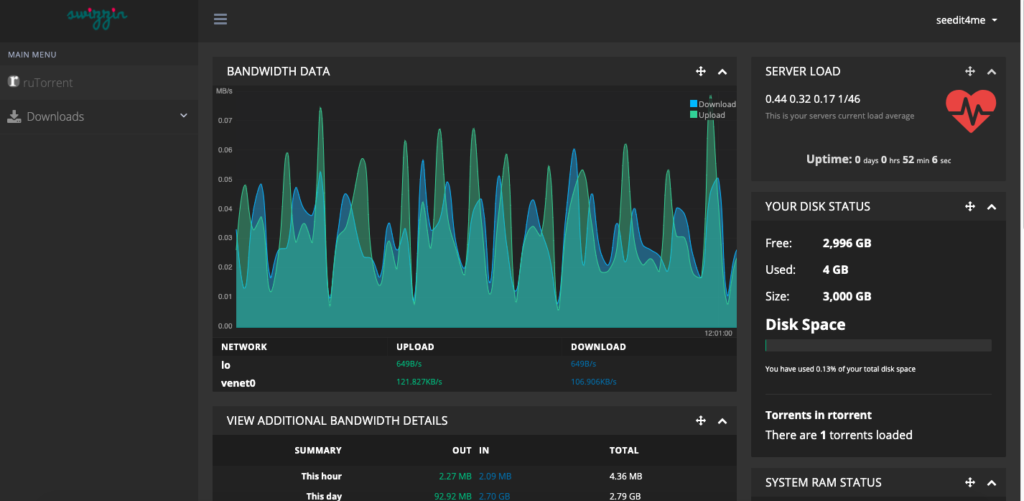 From this same panel, on the left-hand bar, you'll see a shortcut to torrents clients (rTorrent and Deluge). From this panel you can directly access your downloaded files.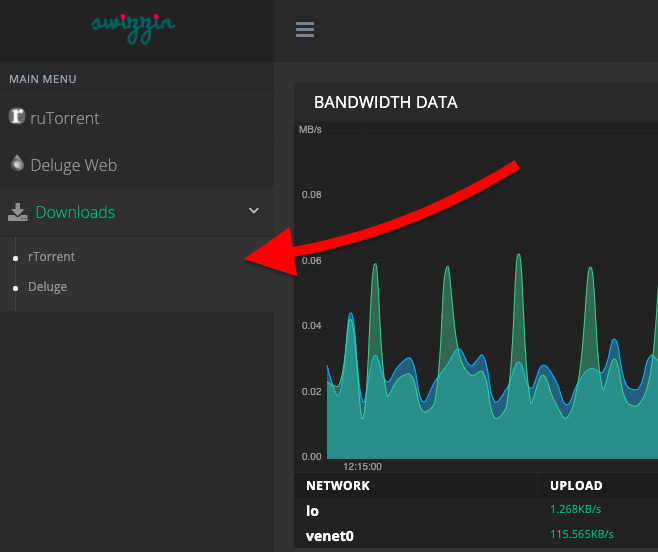 How's their Speed?
Speed is one of the most important factors when choosing a Seedbox provider, especially if you are downloading/uploading torrents on a daily basis.
All SeedIt4Me Seedbox plans come with a standard 1 Gbps speed.
SeedIt4Me has 1Gbps speed (or 1,000Mbps) in all their plans, from the cheapest to the most expensive. But to give advantage to those users paying more money, SeedIt4Me puts a limit on the number of users sharing a connection on those top seedboxes.
Their servers are hosted in fast data centers (Hetzner Online) in Germany.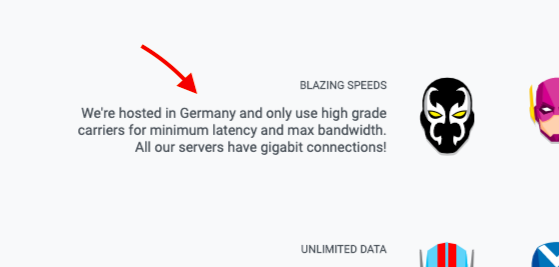 SeedIt4Me has unmetered bandwidth in all their plans. With this feature in place, you'll never be charged additionally for bandwidth usage. In other words, you have unlimited bandwidth and won't be throttled down to slower speeds.
But of course, being a one Gpbs box with a shared connection with other users, you can expect slower speeds than a metered plan. Unmetered plans have a tendency of being slower because they are constantly with high traffic.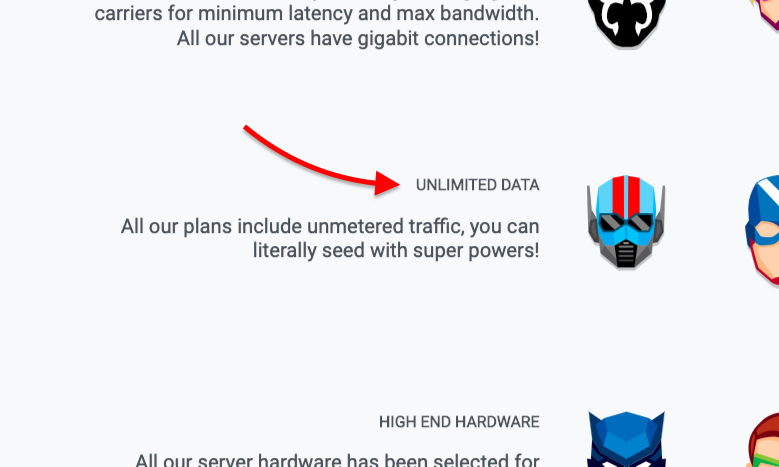 Testing their Speed.
We tested the speed of the Super Hero Box, (3000 GB HDD storage and 4GB RAM), which allows fewer users on the same 1Gpbs shared connection and HDD (as compared to cheaper plans).
We threw a couple of torrents files to stress-test the SuperHero box, and analyzed the bandwidth timeline graphs.
It averaged a speed of 0.7Gbps or 89 MBps.
To quickly check the current bandwidth, go to the main Dashboard > Seedbox, and to the bottom right corner. Here you'll find the bandwidth timeline which displays the bandwidth/disk utilization.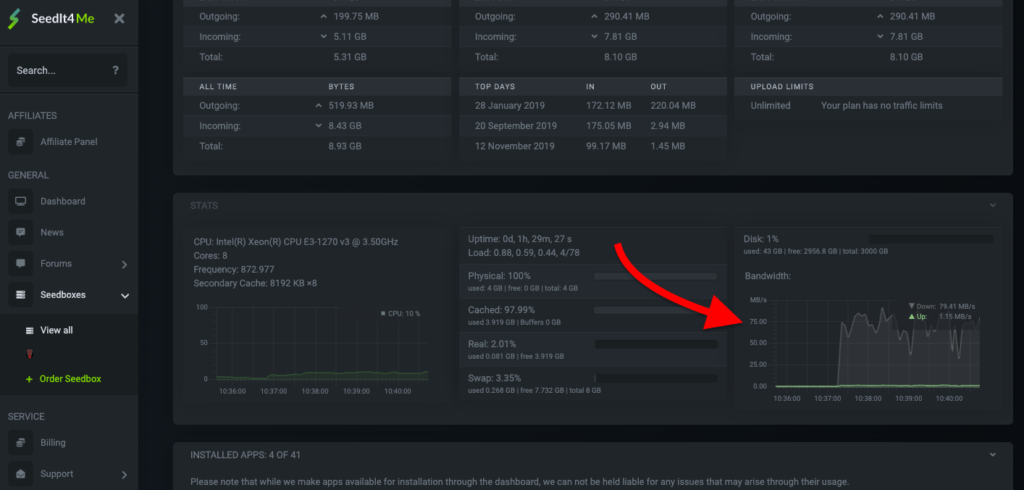 You can also see the speed (Bandwidth Data) from the Seedbox Panel.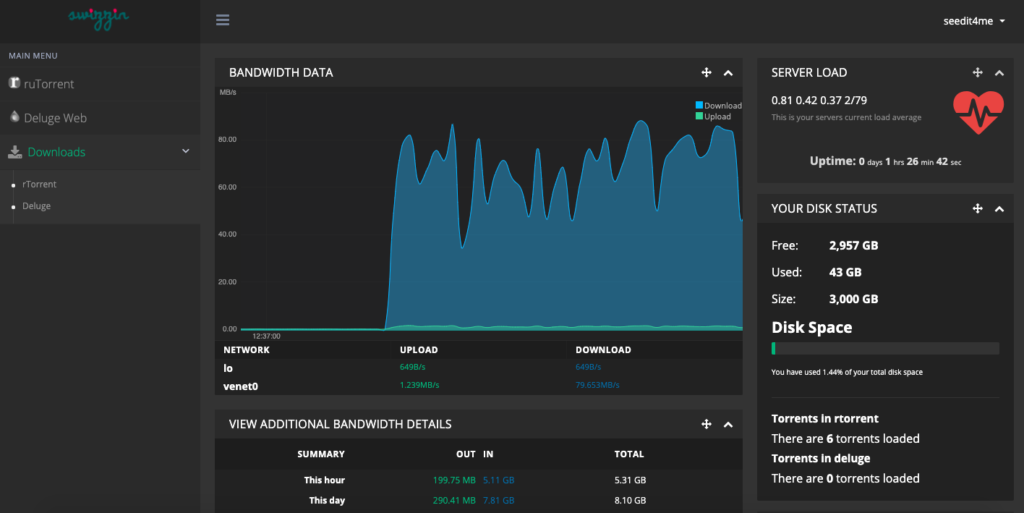 And a third way to see the SeedIt4Me speed is right where the action is, from the ruTorrent interface.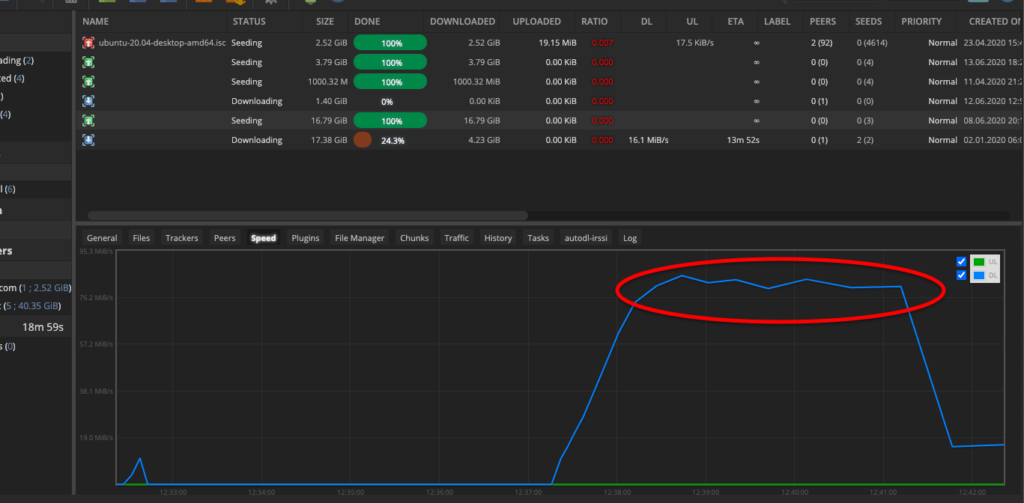 According to the ruTorrent interface, the bandwidth reached an average of 83MiB/s (0.7 Gbps)
The speed of the SeedIt4Me SuperHero Box was 0.7 Gbps or 89 MB/s!
What About their Security?
For serious torrent users, security (including anonymity and data privacy) is far more important than a high and stable bandwidth.
Let's see how SeedIt4Me deals with your security.
Data Protection.
According to their homepage "We keep an absolute minimum of personal details and will never hand your data or info to anyone."
And according to their Privacy Policy, they collect and use the following personal information:
Contact Information such as name, email address.
Unique Identifiers such as user name, account number, password.
Usage activity about how you interact with us such as purchase history, what content you viewed, and which areas of our site you visited.
Access to Seedbox.
Authentication details to the web console are initially given to you via email. You'll access the Seedbox via the web console (HTTPS) which is an end-to-end encrypted tunnel via the TLS/SSL mechanism.
From there, you can see your CREDENTIALS (username and password), and the option to change the Seedbox password.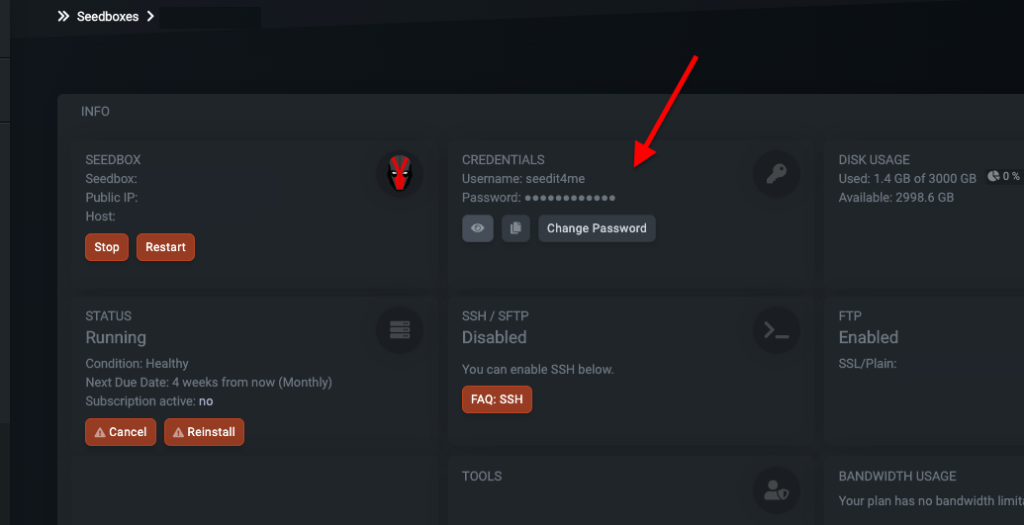 Other Security Mechanisms:
FTP: Connect to SeedIt4Me's default FTP application, ProFTPD Server and download all your content to your local resources via secured methods FTPS / TLS, or SFTP. Don't use plain FTP, as it is an unsecure method to download your content.
VPN: Using a VPN to connect to a Seedbox is not really necessary. But seedboxes offer free VPNs to its users for added convenience and anonymity. You can use a VPN to browse from the (Germany-based) server. SeedIt4Me uses the OpenVPN app to open an end-to-end encrypted tunnel.
SSH: SeedIt4Me also offers root access via SSH, so you can start shell sessions to your seedbox, run commands and install other apps.
Verifying VPN.
When connecting to SeedIt4Me's VPN, we tested the "What's My IP?" tool. The box is geographically located in Nuremberg Germany, and uses the ISP known as Hetzner Online AG. This ISP is ok with private trackers, but will monitor and block public trackers.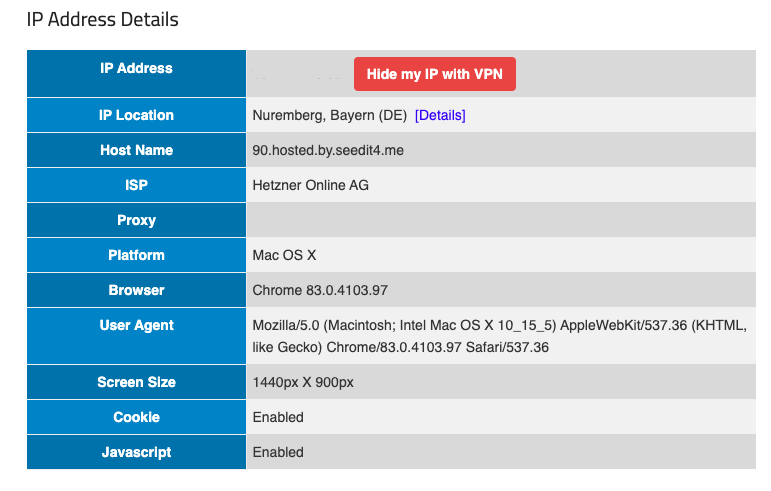 Testing VPN leaks.
Some VPN providers are known for leaking VPN information such as IPv6, domain names, and WebRTC.
We'll use the packet sniffer, Wireshark, to detect data leaks, by inspecting the insides of the "encrypted" packet and trying to find any leak or "unencrypted information". If the VPN is not properly configured, we might be able to find information in plain text.
We placed a packet capture for a few minutes and browsed on our local computer while connected to SeetIt4Me VPN. After a few minutes we inspected the contents of a TCP packet, and filtered DNS, HTTP information.
No data leaks were found.
Another test is the WebRTC ("Web Real-Time Communication"). Sites such as Browserleaks can help detect any leaks of information on voice, video chat, and P2P sharing within the browser. Again, no WebRTC leaks and IPv6 were found.
How is their Customer Support?
SeedIt4Me uses a help desk ticketing system to collect and track all customer support communications using email. You can open and manage tickets from the dashboard. There are three types of tickets: Technical, Billing, and Pre-Sales. Their customer support is complemented by an exhaustive FAQ and forum system.
For new customer support, they interact using the live chat. Unexpectedly, their response took a couple of seconds.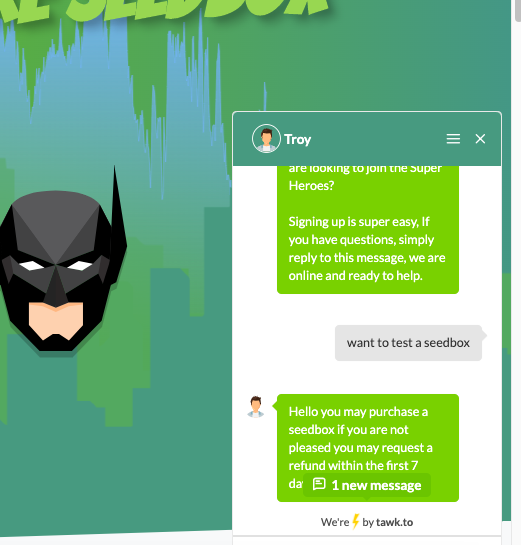 Overall they have a good reputation for responding fast and attending network/website problems immediately.
Additionally, if they are having service or systems issues, they'll post updates on the Seedit4.me status page.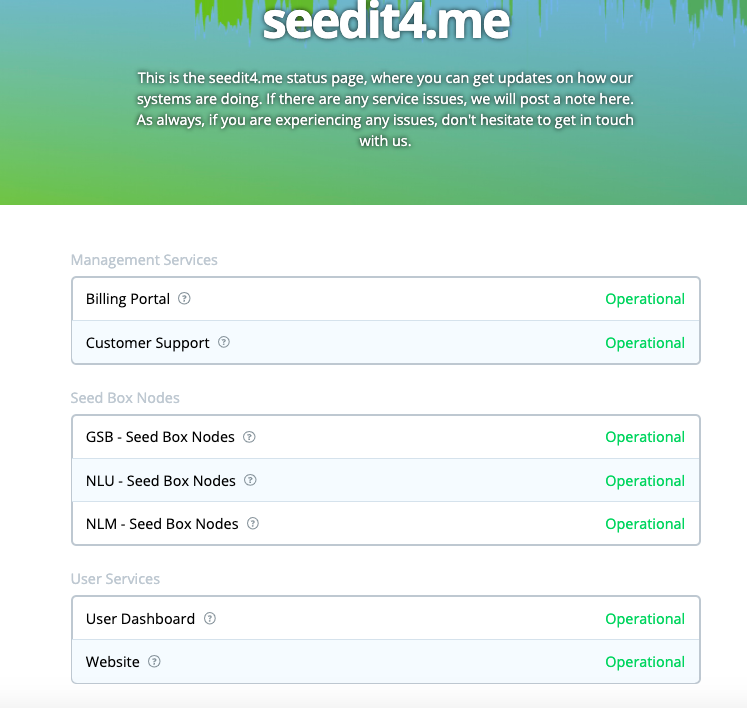 Other Services?
SeedIt4Me seedboxes include a myriad of different apps available for installation. You can install an unlimited number of apps. Some of their apps include Bazarr, Couch Potato, Emby, FFmpeg, Filebro, Headphones, Jackett, Lazy Librarian, Jackett, Lindarr, OpenVPN, Plex, Radarr, and a lot more.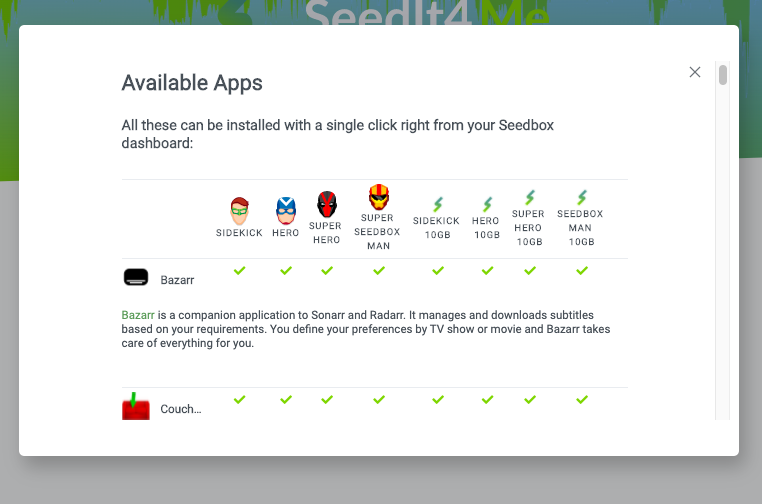 Their supported BitTorrent clients are Deluge, ruTorrent, Flood, and Transmission.
Supported VPN: All SeedIt4Me Seedboxes allow you to configure and manage a VPN connection through your seedit4.me slot via OpenVPN.
The Streaming service is provided by Plex or Emby. The Plex Media Server running on the Seedbox lets you stream all your media content stored on the Seedbox, anywhere, and with a large variety of devices. Plex is limited to some SeedIt4Me seedbox plans.
Automation apps: Applications such as Ombi, lets shared Plex or Emby users request Movies, Music, and TV Shows. Their requests are approved and added to the appropriate tool such as Sonarr, Radarr, Lidarr, and Couchpotato to automatically download content. Other automation applications include: Bazaar automatically downloads subtitles, CouchPotato automatically downloads torrents, HeadPhones automatically downloads music, and LazyLibrarian automatically grabs digital files metadata and updates information like author, actors, year, director, etc.
FileSharing; FTP And File Synchronization: SeedIt4Me also includes applications to download or synchronize files safely to your local computer. For example, ProFTPD is the default FTP, FXP, and SSL Server. Another file-sharing tool is Rclone, which is a CLI utility that syncs files and directories between your seedbox slot and other devices. Other popular apps are Resilio Sync, File Browser, Syncthing, and more.
Supported IRC. SeedIt4Me seedboxes also allow you to install IRC applications. Examples of these apps are The Lounge, ZNC, and Quassel IRC.
Final Words.
What seems to position SeedIt4Me well in the Seedbox community is its simplicity. For now, they don't offer faster bandwidth plans like 10Gbps (although the probably will in the near future) or dedicated servers — instead, all of their seedbox packages have the same 1Gbps throughput and shared connection.
Another factor to consider is that their servers are located in Germany, which is probably a good thing for some and not so good for others. Network latency (routing) can be a big issue when you are located across the world, in places like the US or Asia.
Cons.
No public trackers allowed. One of the reasons why SeedIt4Me doesn't allow public trackers is because of its VPS/servers provider, Hetzner Online (based on Germany). Hetzner's data centers are known to have great infrastructure and good bandwidth, and they seem to be fine with private trackers. But the problem comes when users download torrents from public trackers, as these servers are common places for bandwidth abuse and copyright problems.
Only 1 Gbps connection speed. Even though their data plans are unlimited, they don't have higher connection speeds than 1Gbps.
No dedicated Seedbox servers available. Shared resources is a great starting point for beginners, but seedbox veterans seem to prefer dedicated IP per Seedbox. For now, SeedIt4Me does not offer dedicated servers. They also do not offer VPS Seedbox.
Pros.
No limits to network usage. An advantage of SeedIt4Me boxes is that the network usage is unlimited. That means that your traffic is unmetered — your connection will not be throttled if you download/upload too much.
User Interface: SeedIt4Me comes with a comprehensive and easy to use dark mode UI, which seems to be a plus for the majority using their services. The control panels and dashboards are very useful and straightforward.
Amazingly fast customer support: According to many users, their support seems to be very good. They are fast to respond to their customers and keep updates of their network.
Recommend Resources