Introduction
Wicked Servers was founded in 2009 and they offer reliable, secure, and affordable servers with 24/7 customer support. They have quite a number of seedboxes configurations which you can choose from this includes what country your seedbox will be hosted from. These countries are the USA, Canada, Netherlands, France and Germany.
This review is for their NucleusBOX plan which has the following features:
Disk space –  50 GB
Memory – 8 GB Shared
Network Capacity – 1Gbit
Users per server up to 12
Server Location – USA, Canada, Netherlands, France and Germany
Web interface – ruTorrent WebUI
NO SSH / Root Access
Unlimited traffic
Encrypted web sessions
Encrypted FTP sessions
Firefox add-on
Chrome extension
Android application
FTP access
SFTP access
NO FXP access
Direct HTTPS access
Media streaming (transcoding)
Media streaming (VLC)
See information of media files
Make screenshots of video files
Compress files
Uncompress files
Create torrents
RSS support
AutoDL Irssi
Personal Control Panel
Unbeatable support
Public trackers Just DL, NO UP
Setup time ETA 1 – 24 Hours
You can find other Wicked Server plans here: Wicked Server Plans
Speed
The download speed when downloading 8 popular torrents started good. The average speed reached 47Mbps bit after awhile it dropped to 35Mbps. The average download speed was between 30-40Mbps. Upload speeds was between 20-25Mbps.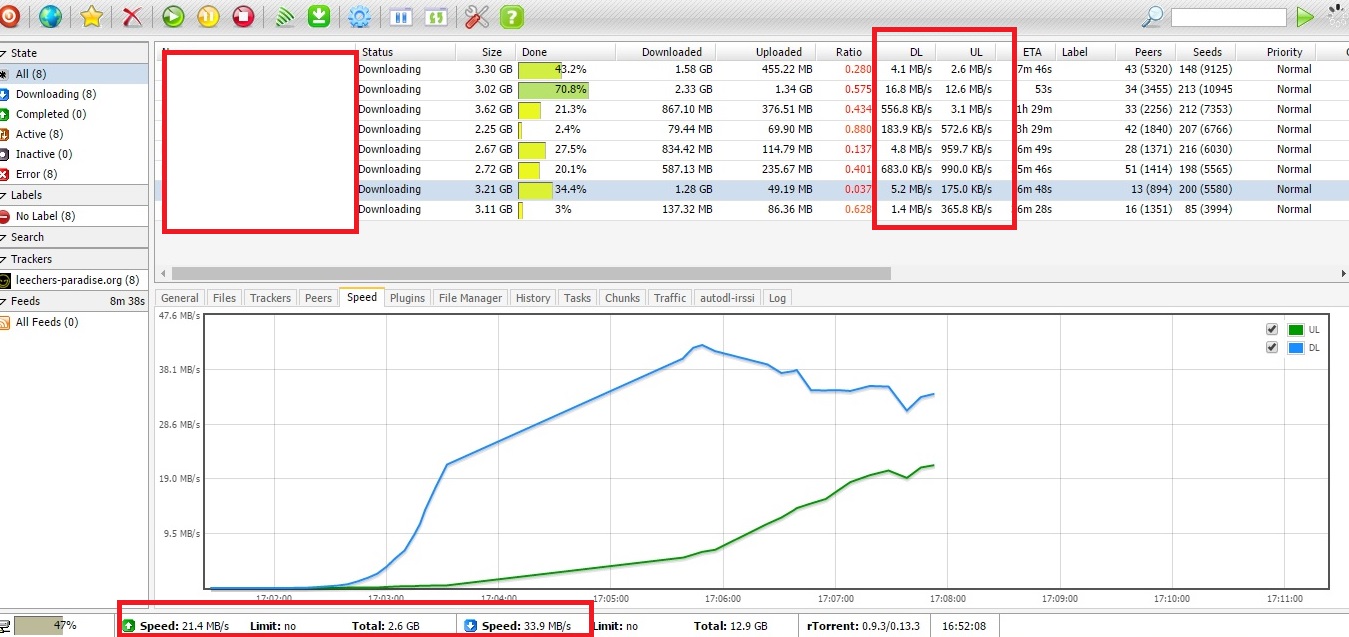 Just like other seedbox tested, the downloaded files are of different file sizes and of different number of peers and seeds available. As expected, common an smaller sizes finishes the downloading first ahead of the other bigger files.
Customer Service
The quality of customer service will make an impact on how the company is being perceived by its customers. Customers are willing to stay with a company if the experience is good. As per their website, Wicked Servers offers 24/7 customer service and they did deliver. We had an issue with registering our account and they were able to respond to us almost instantly.
Software
The seedbox webui control panel is very simple. Here you can find these features: Bandwidth Info, Downloads Info, Restart Button, Server Info, Rutorrent Access and Link to Support. The UI was initially slow and unresponsive but after awhile accessing the options was much more faster. Your seedbox panel cannot be found in your member account. They will send you an email instead with all of your seedbox details including a separate link where you can access the panel. This would have been much easier for the user if the panel was integrated into your account.
Price
$3.62
Seedbox Score
?
80
Recommend Resources