Introduction
SonicSeedBox is a newcomer in the seedbox provider business. They offer low plans that starts only at $2.15 and this comes with 20GB storage & unlimited traffic. The usual torrent clients like rtorrent & deluge are not use-able but instead they have their own torrent cloud web interface for downloading/seeding torrents that you can access through your smartphone, tablet or your Laptop/ PC. When downloading, they will automatically assign you to the nearest server for better speeds and latency. These are located in Amsterdam, New Your City, London, Toronto Singapore, Kuala Lumpur & Malaysia.
All major payment options are accepted – Paypal, Card & Bitcoin. Sign up now and get a free account with 4GB of storage & 10Mbps download speed.
This review is for the Sonicers Beginner Plan and these features are included:
50 GB Storage
FTP Download
Secure SSL Download
Remote Upload
Video & Audio Streaming
Unlimited Torrent
Download as ZIP
Instant Access/ Deployment
Public & Private tracker
No Traffic Limit
All Unlimited
All SonicSeedbox plans can be found here: SonicSeedbox Plans
Speed
SonicSeedBox supports both public and private trackers. As mentioned above they have their own web interface for downloading torrents. Unfortunately, the UI is quite slow. When you add torrent files in deluge or rtorrent, the experience is usually smooth and downloads will start almost instantly. With this UI, adding files is slow and downloads takes quite awhile to start. If you are someone that likes to add a lot of torrent files at the same time then this will be a frustrating experience.
We downloaded 4 popular torrents and average download speed were between 10-11Mbps with an upload speed of around 6-7Mbps.

Customer Service
Because of social media, it is now easy to give feedback or spread information with the quality of service received from a company. This is why quality customer service is the key to success in all businesses.
SonicSeedBox's support can be reached via email, opening a support ticket & chat support. Although, chat support doesn't seem to be always online. We had some questions about their services and they were able to respond to us within 24 hours.
Software
This is how SonicSeedBox's web client interface looks like: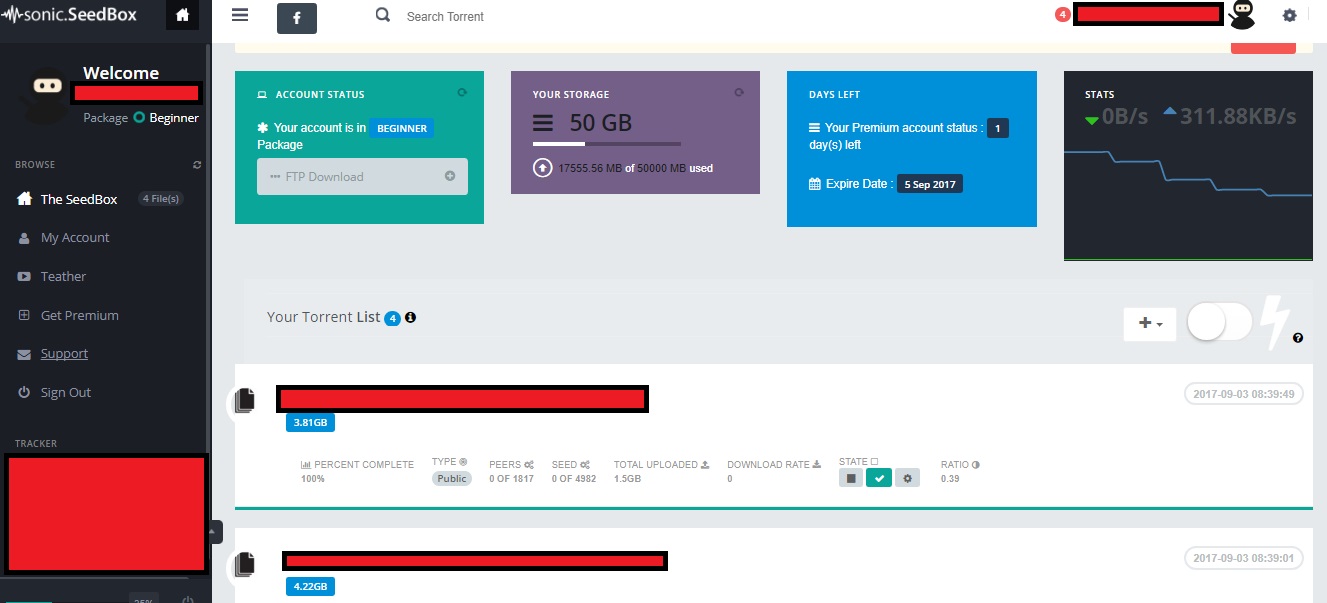 Here you can find your storage info, FTP details and download/upload speeds. Below that is where the torrent files are located. On the left side, you can change your account passwords and seedbox details under my account. The support page can also be found here.
Price
$3.95
Seedbox Score
?
82
Recommend Resources