Introduction
SeedHost.eu was founded in 2008 with the purpose of providing affordable seedboxes with powerful features. We will be review their SB8 Plan which offers 300 GB disk space, 10 Gbps upload and download speed and 2 TB of Monthly traffic.
Other Seedhost.eu plans they offer are available here: Seedhost.eu Seedbox Plans
Speed
For an affordable seedbox, the download speed were impressive. Downloading a 6 GB file took only less than 2 minutes with  a download speed of 90Mbps.

For the upload speed, the average speed we got is around 1.2-1.4 Mbps.

Although the download speed is good, the monthly traffic is only limited to 2 TB/Month. If you reach the limit, you will need to wait for the next month for the traffic to refresh or you may purchase additional bandwidth.
Customer Service
With so many competitions out there, good and fast customer service is really important to separate yourself from the competitors and maintain a good reputation. With that being said, Seedhost.eu has good customer service. Our torrent client crashed when we were deleting a bunch of torrents at once,we sent them an email and we were able to get a response and resolution within a few hours.
Software
Seedhost.eu's control panel is simple and organize and you can access it by logging in to your account. In the control panel, you can find your monthly traffic and HDD usage, billing information and it also shows the status of your service if it's active or not.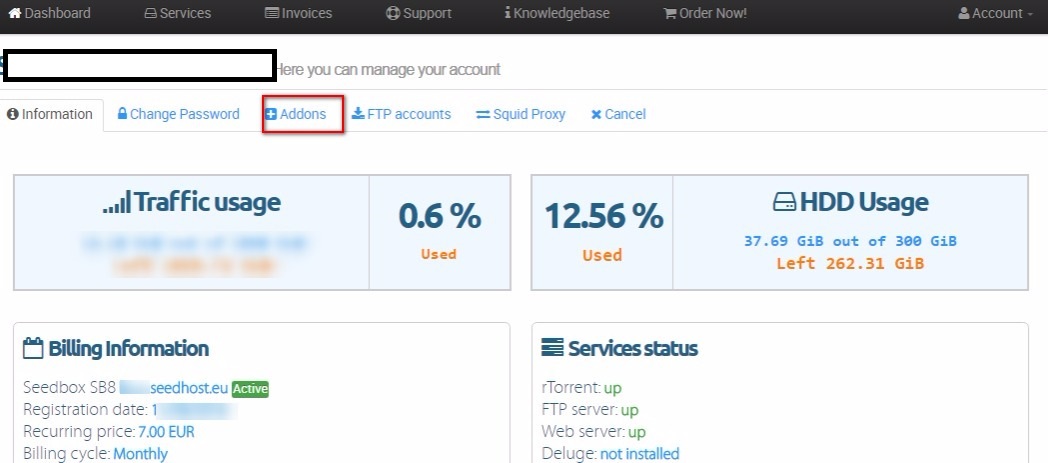 Your username, password, FTP & SSH details and restart URL can also be found here. There's also an Add-on option at the top and you can choose to install add-ons such as SABNZBD, RAPIDLEECH, Autodl-irssi, Deluge and many others.
Price
$7.82
Seedbox Score
?
80
Recommend Resources