Introduction
Seedgator has been around since 2013 and their servers are provided by Leaseweb and Server.lu. They have servers in multiple countries that you can choose from. If you want your files to be transferred from another provider, they will do it for you for free.
Aside from seedboxes, they also offer VPS servers and their Dedicated servers will be available soon. Only Paypal payments are accepted. If you are not happy with the service, you can request for a refund within 72 hours of purchase.
Seedgator Seedbox Pricing:
100Mbps Line

1Gbps Line

This review will be for their SG2013-01 Plan which has the following features:
200 GB Storage Space
Unlimited Upload Traffic
rTorrent/Rutorrent Client
HTTP/FTP/SFTP Access
100 Mbps Connection
HTTP Proxy
24/7 Technical Support
Check out more Seedgator plans here:  Seedgator Plans
Speed
Seedgator does support public trackers and to check the speeds we download 8 popular torrents. The Initial speeds were quite good and it reached to 75Mbps. As with all torrent downloads, the performance will depend on how many seeds and peers are available during the time of download. The average download speed was between 35-40MBps.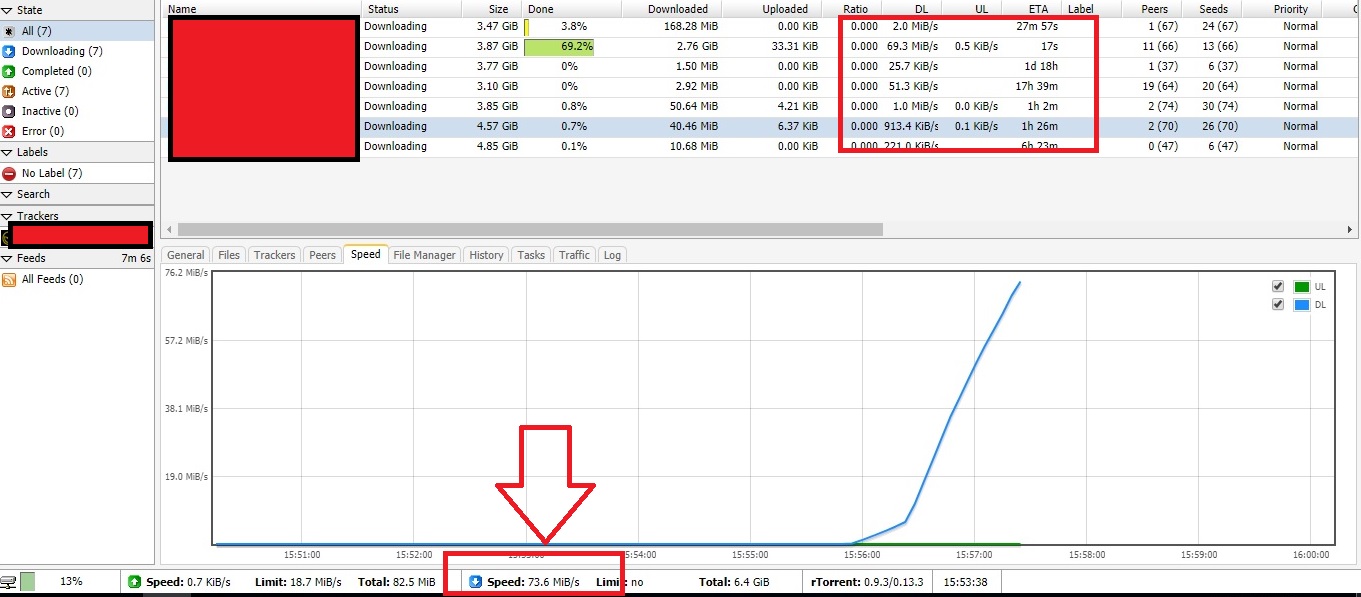 The total file size of the torrents was around 32 and took about 15 minutes for everything to completely download.
Customer Service
When a customer is not happy with a service, they usually move to a competitor. The more customers feel valued, the more they will remain loyal and promote your products/services to other people.
Seedgator can only be contacted via opening a support ticket. After purchasing the plan, we received the login details right away which is a big plus when you want to download right away. The website is unfortunately, not very convincing. It does not look professional and does not have any FAQs that will be useful for beginners.
We sent them a ticket asking some questions about their services and they were able to send a response within a few hours.
Software
Seedgator uses rTorrent/Rutorrent as their client and does not have any of the usual plugins installed. You can  install these yourself or contact support and have them do it for you.
You do not have access to an online client dashboard. All of your seedbox details like the webUI logins, Restart option, FTP/SFTP and proxy info will be sent to your email.
Price
$8.32
Seedbox Score
?
82
Recommend Resources