Introduction
If you're looking for stable seedbox providers with fast support and assures high-end, reliable network, Seedbox.io is one of them. Seedbox.io promises a high performance servers that answers your needs for shared and dedicated seedboxes hosted.
On this review, Seedbox Guide focuses on Seedbox.io's Mini unlimited bandwidth with rtorrent as the default bittorrent client with rutorrent interface. It is a MIni 200GB storage space, hosted either in Franace, Germany or in The Netherlands.
Other Seedbox.io plans they offer are available here: Seedbox.io Plans.
Speed
For a newly installed rtorrent bittorent client, it is a normal experience that speed gradually becomes faster as trackers appears to have more seeders and leechers. As far as Seedbox Guide's experience, the speed of a mini seedbox from Seedbox.io has an initial speed of 12Mb/s in just few seconds. That's pretty high already, we would say. The screenshot below shows the actual performance of the seedbox on the first 5 minutes upon testing the torrent client with 10 torrent file downloads. After 15 minutes and beyond, the speed went up and the downloads were remarkably done in no time.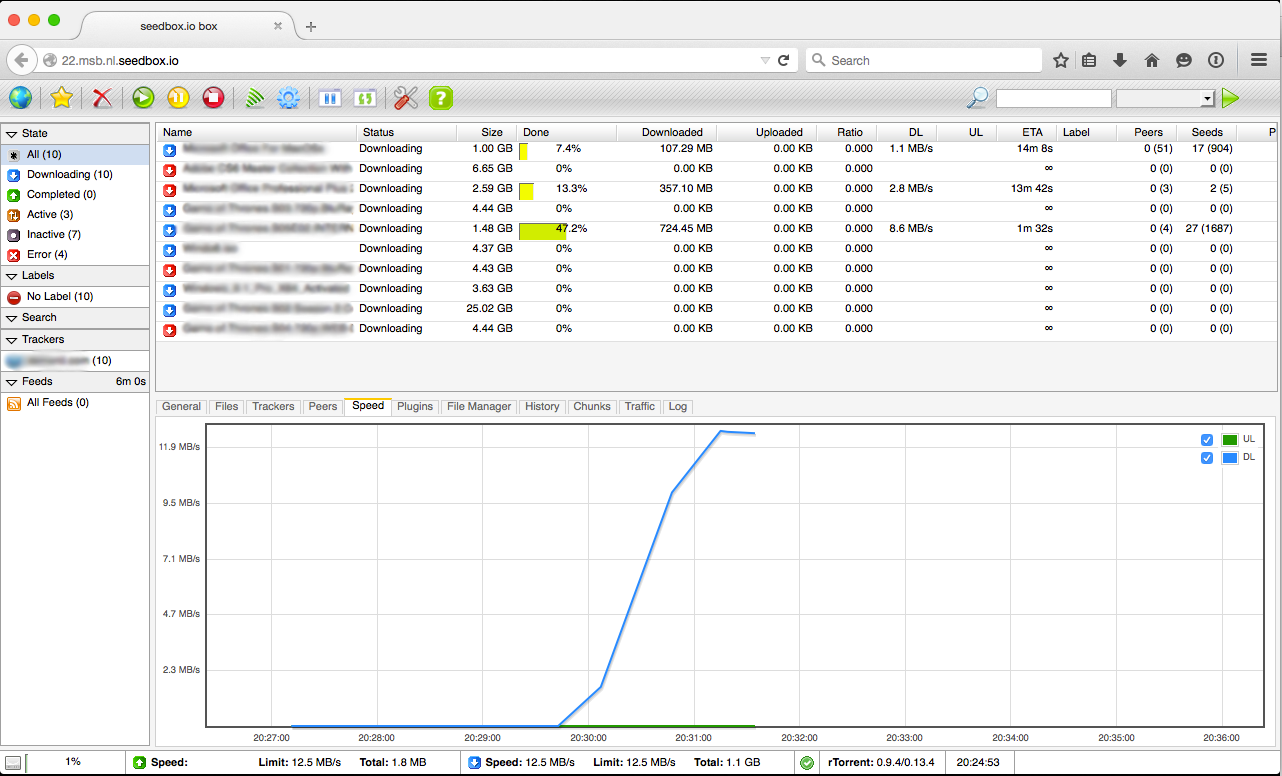 Customer Service
One important features that Seedbox.io gives is a dedicated support team that readily answers clients inquiry. We have experienced that. To get a fast and helpful support is what every client looks for in a seedbox provider. By experience, Seedbox Guide received supports directly tackling the issue about the details of the seedbox, not an automated response.
How fast is a fast response? We sent an inquiry regarding the details of a premium plan and within 15 minutes, a reply was received. That's how fast Seedbox.io gives support to their clients. This must be true to every client they have.
Software
We mentioned earlier that Mini seedboxes offered by Seedbox.io is one of the reliable seedbox they offer since they make sure that it is running on the latest hardware available today. Server used is an Intel Xeon E3-1230 v2 gives a high performance cpu, added to a 16GB memory and 1Bbit premium uplink.
Seedbox.io uses rtorrent bittorent client in a 1000Mbit connection. Though it is a shared IP with a maximum of 10 users for every server, it is already performing on a reliable manner.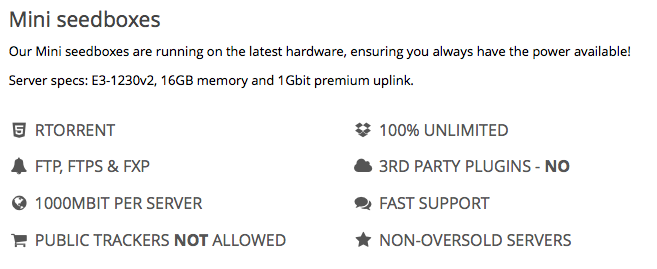 Price
$5.35
Seedbox Score
?
85.5
Recommend Resources