Introduction
Another seedbox provider to check out is GGSHQ which has been in business since 2010. This review will be focusing on their G600G plan which offers 600 GB disk space, 1 Gbps speed, unlimited torrents and bandwidth.
Our test seedbox runs in rtorrent with rutorrent as its default client. The seedbox has the following features: HTTP Downloads, Proxy site, HTTP Proxy Port & VPN.
Other GGSHQ plans they offer are available here: GGSHQ Plans
Speed
Within 5 minutes of downloading 9 files, the download speed of one torrent has already reached 17mbps and as you can see in picture below one file is almost completely done.

The total size of all 9 files is 81.94 Gb and after about 40 minutes of downloading 8 torrents are already completed.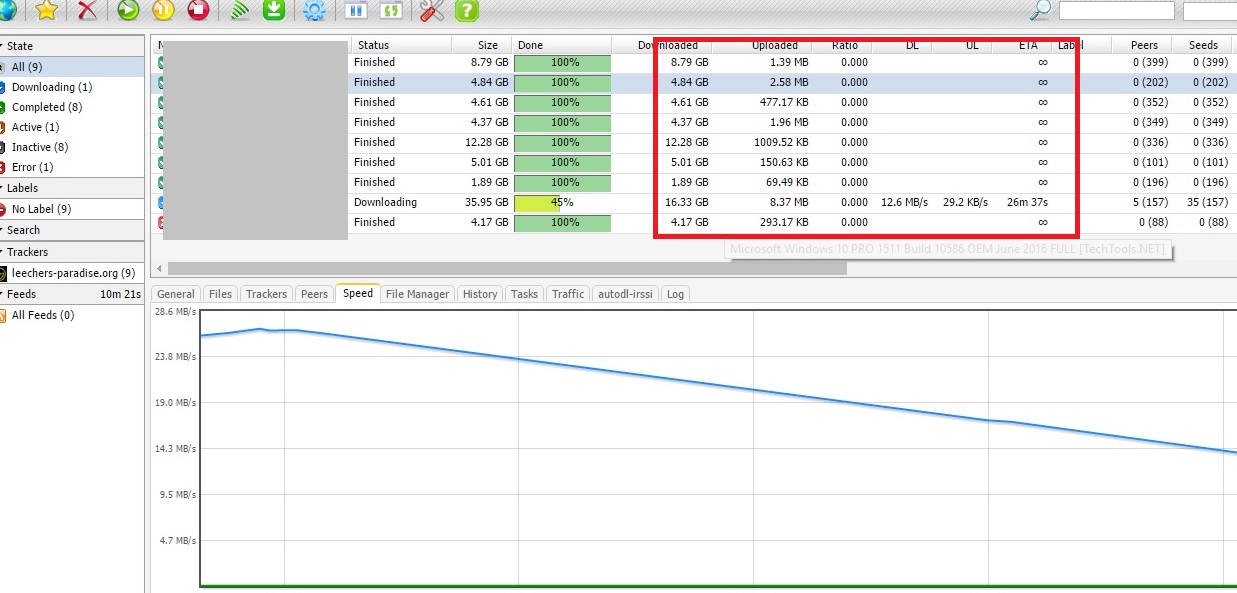 We encourage you to try it yourselves and judge the speed and reliability of GGSHQ products.
Customer Service
Excellent customer service is the number one factor that most customers look for in any business. Response time is particularly important if a company wants to retain customers.
With that being said, GGSHQ was able to respond to us within 24 hours from asking a question. Quick, responsive and direct-to-the-point replies for technical and non-technical needs are being addressed appropriately.
Software
GGSHQ does not have a control panel which is a bit disappointing. It would have been nice if we were able to to check the the seedbox's status, information and statistics for bandwidth, memory, vswap and disk usage. What we receive instead is an email that contains our login information, a restart, http download & proxy URL and also information on how to use OpenVPN. This could be problem if you have lost the email and you do not have the link to restart the seedbox.
Price
$25.00
Seedbox Score
?
86.5
Recommend Resources