Introduction
Seedbox Guide reviews another seedbox. Bytesized Hosting is another known seedbox provider we can find online. They have promising services and products as shown on their site's promotion. Lunch Box and Bit Box plans are their famous offered seedboxes said to be designed with high bandwidth and high storage.
Somehow, Seedbox Guide managed to get a test seedbox and did torrenting activities just like a regular client for this particular seedbox host provider, the Bytesized Hosting.
This review focuses on one of their offered variation which is Bit Box storage 350GB with a bandwidth of 1.5TB and 1Gbps connection. The server is located in The Netherlands.
Other Bytsized-hosting plans they offer are available here: Bytesized-hosting Plans
Speed
The Bit Box 350GB plan has a deluge webUI installed as its default torrent client. But it is noticeable that the webUI does not show the status of the speed while downloading torrent files just like the other reviews we have done.
Speaking of starting speed for a particular torrent file has not shown any remarkable speed that would satisfy a user. Downloading around 950.5 KiB/s with an upload of 17.7 KiB/s is not satisfying. Take note that this is a plan with a promised bandwidth of 1.5 TB yet it is showing a dissatisfying performance.  The speed somehow depended also on the number of leechers and seeders. Yet just take a look into the screenshot provided below on how this plan demonstrates its capacity. The information supplied are enough for you to judge according to your own standard.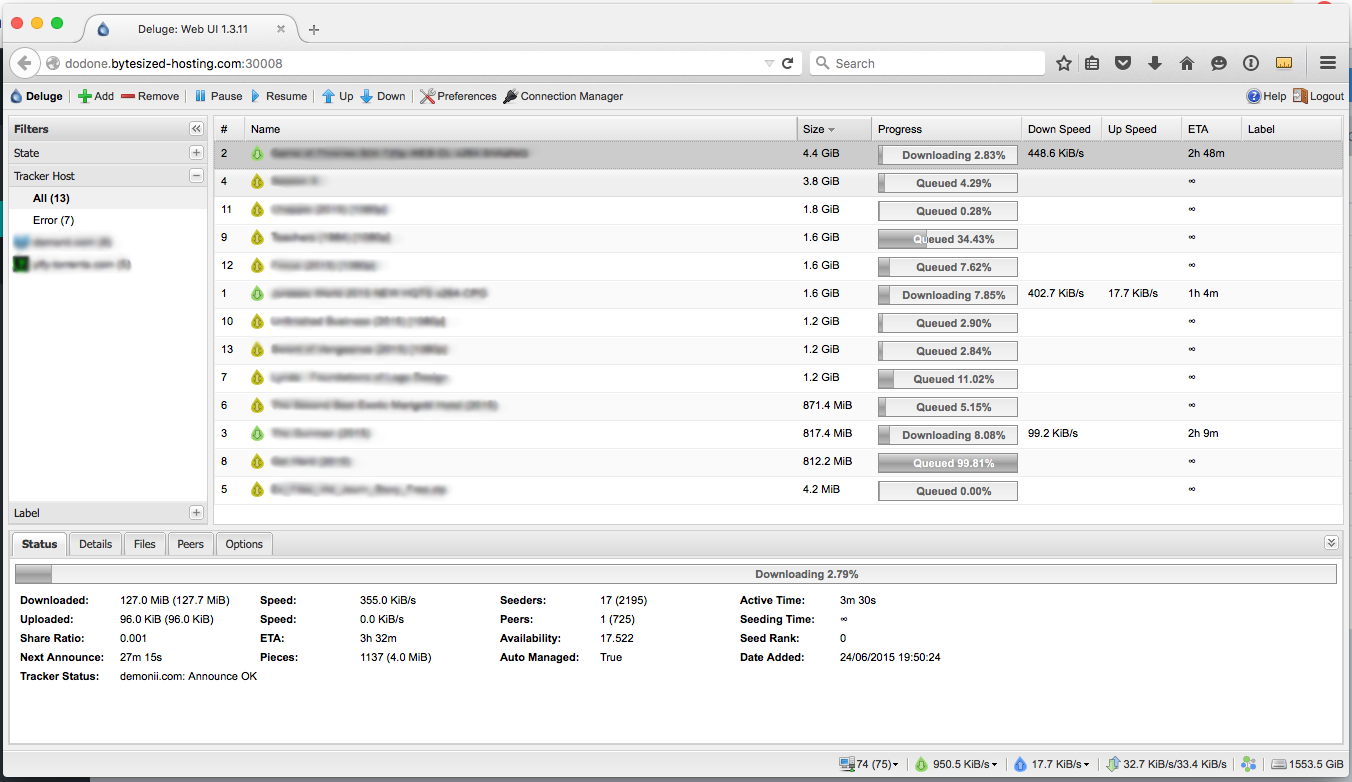 Customer Service
Rating for customer service was based on how they respond to a particular ticket; the efficiency and how the issues raised were solved. Bytesized-hosting responded well and nicely.
Of course, this provider would be thoughtful also to remind you to renew your subscription as soon as its almost overdue. You will be promptly notified. This is somehow a good service they can provide or else your subscription ends up terminated without being notified.
Software
Basically, this Bit Box storage 350GB is hosted by LeaseWeb. Thus professional webserver control panels are available. It runs on Linux and BSD though they also have Windows server.
Price
$12.84
Seedbox Score
?
82.8
Recommend Resources