In this in-depth and ultimate 2022 Rapidseedbox review, we'll tell you everything you need to know about one of the most popular seedbox providers: Rapidseedbox. Are they any good? is Rapidseedbox safe? are they worth it?
We used their seedbox for a couple of days and came to a few conclusions of our own. This Rapidseedbox review can be essential if you are deciding whether Rapidseedbox is right for you.
Please keep reading to know more about Rapidseedbox, its rankings, service details, price, pros and cons, features, control & management, user experience, and customer service.
Table of contents
Intro to Rapidseedbox.
Rapidseedbox, born in May 2014 (former Seedhost.net), is one of the most popular Seedbox providers in the market, known for their fantastic customer support and premium VPS boxes.
This seedbox provider offers a variety of high-performance and anonymous seedboxes tailored to your needs. Their highly reliable seedboxes are optimized right out-of-the-box with the proper hardware and software resources, highly customizable with pre-installed apps, and with network speeds reaching over ten Gbps. Rapidseedbox is also known for providing fast and reliable boxes designed for Plex streaming.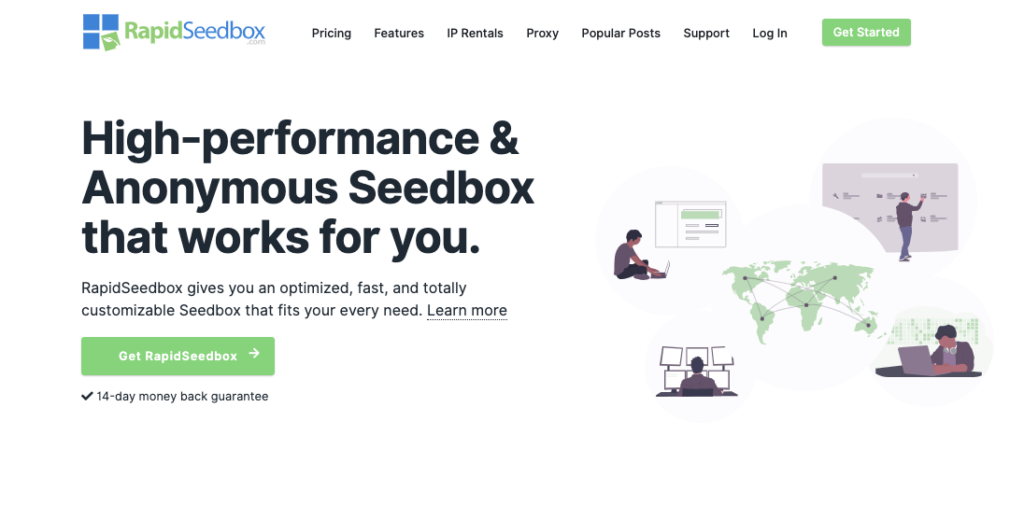 Within the Seedbox market, Rapidseedbox has always been considered a premium provider. Their prices are usually slightly higher than the rest, which is a turndown for many users. But on the positive side, being an exclusive seedbox provider makes them highly reliable, fast, and great with customers.
Product Ranking and Services Details.
Our Score: 93
Overall Rank: Rated 4.8 out of 5
Promo Code > SBG-1P122O (15% on the first month)
Score: 93 (Seedboxguide's score is calculated using a seedbox's specification, popularity, and value for the money).
Overall Rank. Rapidseedbox is rated 4.8 out of 5 (excellent) according to Trustpilot rankings.
Price. Prices range from $7/month to $67/month.
Payment methods. You can use Paypal, Credit Card, or Crypto (Bitcoin).
Money-back policy. Rapidseedbox offers a 14-day money-back guarantee.
Servers. Rapidseedbox servers are shared, but they also offer dedicated servers. Their servers are located in ​​France and the Netherlands.
Managed or unmanaged? Their servers are fully managed, but you can also opt for an unmanaged one.
Connection Speed. Bandwidth ranges from 1Gbps to 10Gbps.
Trackers. Private trackers are recommended, but public trackers are allowed.
Upload/download traffic. Unlimited traffic is allowed on all plans.
Disk space. From 1TB to 5.6TB
Remote access. Full root access (SSH), remote desktop (X2go, VNC, ThinLinc, or RDP), or remote torrent web client (remote uTorrent, Deluge, etc.).
Rapidseedbox Review Pricing.
Although Rapidseedbox has been known as the bad boy for seedbox pricing, they are now on a transformation. Their entire pricing plan has been recently restructured. Now, they offer a lot of flexibility when choosing your seedbox. They now provide seven different offerings sorted into two main categories: Lean and Premium.
The Lean pricing category offers seedboxes that are fit for a tighter budget. You can choose between the Swift Seedbox ($7/month), Speedy ($9/month), or the Supreme ($11/month) plans. All plans shown here are yearly and include two months for free.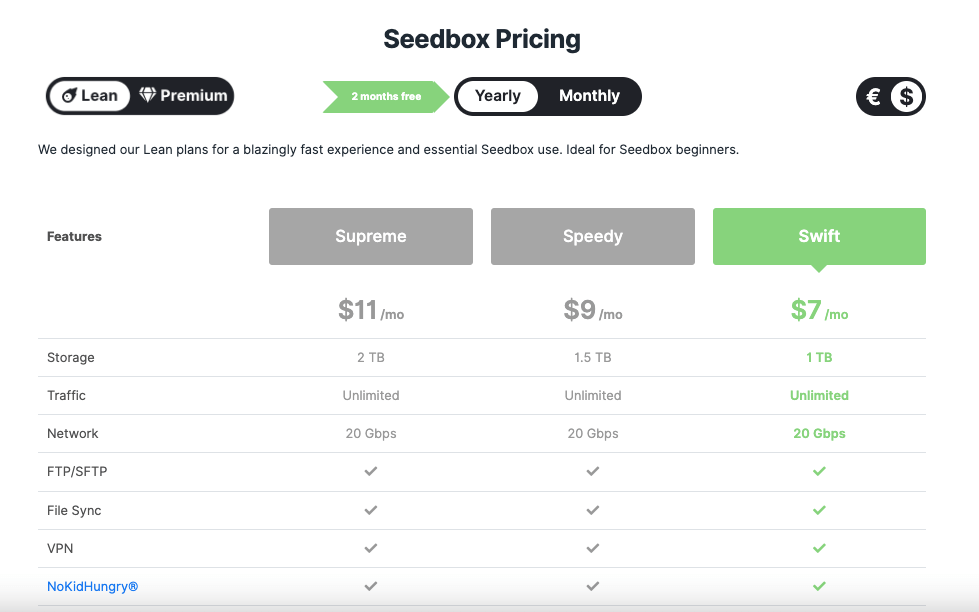 If this is the first time you use a seedbox, we recommend Rapdiseedbox's Swift seedbox. They are indeed limited and shared boxes, but you can scale up to the Speedy and Supreme plans as you require more space.
Rapidseedbox's original pricing plan, now called Premium, offers the all-time seedbox favorites, including Fast ($15/month), Stream ($26/month), Rapid ($31/month), and Furious ($57/month). All plans shown here are yearly and include two months for free.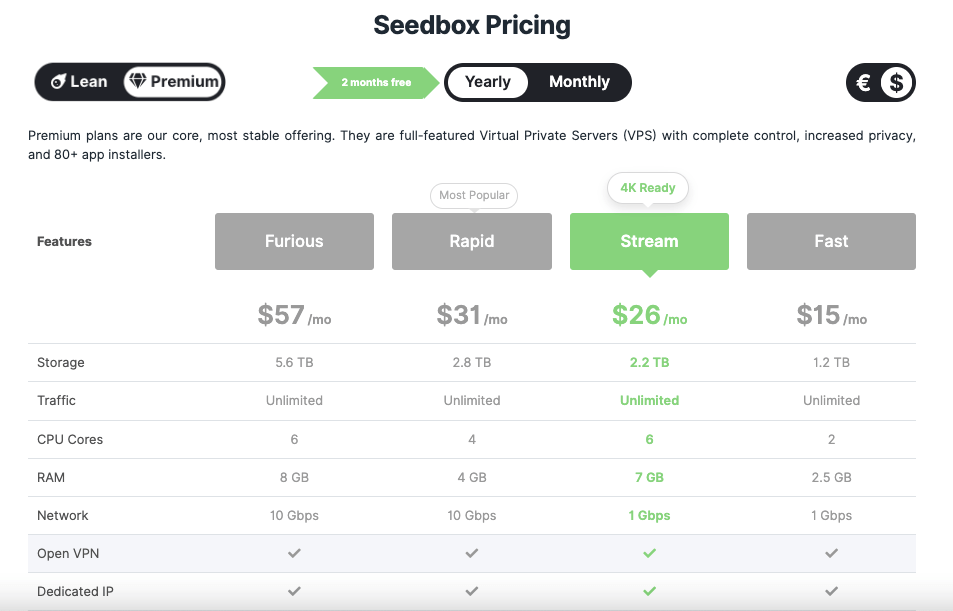 The Fast seedbox is an excellent choice if you are a seedbox starter that knows what to expect from seedbox but will do ok with modest resources. To give you an idea of what to expect from a Fast seedbox, we did a speed test. Expect the results in the following sections.
But if you are looking to step up your seedbox experience with streaming, we recommend you go for the Stream plan— a seedbox built for streaming 4k Plex content.
Rapidseedbox Pros and Cons.
As mentioned in the previous section, Rapidseedbox has recently restructured its entire pricing plan. They have the usual premium choices but now include a Lean category with lower-budget seedboxes.
Pros:
Fantastic customer support.
A large list of more than 65 pre-installed apps.
Root (shell) access to most seedbox packages.
Their pricing plans are multiple and flexible.
The Client area: A central and single console to everything about your seedbox.
Integrates with Google Drive.
Fast seedbox (Stream) designed for 4K streaming.
Cons.
Rapidseedbox has a reputation of being pricier than the average seedbox.
Price vs storage can be one-sided as compared with other seedboxes.
Unfortunately, One-Click-Installers is not available on lean (tight budget) plans.
Plex media server is not available on budget plans.
Rapidseedbox website is banned in some countries.
Rapidseedbox Review: Features.
Rapidseedbox servers come with many features and apps (as shown below) that improve a user's experience, security, and functionality.
Encrypted access and security protocols. Rapidseedbox improves your online anonymity with encrypted access and secure protocols, including SFTP, FTPS SSL, X2Go, VPN, and more.
Streaming and file hosting server. You can turn your seedbox into a streaming powerhouse. Rapidseedbox provides abundant storage to host your media files and media services such as Plex Media Server to stream from anywhere and from any device.
One-Click Installers (OCI). Installing an app with this feature is as fast as clicking on a single checkbox. Rapidseedbox gives you access from the dashboard to over 65 pre-installed apps, including remote desktops, web browsers, download managers, torrent automation (Autodl-irssi), video encoders (Handbrake), and much more.
Supported BitTorrent Clients: Rapidseedbox servers support clients such as Deluge, rTorrent/ruTorrent, qBittorrent, Transmission, uTorrent, NZBGet, and Aria2. But since you get root access, you can also install your favorite torrent client.
VPN included. Rapidseedbox includes OpenVPN in every plan to help you improve your online anonymity even more. Install the OpenVPN client on your computer (or mobile) and connect to Rapidseedbox's VPN server in France or the Netherlands.
Seedbox to On-premise File Sharing. Rapidseedbox offers FTP, SFTP, and File Synchronization protocols to allow fast and secure file sharing between your seedbox server and your on-premise machines. For instance, you can use Resilio to sync files between your local machine and your seedbox automatically and easily.
Shell access. Rapidseedbox allows you full root shell access (SSH) to your seedbox. They provide you with "root" or "user" access to the seedbox so that you can execute any command and access any resource on the "Linux server." They send you the SSH passwords via email.
Rapidseedbox's Control & Management.
Rapidseedbox allows you full management and control of your seedbox via a unified user interface control. Rapidseedbox's web interface is quite straightforward to use for any seedbox beginner.
To provide you with an in-depth and updated Rapidseedbox review, we hired their service for testing their services for a couple of days.
Once you get a seedbox with Rapidseedbox, you'll get the credentials to the portal area via the registered email. Their portal to the client area, dashboard, services, billings, and more looks something like this.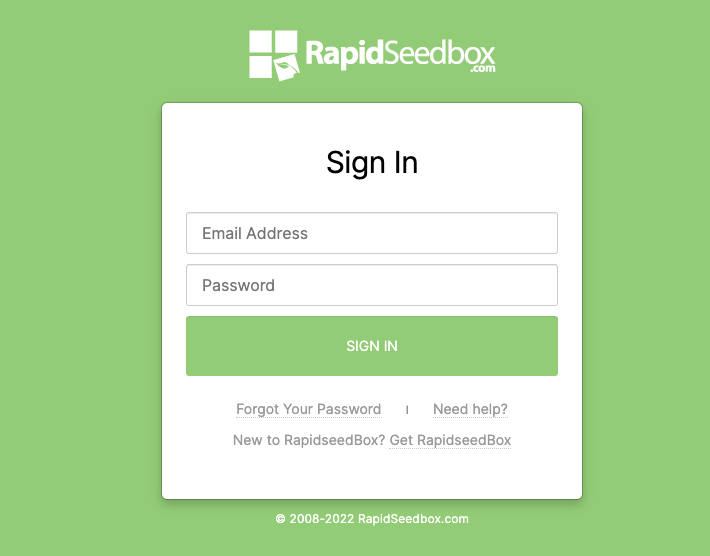 Client Area.
Rapidseedbox's client area has everything you need and is quite straightforward and self-intuitive. Right off the bat, you'll see your hired services, along with IP and their status (Active or Inactive). You can access your hired "Services" by clicking on them or using the left-hand side menu icon.
This Client area also shows your invoice information, including invoice date, due date, status, and total. In addition, if you want to reach Rapidseedbox experts, you can chat with them right from the Client areal. Plus, they also give you access to their robust knowledge base and documentation.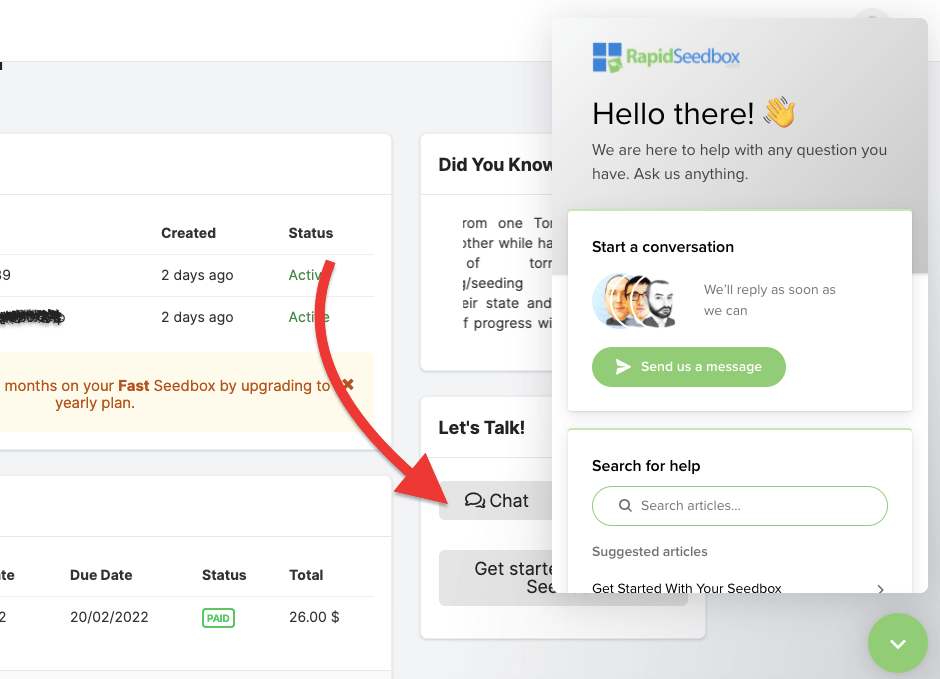 The "Services" area gives you information about your hired services. As you can see, in our case, we have two services, Fast and Swift.
Here, you can see the credentials to access your seedbox services for torrent clients (Deluge or ruTorrent), Streaming (Plex), file sharing (FTPS, SFTP, Resilio), Remote desktop (X2GO or ThinLinc), HTTPS Web, or OpenVPN.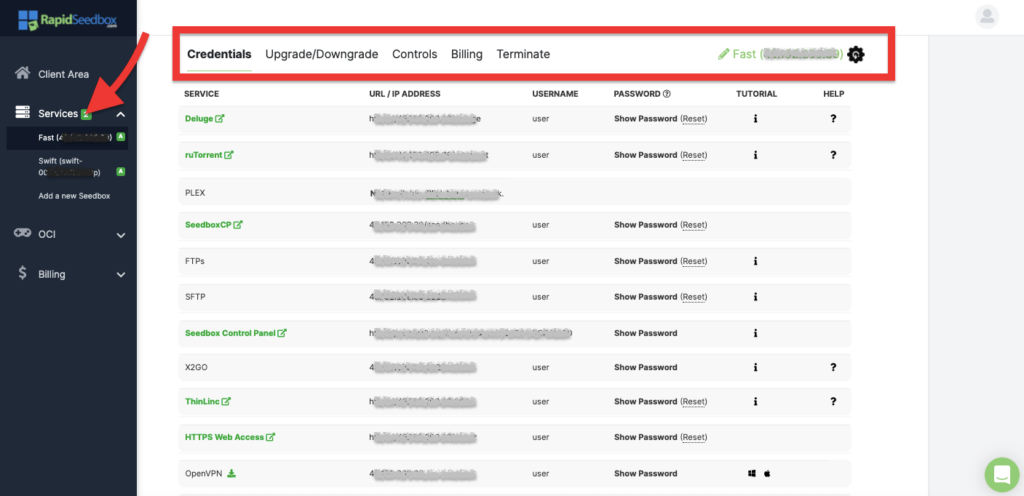 From the services page, you'll also be able to upgrade or downgrade your service (get a slower or faster seedbox), monitor and control your seedbox (push remote commands, such as a reboot) or simply monitor status and disk usage.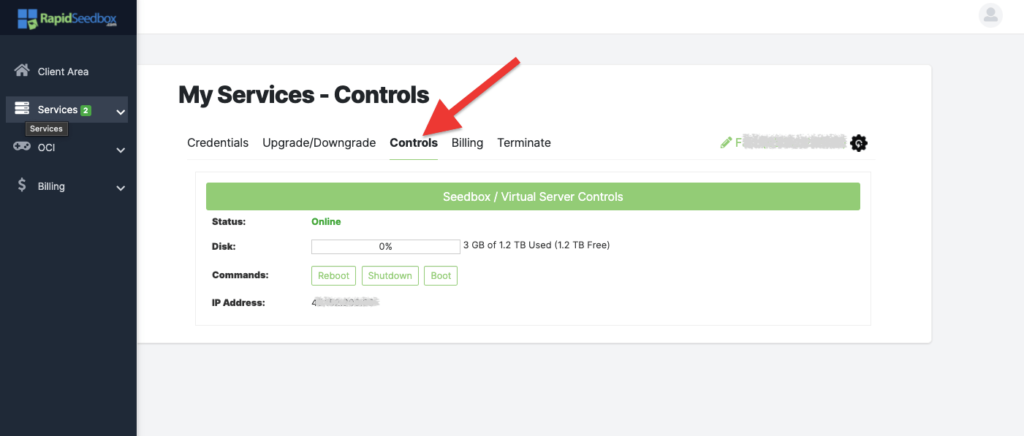 In addition, you'll also be able to access your billing in detail. Get information including registration date, type of service, payment amount, recurring amount, billing cycle, next due date, and your payment method.
One-Click Installers (OCI).
OCIs are executable scripts that automatically install your desired app (from a list of 65 apps) onto your seedbox server. There are no requirements whatsoever from the client's side. To use an OCI, all you have to do is click on it and wait for its installation.
According to Rapidseedbox, all OCIs have been tested to work with Ubuntu-based seedboxes. OCIs are not guaranteed to work if a seedbox has been heavily modified.
OCI RapidSeedbox Review.
To install your favorite software with minimal effort, simply go to the OCI icon on the left-hand menu, choose your seedbox, and go to "All" on the top bar menu of the OCI panel. Once you find your favorite app, click on the gear icon to install it.
Note: Before you can properly use a One-click-Installer, you'll need to wait about 15 minutes. Rapidseedbox's seedboxes need up to 15 minutes after every boot or reboot.
Wait for the installation to finish and go to "Installed" to filter all your software. This screen will show you all "installed" applications.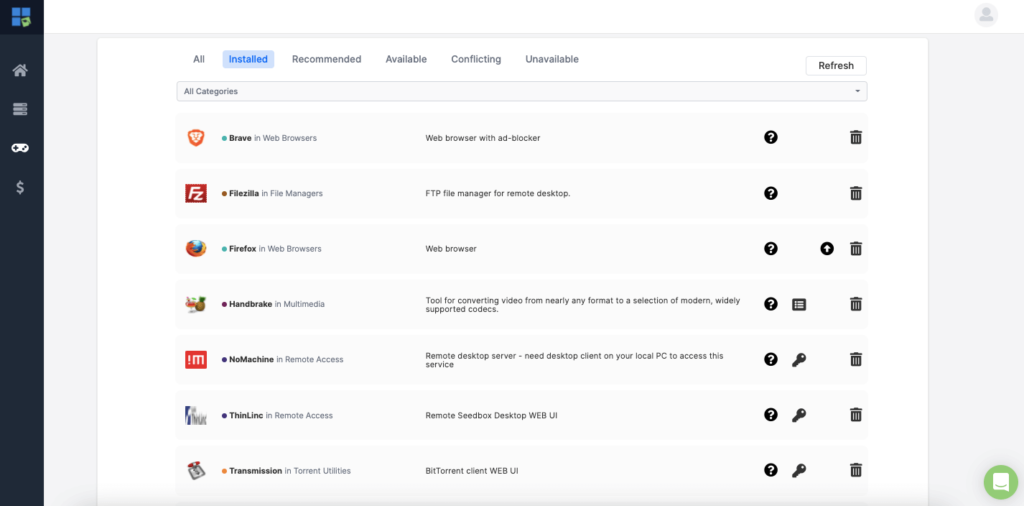 One-Click-Installers are a fantastic feature, but unfortunately, they are only available for the Premium, Fast, Stream, Rapid, and Furious plans. OCIs are not available for Lean plans, including Supreme, Speedy, and Swift.
Seedbox Control Panel.
Rapidseedbox provides "the Seedbox Control Panel," a great web-based tool to help you keep track of different metrics and control your seedbox. You can monitor memory usage, disk usage, or vSwap, or get logs to help you troubleshoot. In addition, you can push commands such as reboots, shutdown, boot, reinstall, reconfigure the network, and more.
To access Seedbox Control Panel, go to your Services' Credentials and record the information. Enter the URL on your browser and enter the credentials when asked.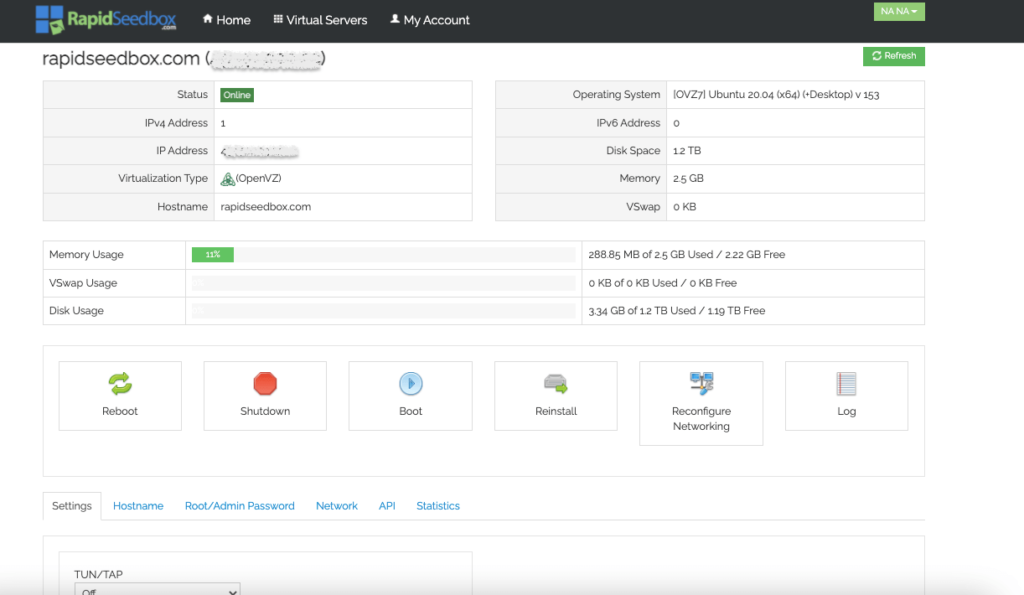 SeedboxCP (Claim Plex).
If you get the Premium Box Stream Seedbox (Fast, Stream, Rapid, or Furious) with Rapidseedbox, you'll have access to an application known as SeedboxCP (Claim Plex). This application helps you claim your Plex Media Server and add your libraries.
You can use OCI (One-Click Installers) found on the sidebar and click on it.
On the OCI page look for the SeedboxCP row with a key icon on the side (screenshot below).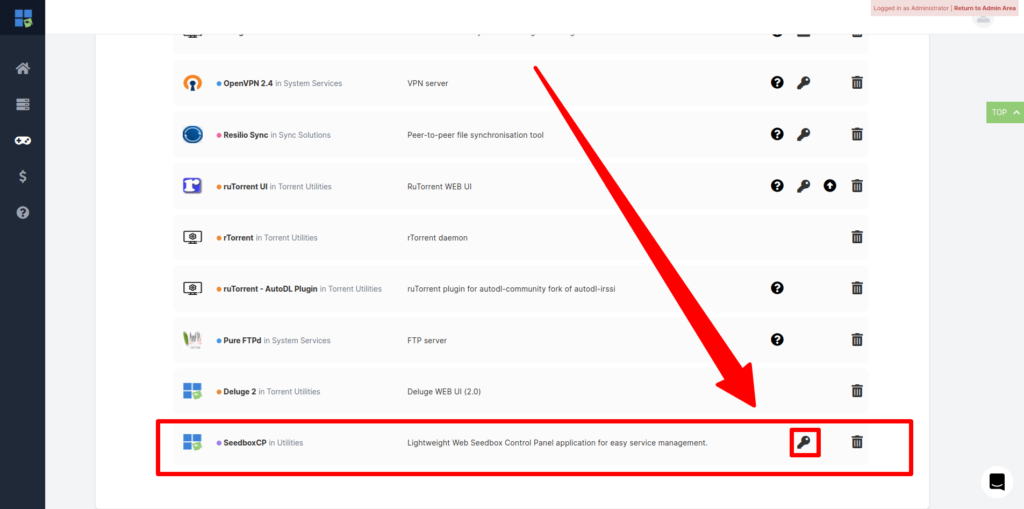 As soon as you click on the key icon, you will be prompted with the URL and credentials.
Click on the URL to open the SeedboxCP app. Enter your credentials to SeedboxCP.
To claim your unclaimed Plex server, copy the claim code from Plex, and past it on the SeedboxCP field.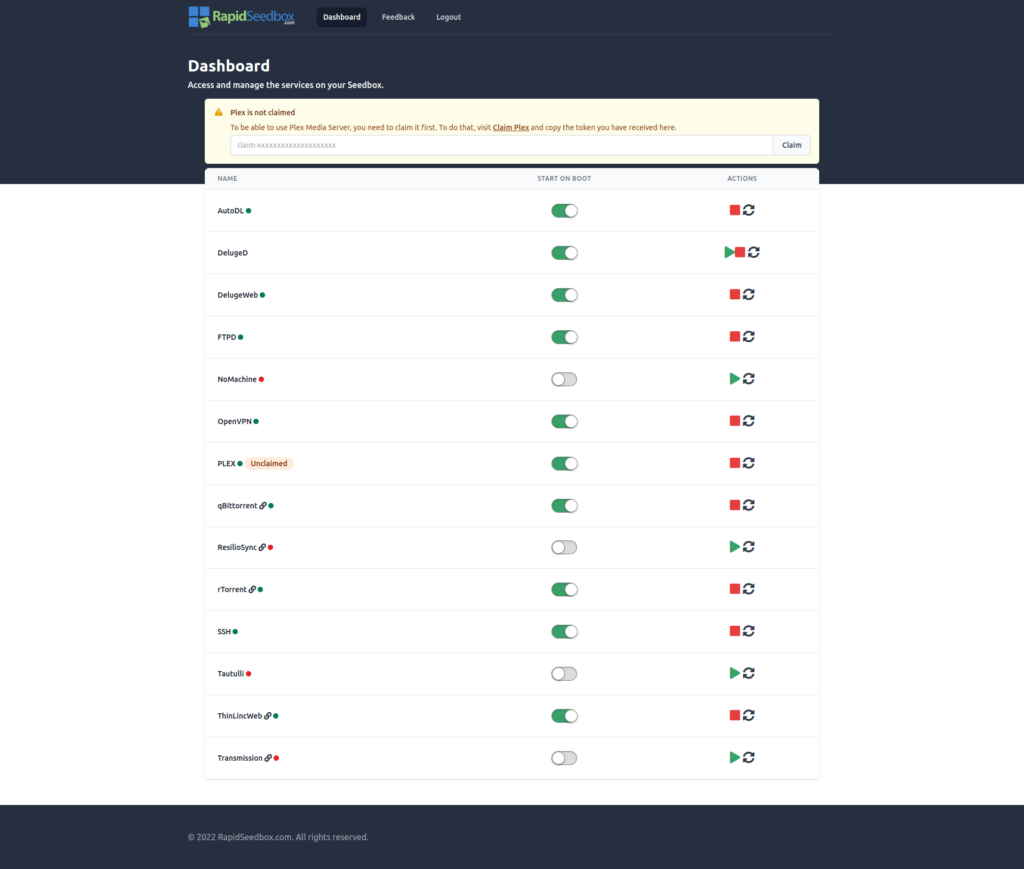 RapidSeedbox Review: Accessing your Seedbox Server.
You can use remote desktop or SSH to connect to your seedbox server.
Remote Desktop Access: X2Go, ThinLinc, VNC, or RDP.
You can access your Rapidseedbox's Seedbox remote desktop on Windows and macOS using an X2Go Client, VNC, or RDP. Seedboxes do well with X2Go and ThinLinc.
X2Go is an open-source remote desktop software used in Microsoft Windows, macOS, or OSX. This client is easy to use, lightweight and great for low bandwidth. The X2Go client gives you access to the remote desktop' Linux Graphical User Interface (in our case, it was an Ubuntu 20.04). Rapidseedbox's desktop GUI looks as follows: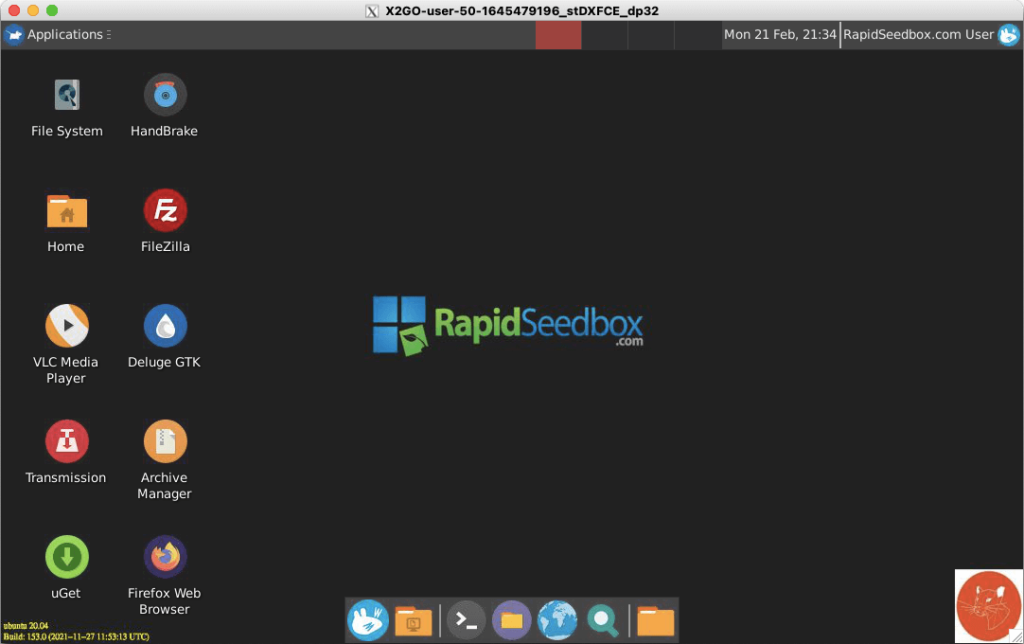 SSH.
In addition, you should also get access to your Rapidseedbox's seedbox via the SSH protocol. You can use software like PuTTy or MobaXterm to connect to the SSH server on the other end (Seedbox SSH server). Rapidseedbox gives you access as "user" or "root."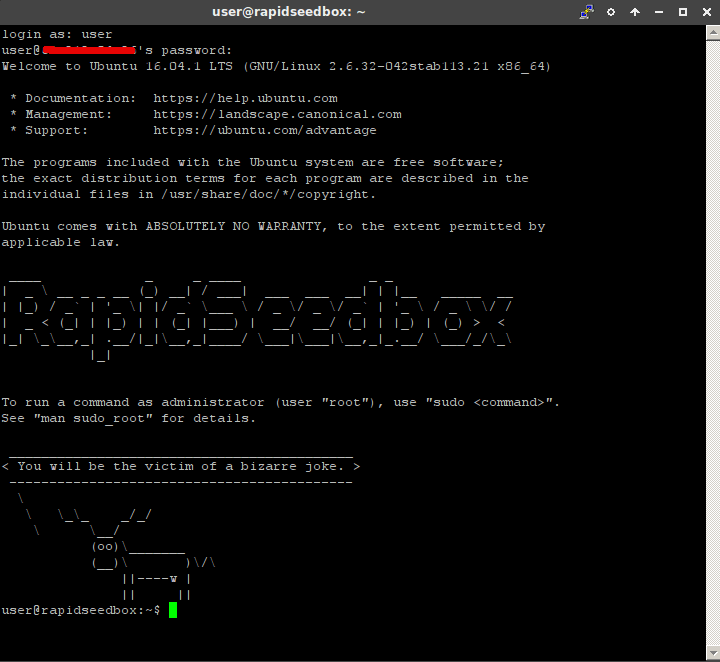 Seedbox also provides a way to access your seedbox via HTTPS Web Access (WebDAV). You can access your server using secure HTTPS and track your files, download, or upload anything from and to your web browser.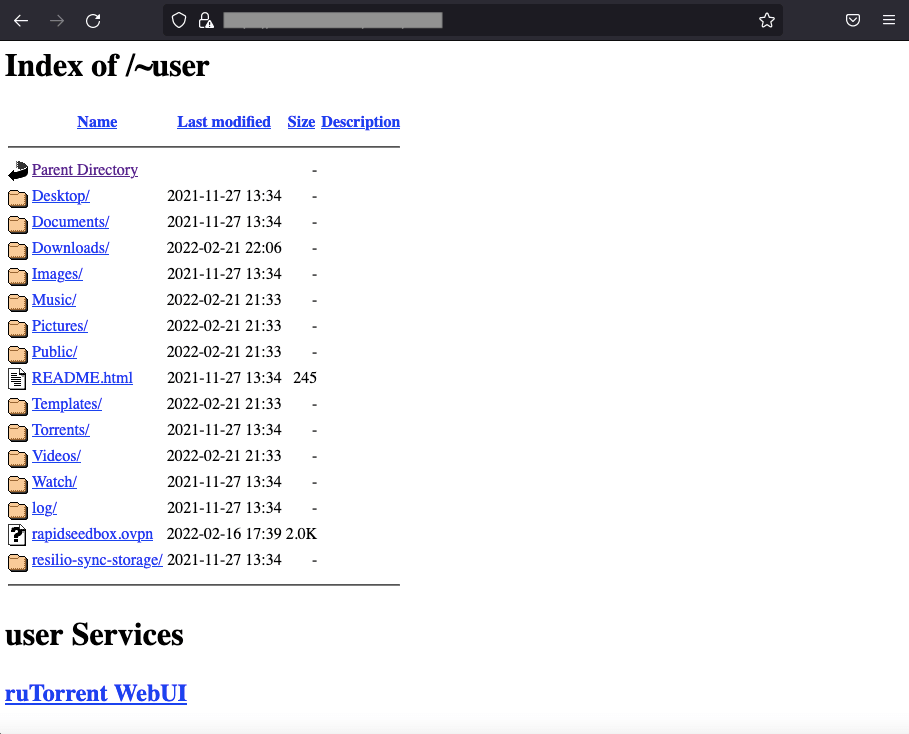 Rapidseedbox Test: Speed and Security.
If you notice, from both the Rapidseedbox's Client area and the Desktop, you have some pre-installed applications that come when you hire Rapidseedbox.
For instance, if you access "all applications" within your seedbox, you'll notice vital applications such as FileZilla, Deluge GTK, HandBrake, Firefox, Transmission, VLC, uGet, and in our case, Brave Web Browser (when we installed via the Once-Click-Installer feature).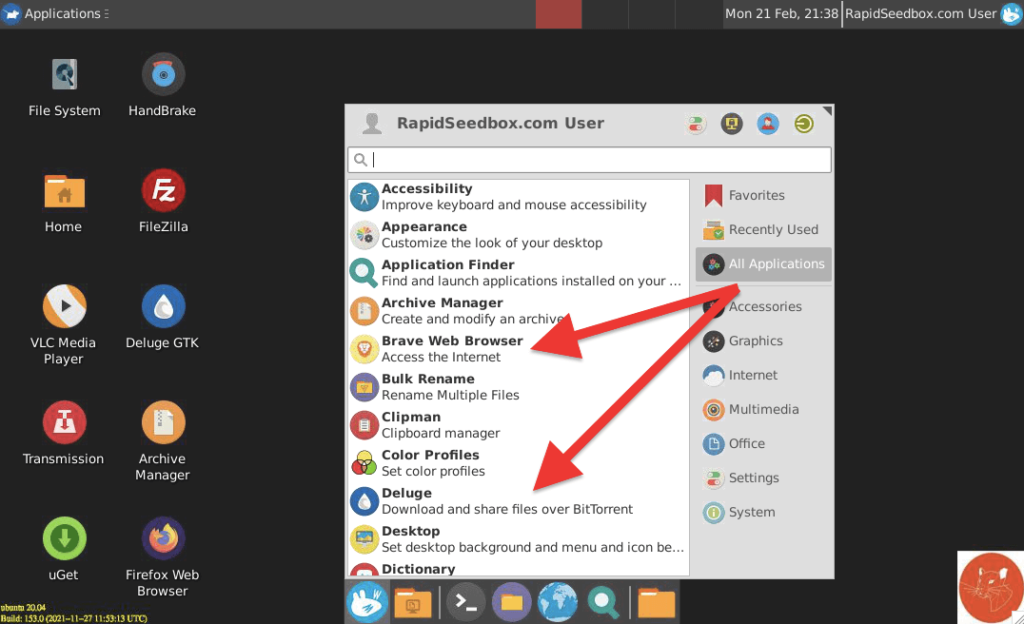 In this section, we will use one of the pre-installed applications and an installed application to run speed tests on a Rapdiseedbox server.
Rapidseedbox review: speed test:
We used a fresh version of Brave browser: no account login, no cookies, nor history.
We opened the speedtest.net website and tested speed.
The results were: Download speed 911.45 Mbps and Upload speed 918.92Mbps. And you can also see below that the servers come from Amsterdam (LeaseWeb Netherlands as their ISP provider).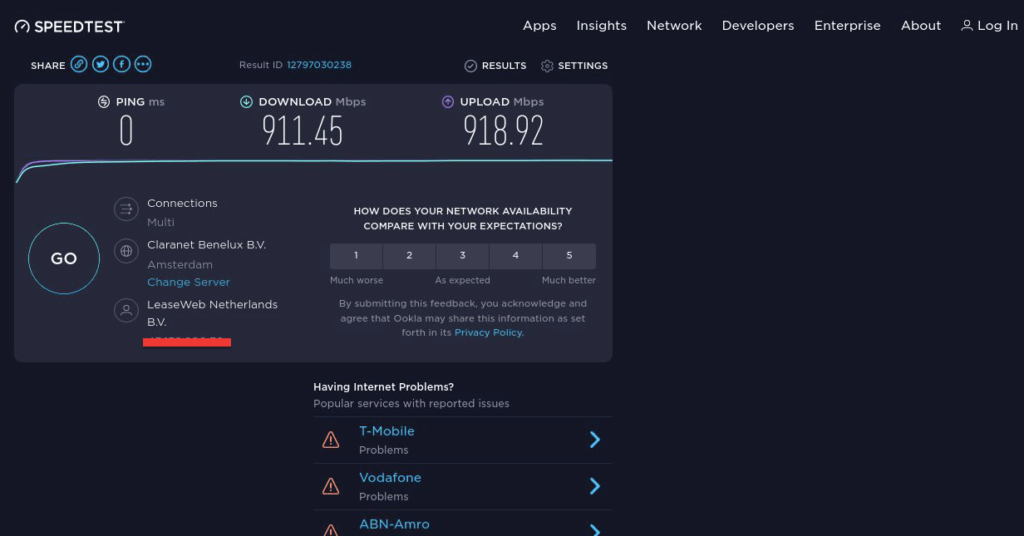 Our seedbox plan is "Fast," which promises 1Gbps or (1000Mbps). Rapidseedbox delivers a 911.45 Mbps speed out of our 1000Mbps plan.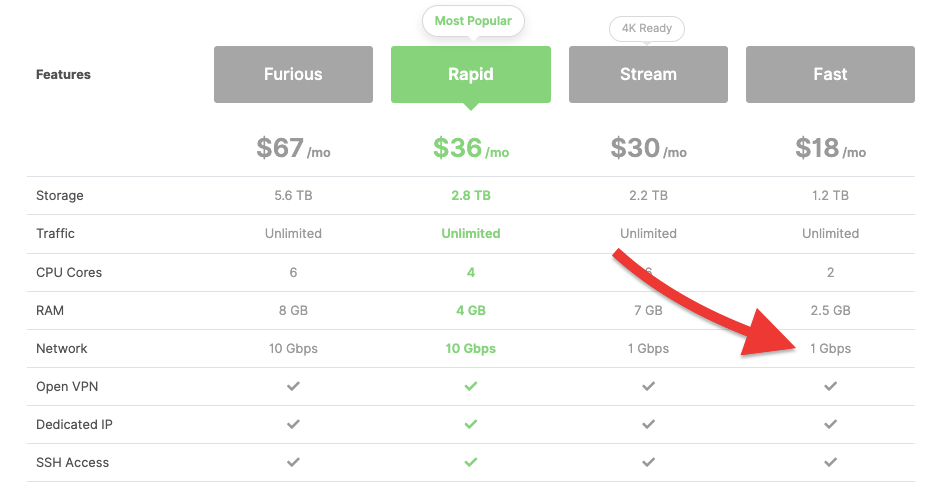 When testing the speed in a torrent client, the results were also as advertised. We downloaded an ubuntu 20.04 desktop file of 2.9 GBs.
The download was completed in less than a minute!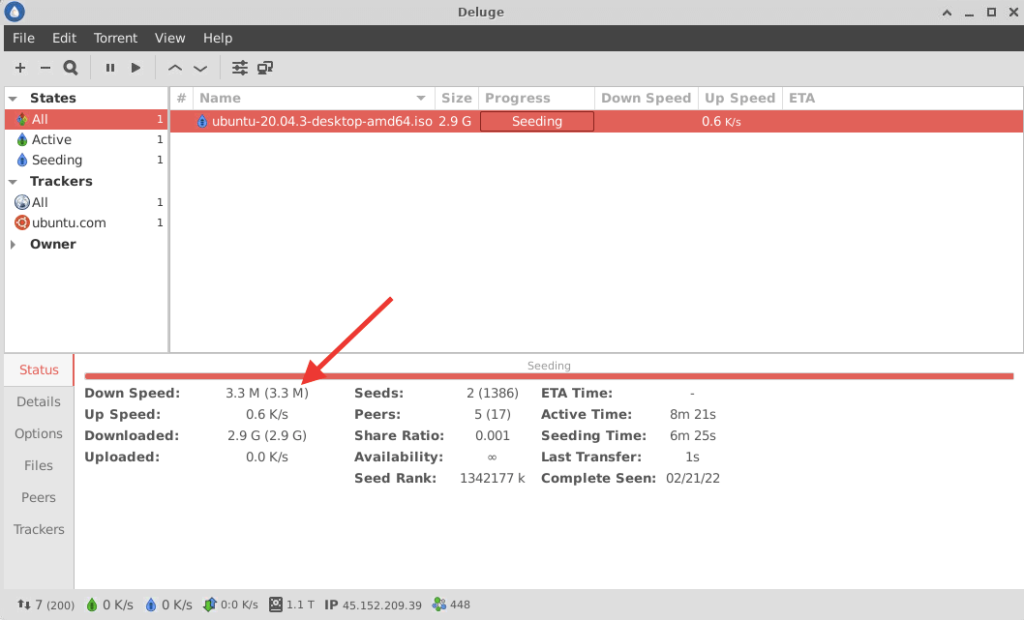 Security.
All sessions to Rapidseedbox's web client area are encrypted via HTTPS (SSL/TLS). The client area shows all your IP addresses along with credentials. The passwords are hidden from plain sight and can be quickly reset from the same place if they are compromised.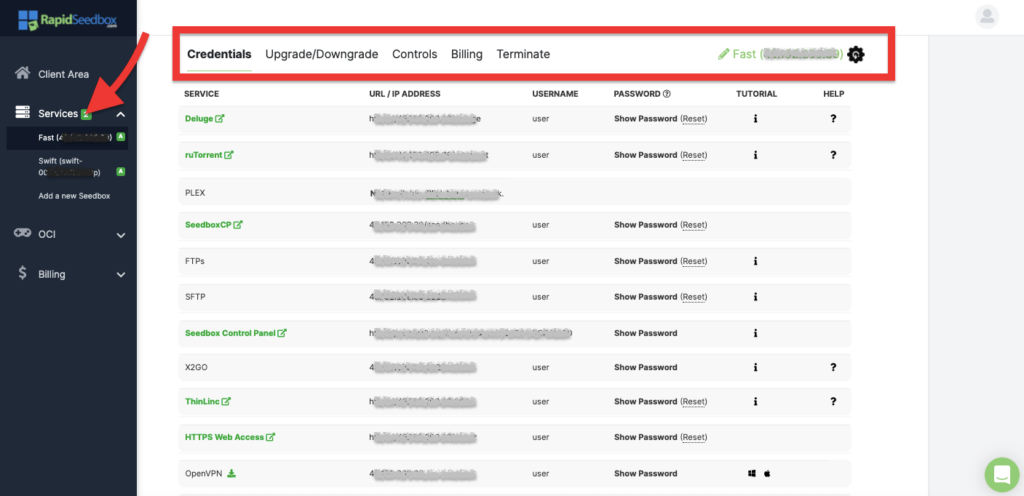 Rapidseedbox provides you secure access to their resources (as described above) with remote desktop applications such as X2Go, ThinLinc, VNC, and RDP, or to the terminal-based CLI via SSH. In addition, although Rapidseedbox supports FTP, it also supports FTPS (Explicit FTP over TLS) and SFTP (Secure FTP) to ensure your FTP sessions between your computer and seedbox are fully encrypted.
Web apps are secured at login. For instance, our Deluge web client is protected by a password.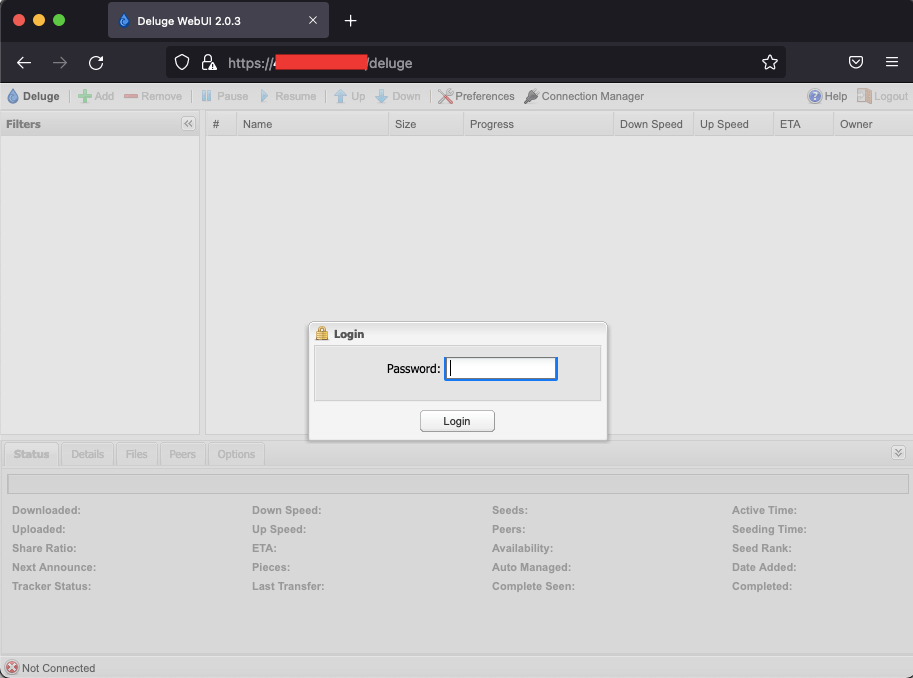 If and when you want to change passwords, Rapidseedbox gives you a way to reset your passwords with a random or manual password generator with policy. You can reset all passwords at once in all supported services.

Rapidseedbox's VPN.
Rapidseedbox also provides a VPN to connect from client to server as a way to improve the security of your transfers or even use it for browsing. To get your VPN server information, IP, credentials, and download the OpenVPN configuration file, you can go to the Client Area.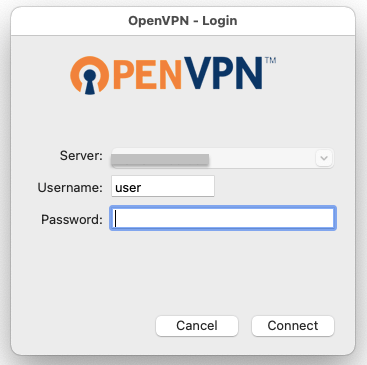 RapidSeedbox Review: Customer Service.
As mentioned before, in "the Client Area section" of this Rapidseedbox Review 2022, you can access support right from the client area. You can chat with the Rapidseedbox team within a couple of minutes. According to their chat, their average reply time is "under 20 minutes".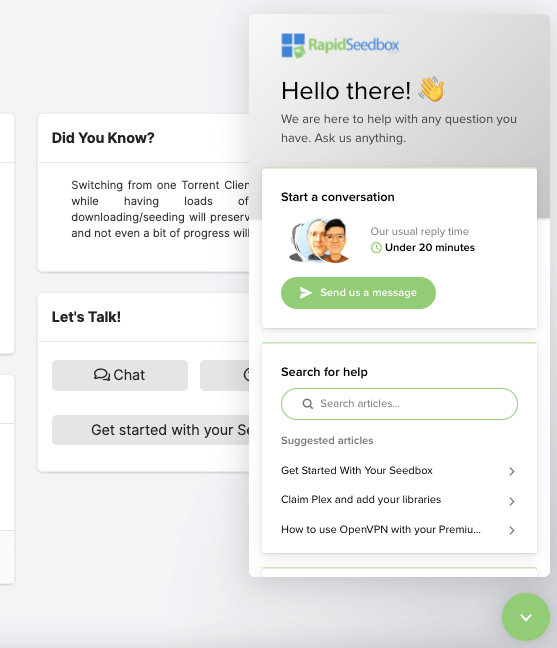 Their chatbot "Jessica" helps you get started and helps them know what you are looking for. If the robot can't help you, a Rapidseedbox team member will speak to you soon after a couple of minutes.
We tested the chat, and it took only about two minutes for someone to talk to us in the chat. The Rapidseedbox expert was friendly and helpful!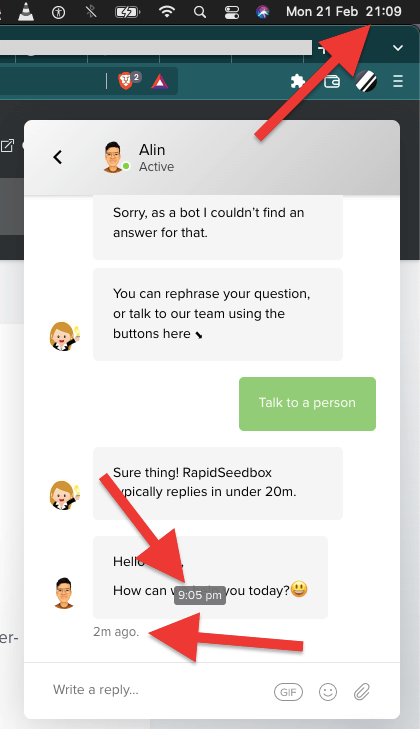 In addition, Rapidseedbox also provides access to their fantastic documentation, knowledge base, and updated blog.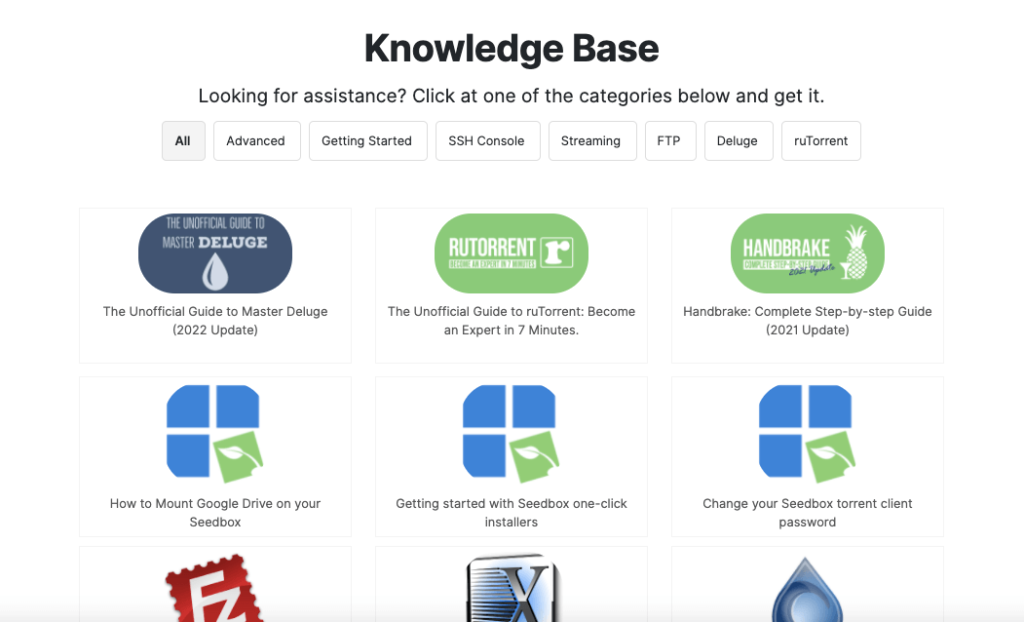 Rapidseedbox FAQ.
Is Rapidseedbox safe? Yes, Rapidseedbox is one of the few premium seedbox providers that take customer support, privacy, and security very seriously. With them, you would pay more than what you would pay in ordinary seedboxes, but if your privacy matters, then the price is worth it. Rapidseedbox provides a privacy policy that shows you clearly, what type of data they collect from you.
Is Rapidseedbox really anonymous? So, what kind of personal data is Rapidseedbox collecting? According to their privacy policy, they store the email, transaction history, last logged time and your IP address within the client area. You can request account termination at any time, and your data is instantly removed.
What is Rapidseedbox used for? This VPS seedbox provider rents cloud-based servers designed for sharing torrents 24/7. In addition, Rapidseedbox can also be used as online storage, streaming server, VPN server, and even as web hosting.
Final Verdict.
Is Rapidseedbox worth it? Is it any good?
After testing Rapidseedbox for a couple of days, we came to the conclusion that they are worth it.
Being a premium seedbox provider, Rapidseedbox seems to care about its customers. They provide a fantastic user experience, controls, flexibility, and customer service.
For many users, pricing seems to be the problem. Rapidseedbox has a reputation for being one of the most expensive seedbox providers out there. Knowing about this, the Rapidseedbox team is quickly adapting and providing more flexible pricing plans to accommodate all types of budgets.
We hope that this Rapidseedbox review 2022 helped you make a decision!
Recommend Resources