Introduction
Right on the front page of DediSeedbox page, you can already notice what are their best features. What you must understand is right there in order for you to choose whether DediSeedbox can provide you with what exactly you are looking for especially for seedbox beginners.
On this review, Seedbox Guide would like to give you an idea how does a Small Plan with 400GB disk space in a 1 Gbps unlimited hosted in Netherlands performs.
Other DediSeedbox plans they offer are available here: DediSeedbox Plans.
Speed
Depending on what you are downloading, speed varies at all times; which is true for any torrent client. DediSeedbox, however, performs a bit slow at the beginning as it gets its momentum to have a faster speed. With the test Seedbox Guide had done, we found out that it took more than 15 minutes just to reach almost 60 Mbps in downloading performance, and this is quite slow in a 1Gbps unlimited traffic.
With just very few torrent files tested to download, it still differs on how big the file is in order to complete the download in less than 1 minute. An example is shown below on how the torrent files are downloaded using rutorrent as the torrent client offered by DediSeedbox to Seedbox Guide: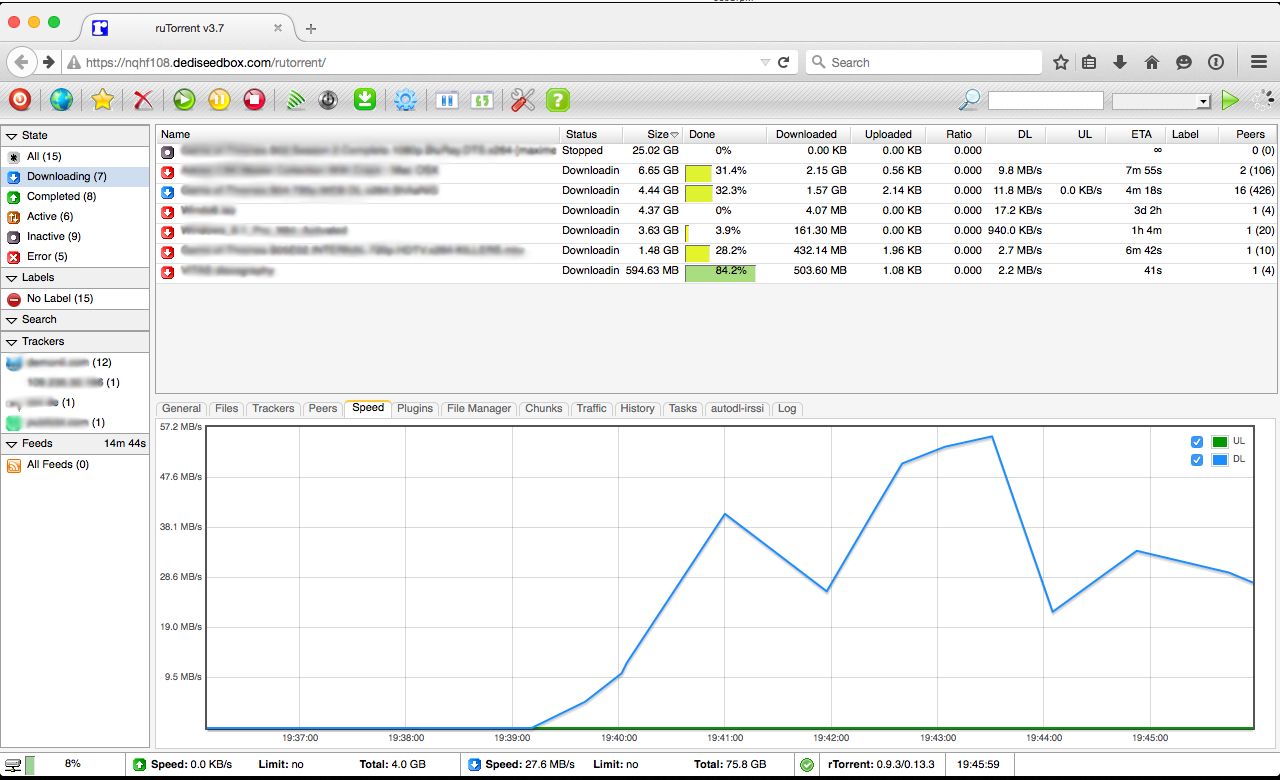 Customer Service
Just like the other seedbox host providers, DediSeedbox responds promptly to tickets sent to them. So far, out experience with their technical support is quite good when compared to other providers. DediSeedbox support staff find their way to reach us when they were not able to contact us right away using our old email address. Now, that's another remarkable support from DediSeedbox.
Software
DediSeedbox offers plans located at evoswitch, The Netherlands thus making their hosting reliable and dependable.
Is it not helpful when you can see the server status in real time? DediSeedbox has a page where every client can see the status of their server. It shows issues that are affecting the servers highlighted in gold background.

Price
$15.00
Seedbox Score
?
86.8
Recommend Resources